Download and browse the latest ad scans of the Costco Coupon Book for September to get the most savings when shopping at Costco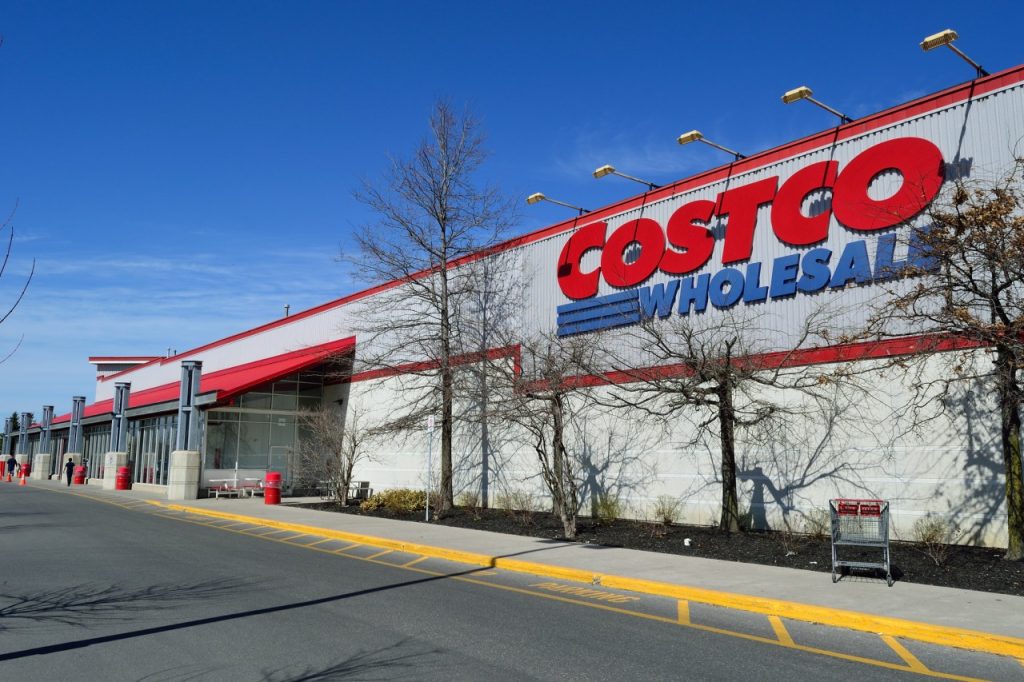 Costco is popularly known for being a warehouse club where you can buy household products in bulk sizes at prices that are hard to beat by your neighborhood grocery store. You can find everything at Costco, from vitamins, produce, meat, coffee, paper towels, and detergent to name-brand electronics, furniture, and clothing.
I've been a Costco member for over a decade and still stop by regularly if only to get discounted gasoline that is regularly 10-15 cents less per gallon than the next closest station.
Members looking to maximize their savings at the warehouse only need to look to the Costco Coupon Book.
The Costco Coupon Book got its name back when Costco required members to scan the barcode on their coupon book at the register to get the savings. Costco has since streamlined it and you no longer need to do anything to get the discounted prices. The savings are automatically applied at checkout.
Each month Costco mails out this coupon book and posts the monthly deals on Costco.com for items that are on sale at prices even lower than their everyday prices.
September 2023 Costco Ad Scan
Below is the ad scan for September's Costco savings book. You can also find the sale items listed online on the Costco website.
These Costco member-only savings for September 2023 are good from 8/30/2023 to 9/24/2023.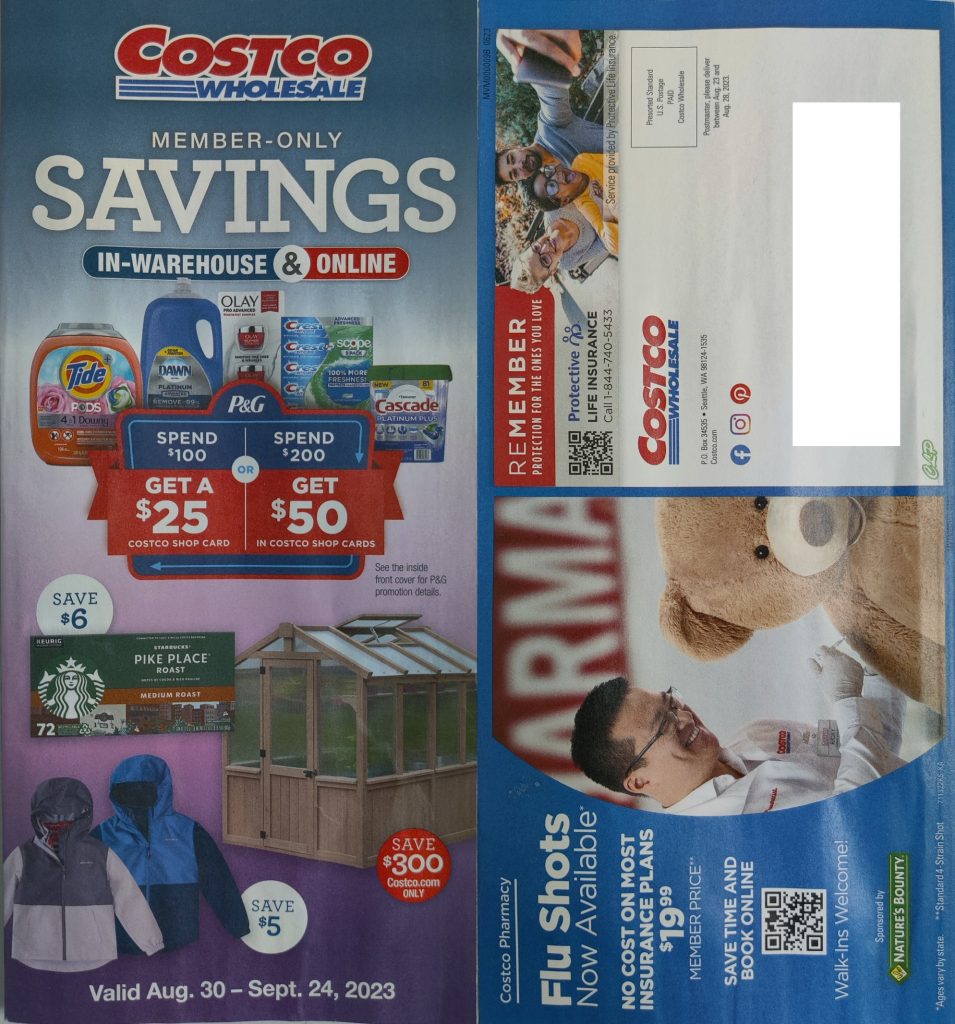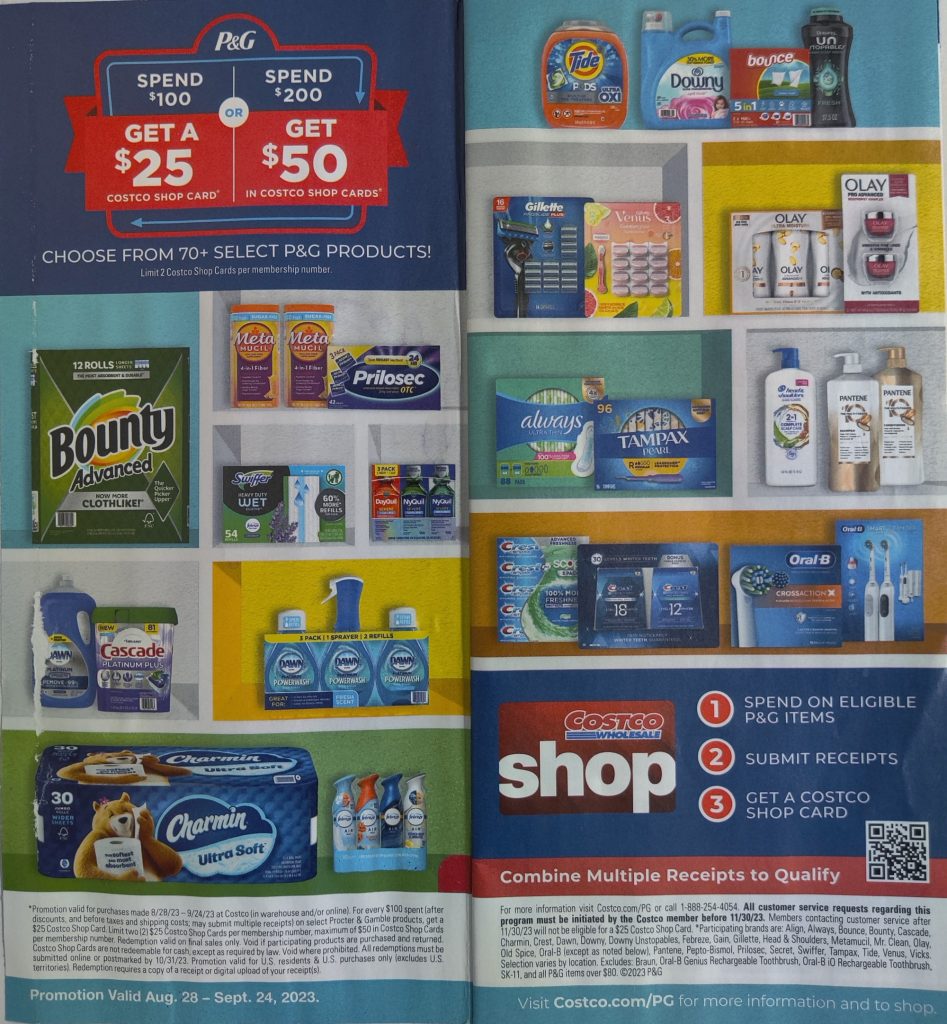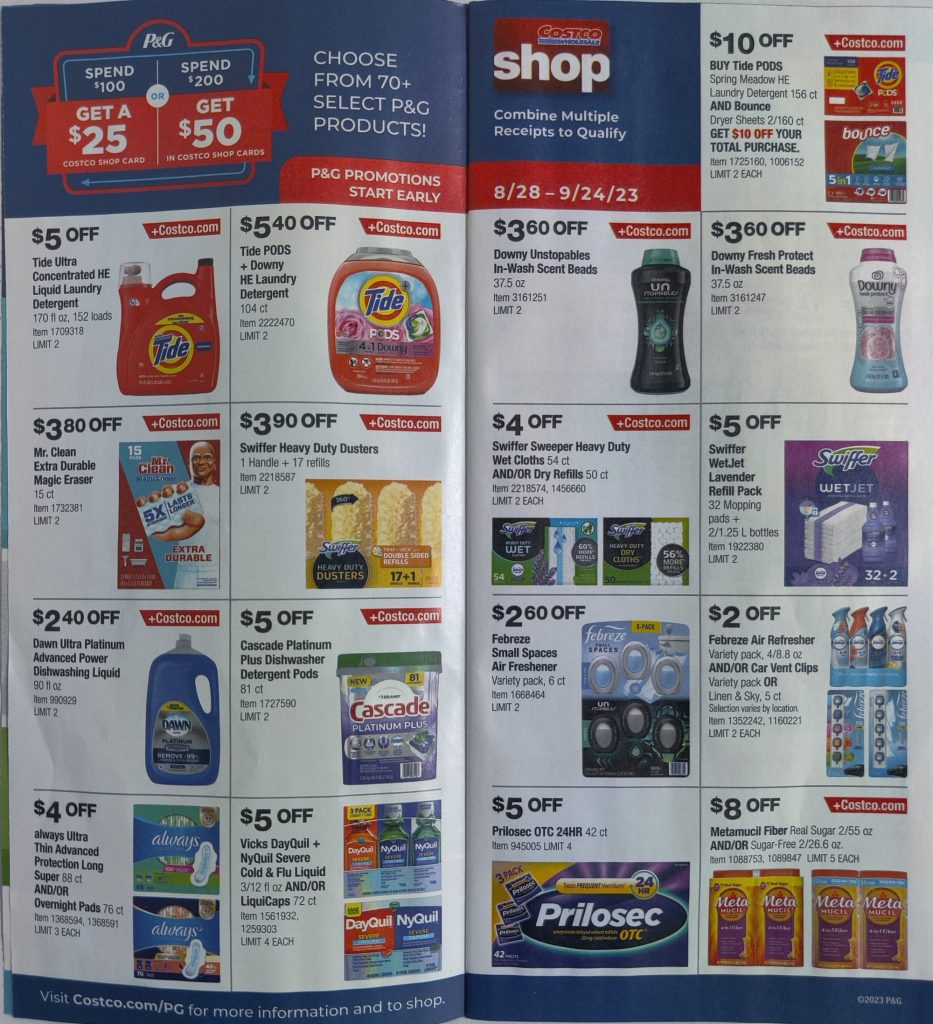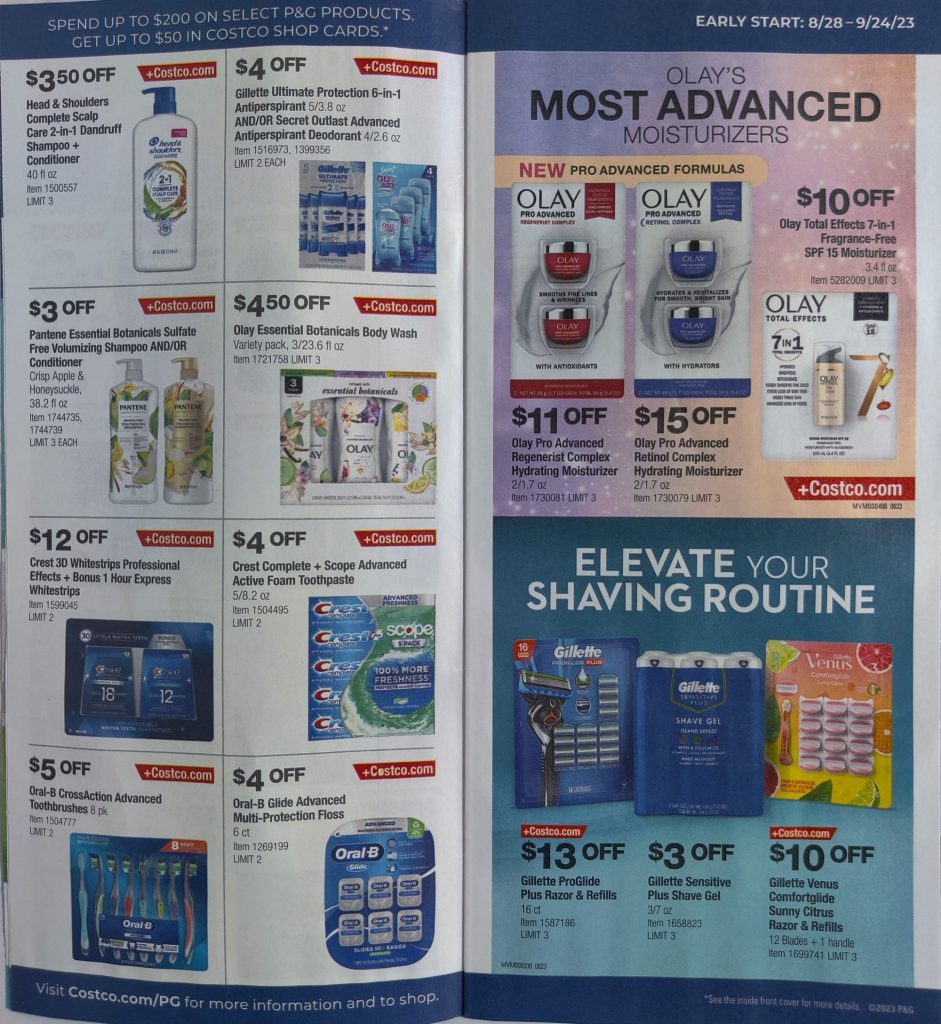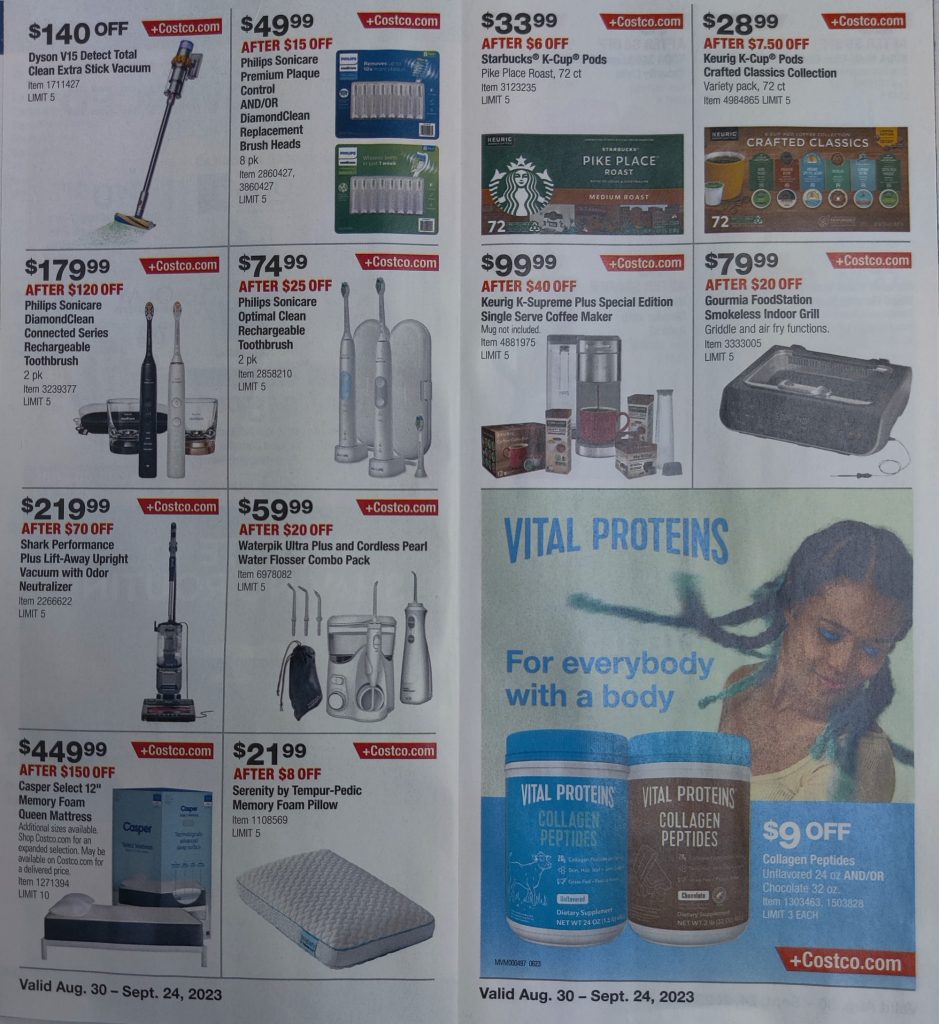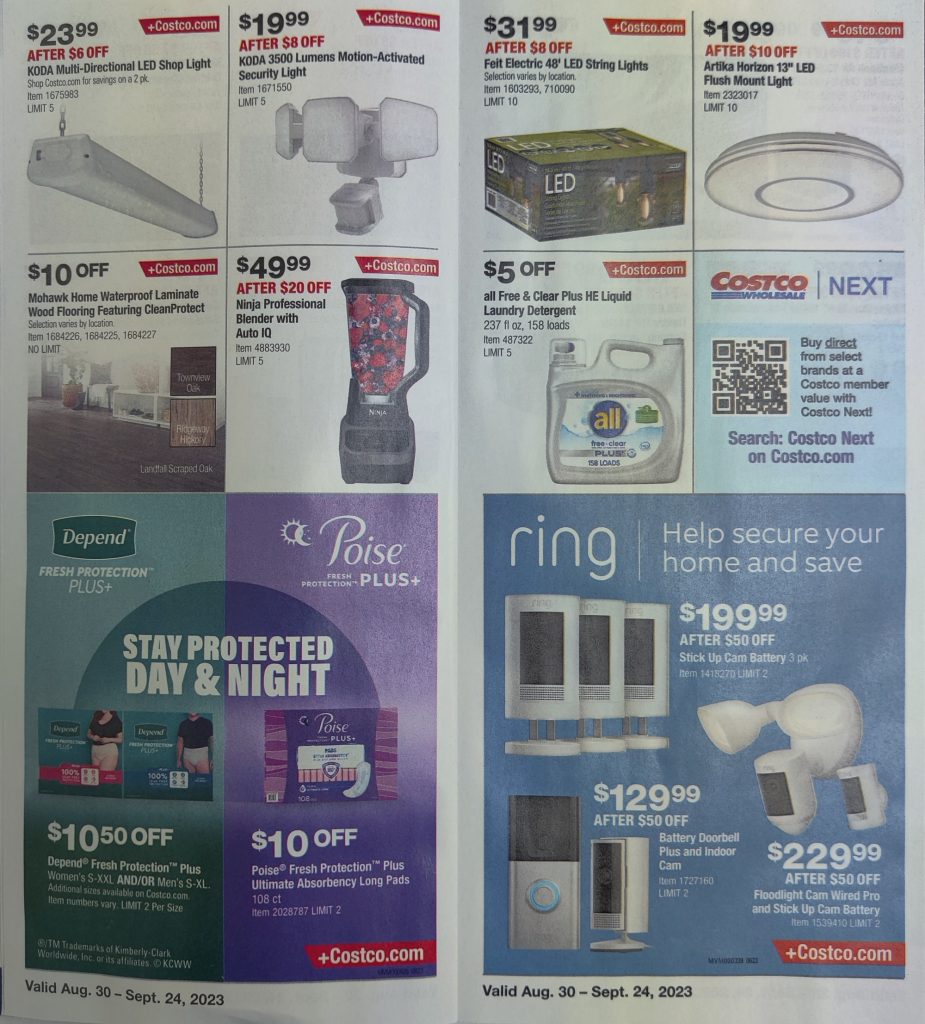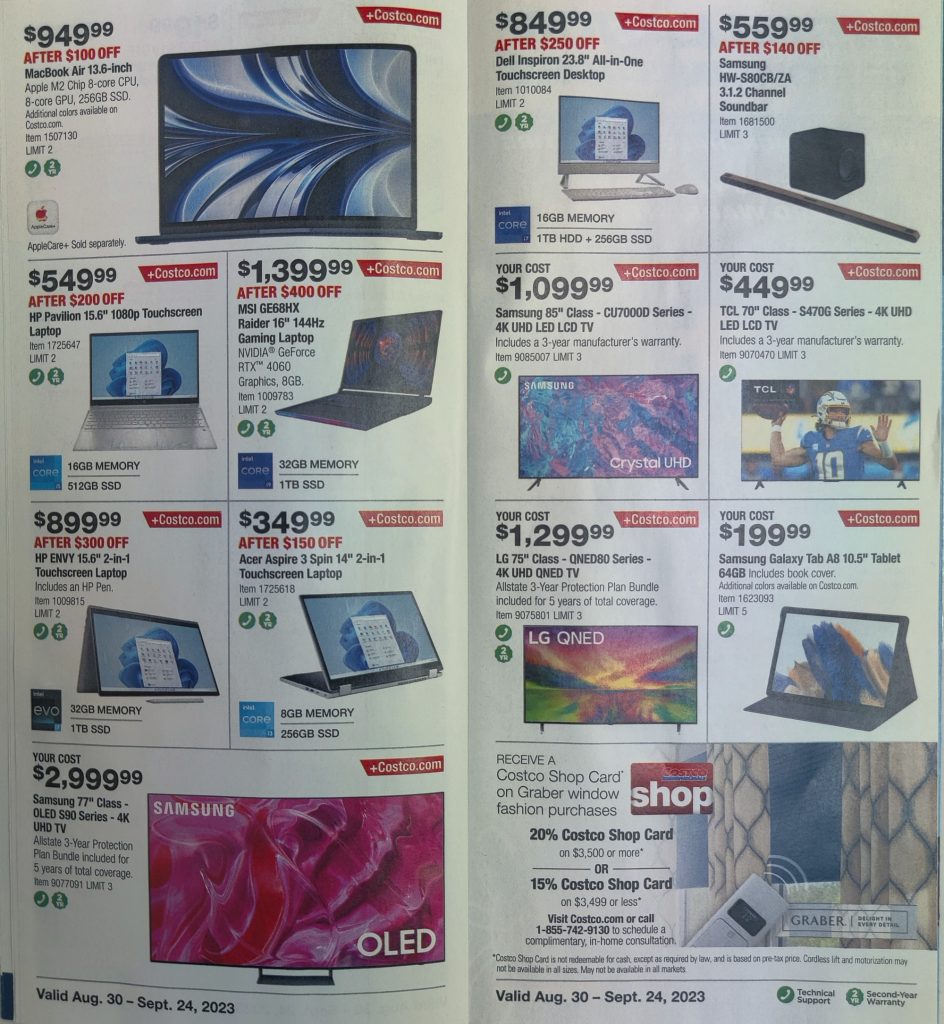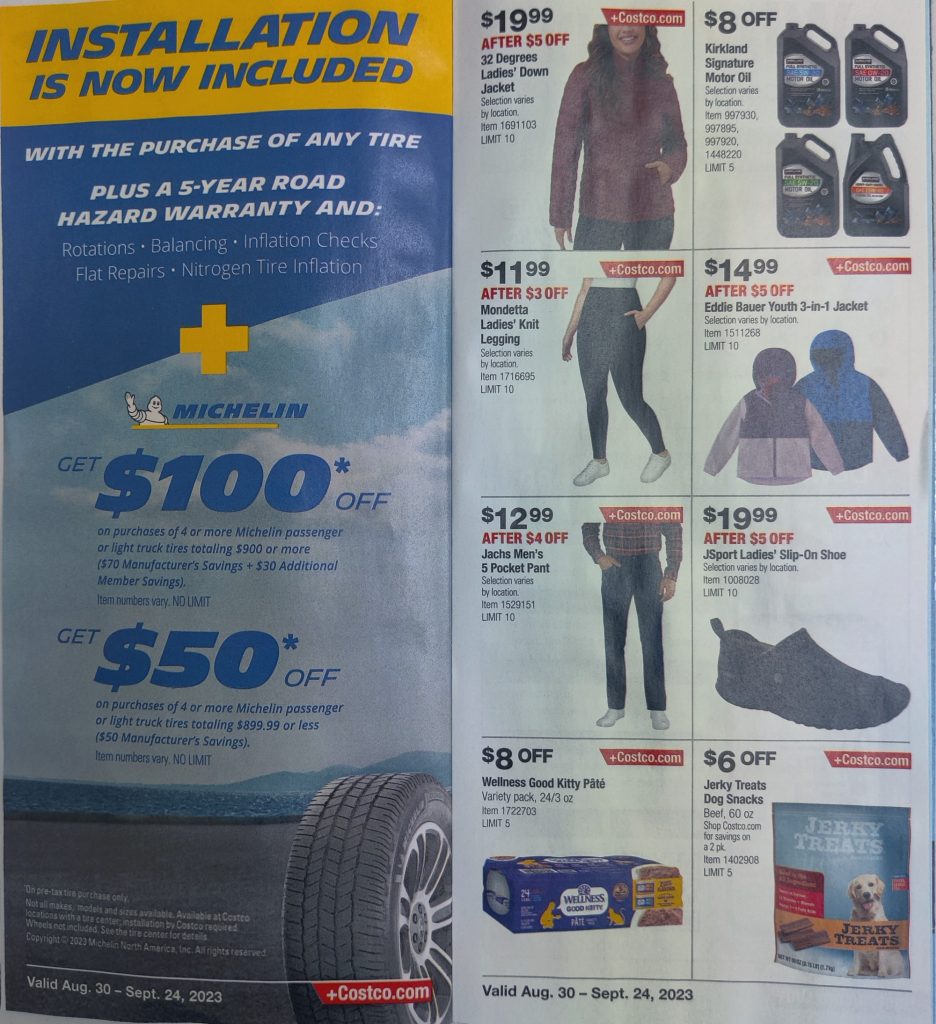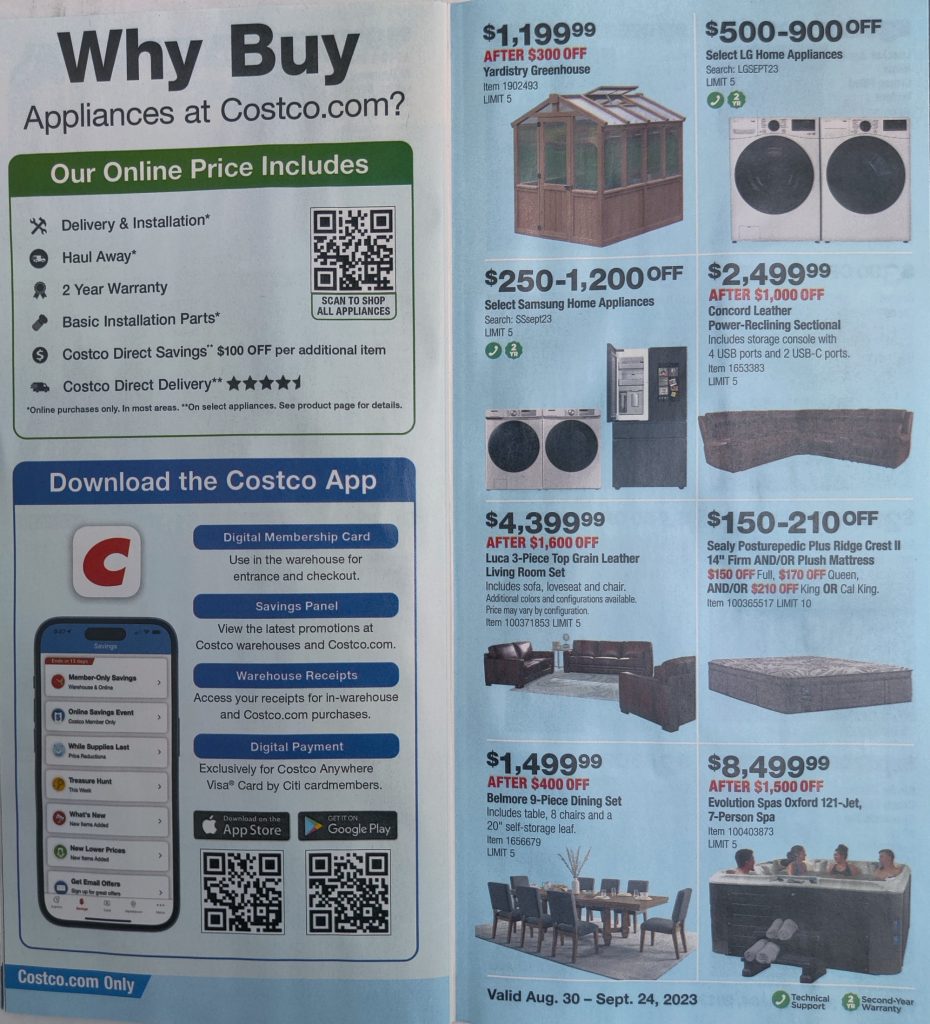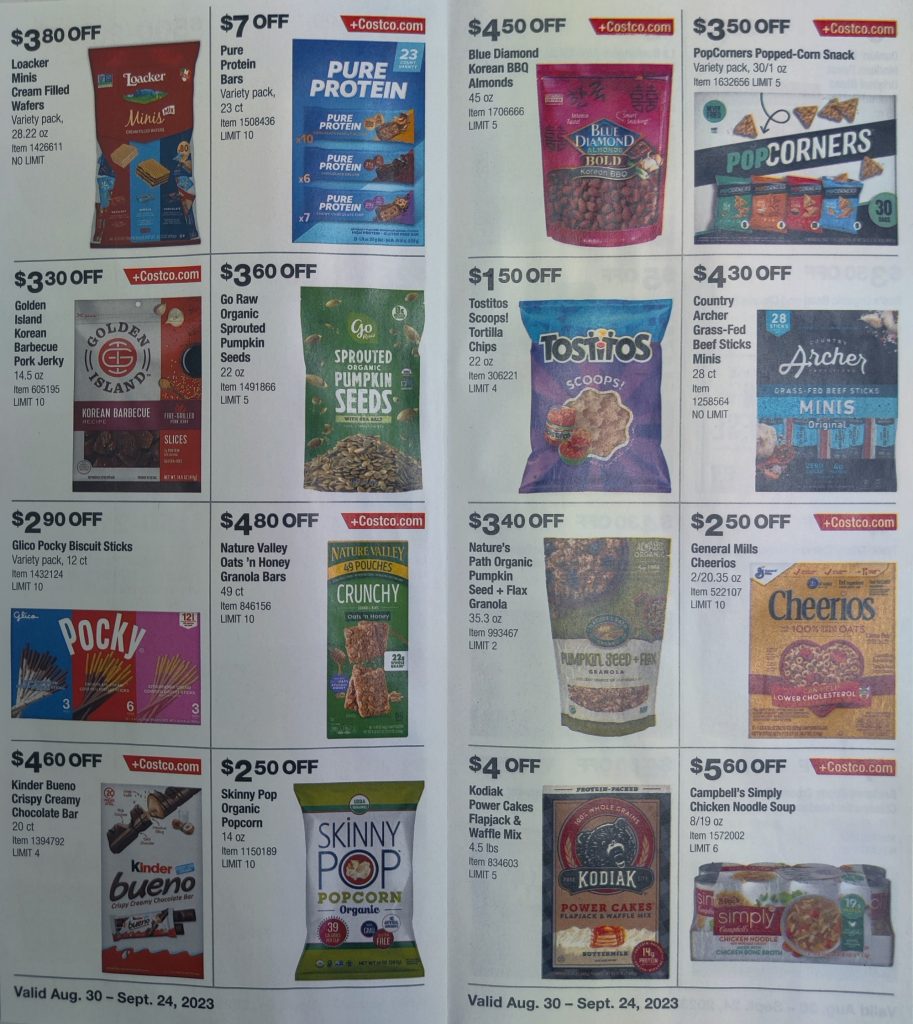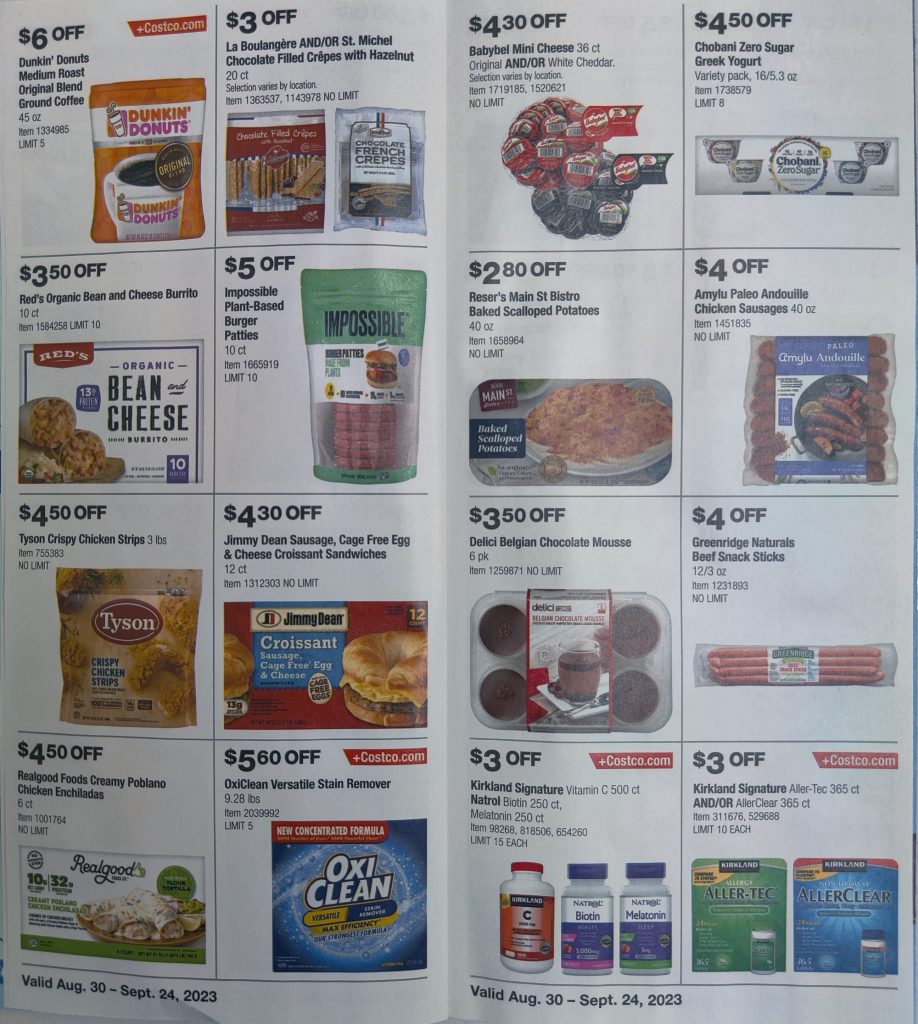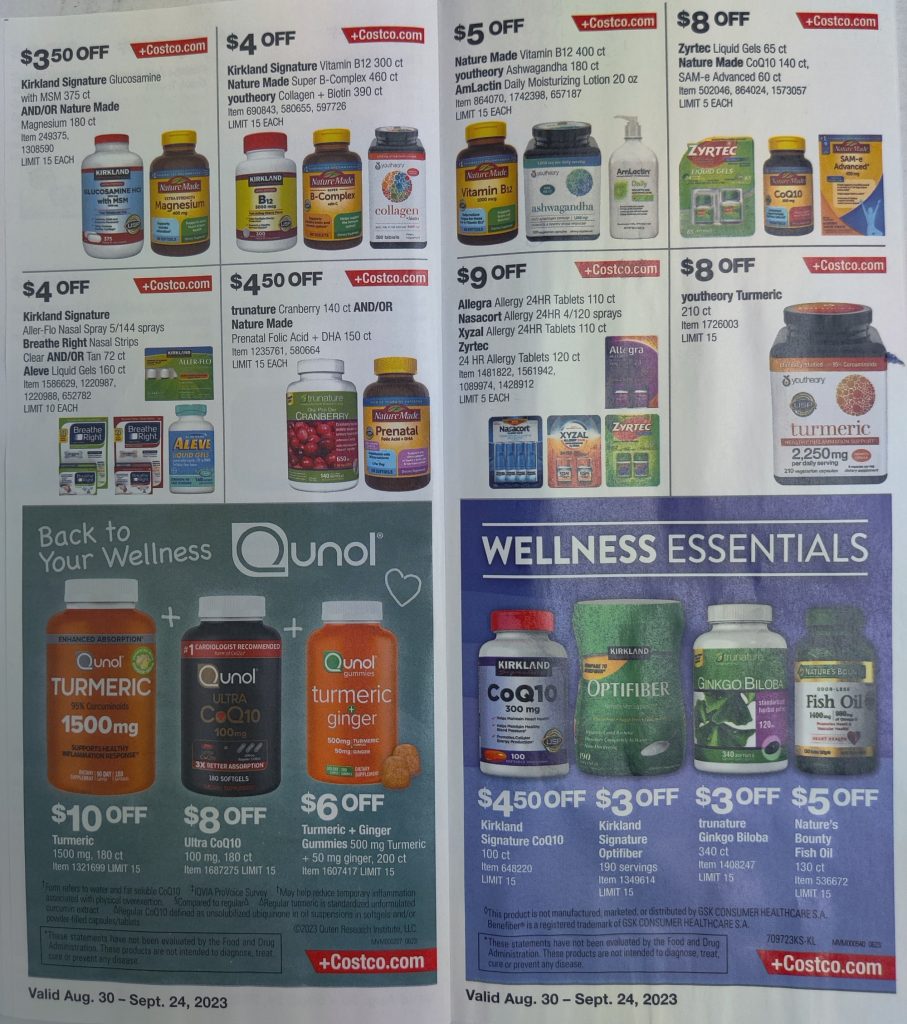 Maximize Your Costco Savings
Here are some Costco shopping tips that you can use to save even more money with Costco's coupon book.
Get A Price Adjustment
Costco sends out the coupon book with the next month's sale items at the end of the month. There is usually a week between the end of the previous month's sales and the start of the next month's. Should you find yourself buying an item and then seeing it go on sale in the next month's coupon book, you can request a price adjustment at Costco.
Costco lets you do a price adjustment for purchases made within the last 30 days. Price adjustments for purchases from Costco's website can be requested online using the previously mentioned link. Price adjustments for Costco warehouse purchases can be made at the Returns counter at the warehouse.
Wait for Products to Come Back On Sale
Over time, you will notice Costco puts the same items back on sale in the Costco coupon book every few months. After all, Costco only carries a limited selection of products in their warehouse. If you missed the sale for Gain laundry detergent or Dawn dish soap, you will usually see it on sale again after a short period of time.
Knowing this, if you expect your favorite cereal will be on sale again in six months, you can stock up enough boxes to last you until the next time it goes on sale.
Costco Anywhere Visa Card by Citi
If you are a regular at Costco, the Costco Anywhere Visa is a must-have for savings on top of your savings at Costco.
You get 4% cash back on gas and EV charging purchases worldwide, including at Costco, for the first $7,000 per year and then 1%. You also get 3% cash back on restaurant and eligible travel purchases, 2% on all purchases from Costco warehouses and Costco.com, and 1% cash back for everything else.
That 4% cash back for gas and 2% cash back for Costco purchases can easily add up to pay for your Costco membership.
Closing $ense
Costco is known for carrying high-quality products while offering great value to its members. The Costco Coupon Book ups the ante by offering additional savings on everyday items that most households buy regularly.
Before heading to Costco next time, be sure to check the ad scans on this page or visit Costco.com to see what items are on sale this month.