Are you still paying full price for gas at the gas station? What if there is an easy way you can get as much as 25 cents off the price listed at the pump, up to 35% off at restaurants, and 15% back at grocery stores?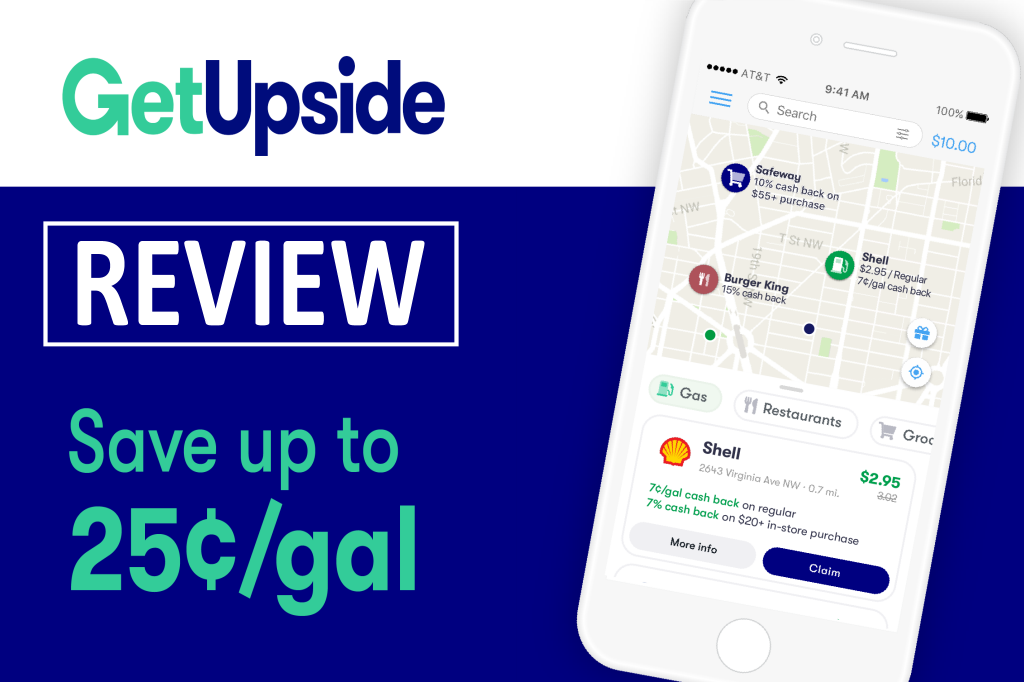 In this Upside review, I'm going to detail how you can earn quick cash back with this easy-to-use app
What Is Upside (formerly GetUpside)
Upside is a mobile app that gives you cash back on purchases made at nearby participating gas stations, grocery stores, and restaurants.
The app is free to download, free to join, and doesn't require a lot of personal information.
Since their launch in 2016, more than 26 million users have accessed offers on Upside, earning $100 million back in cash rewards.
With Upside, you can earn:
Up to 25 cents per gallon cashback at the pump and 20% cashback in the convenience store
Up to 35% cashback at restaurants, although I've seen as high as 58% in my area
Up to 15% cashback at the grocery store
Upside is constantly partnering with new businesses. Currently, there are over 26,000 gas stations in 48 states offering discounts on gas to money-savvy motorists.
Downloading and Installing the Upside App
Upside is available on Android and iOS. Use this link to download the app and get an extra 25 cents per gallon bonus on your first fill-up when you use the Upside promo code AFF25.
To sign up for Upside, simply launch the app after installation. You will be given the option to create an account using your email address, Apple, Google, or Facebook login. On the next screen, you will see the option to enter a promo code and select your preferred grade of gas.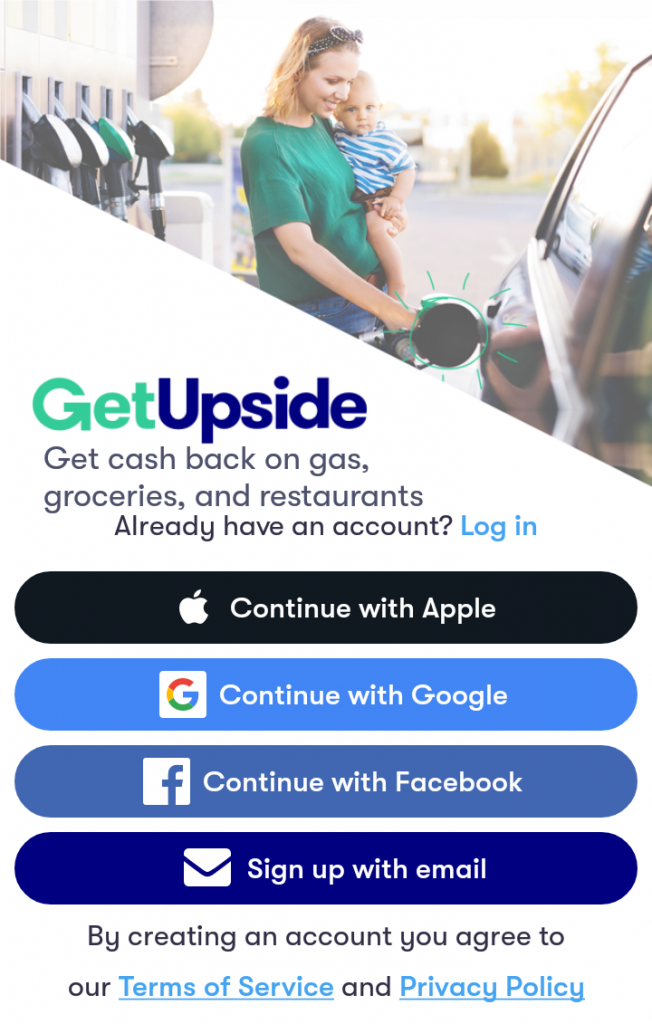 Once completed, tap the "Create account" button to finish setting up your account.
How Does Upside Work
Once you've created your account, follow the below three easy steps to start earning money back:
Step 1 – Add Your Debit or Credit Card to your Wallet
The first thing you should do after installing the Upside app is to add your credit or debit card information to the app so that the company can verify you made a gas purchase at a participating gas station.
To add your card, tap the Menu icon on the top left and select "My Wallet". Then tap "Add card" on the top right. Enter your first six digits and the last four digits of your account number. Then tap "Done"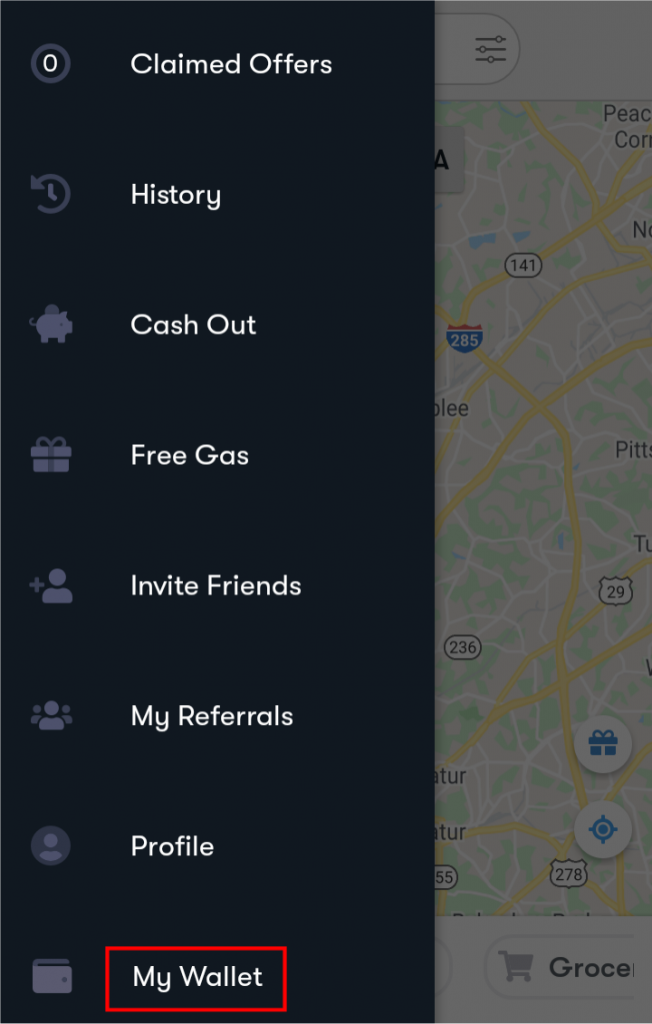 If you are concerned about providing your credit card information, know that you are only giving a partial card number of your 16 digit account number and no other info. There is no way for anyone to guess your full card number and expiration date.
I skipped this step and when I checked in at the gas station for my first fill-up, I had to add the card then. Do it in the comfort of your home where you have plenty of time rather than at the pump when you have somewhere to be afterward.
Step 2 – Finding and Claiming an Offer
On the main screen, you will see a map of your location with the names of nearby participating businesses. Pinch and zoom on the map and tap the "Search This Area" at the top to expand your area.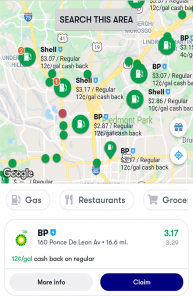 By default, the app will show gas stations. You can switch between displaying gas stations, restaurants, or grocery stores by tapping on the category buttons below the map.
If you see a blue badge with a lightning bolt inside it next to the name, it means this particular business supports Check In. You will be able to check-in and earn cash back without needing to upload a picture of the receipt afterward.
Tap the offer on the map you are interested in to display the address and how far away the business is. You can tap the "More info" button for additional details on the offer.
If you are happy with the Upside cash back offer listed, tap the "Claim" button to lock in the offer.
An orange number on the map is the number of cash back offers remaining at that location. Claim it fast before someone else takes it if you are interested.
Step 3 – Get Gas or Make Purchase
Once you've claimed an offer, you will have 4 hours to make your way over to the gas station or restaurant, and 24 hours for grocery stores to make your purchase.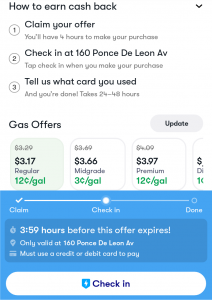 When you get to the business, open the Upside app and check-in. If you haven't added a credit card to your wallet before going to the business, Upside will prompt you to do so when you check-in.
Now pay with your credit card or debit card. Be sure to keep your receipt.
For businesses with the blue Check In badge, you will have 20 minutes to make your purchase once you check-in. Upside will compare your current location using the GPS with the offer location. If you've left the offer location, you will have to upload your receipt instead.
On offers that require you to take a picture and upload your receipt, you will have 24 hours to upload your image.
Now all you need to do next is sit back and wait for Upside to credit your cash back rewards.
How To See Your Upside App Earnings
Your current cash back balance is listed on the top right corner of the screen. As your claimed offers get verified, your balance will go up.
To see your cash rebate history, tap the Menu icon and then "History" on the menu.
How Long Do Cash Rebates Take to Show Up
Once you check in and make a purchase or upload your receipt, it can take up to 10 days to process and for the cash rebate to be credited to your account.
In my experience, it is usually less – about 24 to 48 hours.
Upside will compare the merchant transaction records with the last four digits of your credit card in your Upside wallet to verify your purchase.
You will be sent an email when your offer and receipt are processed. You will also get a notification on your mobile phone if you've allowed app notifications.
Minimum Balance and Fees For Cashing Out
Unlike other rebate programs, you don't need to wait months or longer to rack up a big minimum balance to get your money.
You can withdraw money from your account once you've reached a balance of $1.
You can get your money by Paypal, direct deposit to your bank account, or digital gift cards.
There is a $1 service fee if your balance is less than $15 for payment via Paypal and a $1 fee for direct deposit if less than $10. This service fee is waived if you refer at least one active friend to Upside.
There are no fees for cashing out to a digital gift card. You can only cash out to round dollar amounts and gift card values start at $10.
Once you request a withdrawal to your bank account, your earnings will arrive in 2-3 business days.
Does Upside Have a Gallon Limit for Gas
Upside currently limits users to claiming two offers per day. Each offer allows you to earn cash back for up to 50 gallons of gas in a purchase. Gas pumped over 50 gallons in a single transaction will not receive a cash rebate.
To get your cash back for more than 50 gallons, you may claim two offers and purchase up to 50 gallons of gas each. This will allow you to earn money for pumping up to 100 gallons of gas.
Get Digital Gift Cards for These Merchants
Some people prefer getting their rebates in cold hard cash. Others may prefer a gift card to their favorite store or restaurant. If you are one of the latter, you have the option to cash out to digital gift cards for the following businesses:
| | | |
| --- | --- | --- |
| Ace Hardware | Chipotle | Maggiano's Little Italy |
| Amazon | CVS Pharmacy | Nike |
| AMC Theatres | Domino's | Outback Steakhouse |
| Apple | Dunkin' | Panera Bread |
| Applebee's | Fleming's Steakhouse & Wine Bar | Starbucks |
| Bed Bath & Beyond | Google Play | Taco Bell |
| Bonefish Grill | H&M | Target |
| Cabela's | Home Depot | Walmart |
| Carrabba's Italian Grill | Kohl's | |
| Chilli's Grill & Bar | Lowe's | |
Is Upside Legit or Safe?
Upside is a legitimate company founded in 2015 by two former Google employees. The company currently has over 200 employees and is based in Washington D.C. with offices in Chicago and Austin.
The Upside app on the Apple App Store is rated 4.8 with over 121k ratings and is ranked #18 on the travel category. On The Google Play Store, Upside has a rating of 4.5 with over 88k ratings.
The company is very responsive on both app stores and Facebook in replying to comments from people experiencing issues. Most complaints are from people who have trouble getting their receipts submitted and accepted.
For those who are worried about their privacy, Upside asks for minimal personal information. You do not have to provide your bank account or full credit card number to use the app.
In the My Wallet section, Upside only requests your card's first six and last four digits of your sixteen-digit debit or credit card number and no other info.
Your payouts are made through Paypal, ACH, and digital gift cards. Unless you request a direct deposit, you do not even need to give Upside your banking information.
Pros and Cons of Using Upside
Pros
Stackable Promo Codes For Bigger Discounts
Upside regularly releases new promo codes that you can add to your profile to boost your gas savings. Normal cash back on gas is up to 25 cents a gallon. There have been promo codes that increased the cash rebate as much as an extra 40 cents a gallon on top of the regular discount.
You can find a list of the current active Upside promo codes here.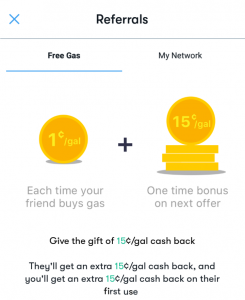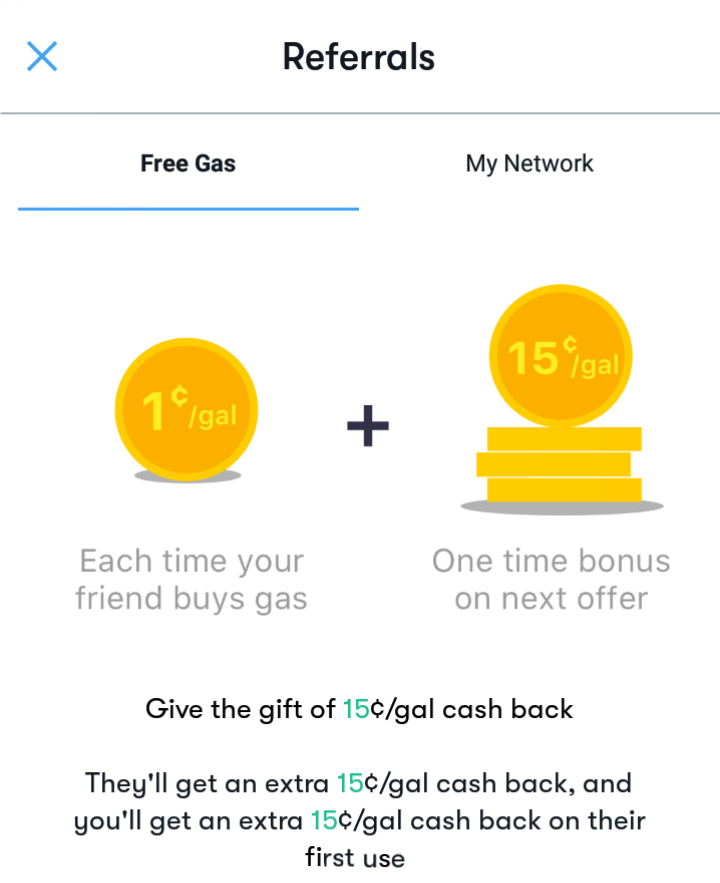 Great Referral Program to Earn More Cash
Unlike other referral programs where you earn a referral fee once, Upside's referral program has the potential to reward you month after month.
When someone uses your referral code, you get a 15 cent per gallon cash back bonus on your next fuel purchase. Then you will continue to earn 1 cent per gallon for all future gas purchases made by your friend. The more people you refer, the more money you can earn.
A penny per gallon might not seem like much, but it has the potential to add up if you refer someone who drives a lot.
Combine with a Credit Card Rewards Program
Do you have a credit card with its own cash back rebate program or reward points? You can use that card when you get gas while using the Upside app to earn even more rewards.
Tons of Restaurants and Grocery Options
As of August 2022, Upside has added thousands of participating restaurants to the app compared to a year ago when most of the businesses were gas stations. Upside now has over 50,000 locations nationwide offering discounts on the app.
Cons
Prices on the Map Not Always Accurate
The gas prices listed on the Upside map may not be the most up-to-date pricing. As you may know, the price you see at a station in the morning on the way to work may not be the same when you are coming home in the evening.
As prices are updated throughout the day, the prices listed on the app may not be the current price. I've seen $2.55 a gallon at a Shell on Upside, but when I drove by the station, it was actually $2.64.
You will still get the cash discount listed for each gallon of gas purchased, but it will be at the actual price at the pump.
Risk of Not Getting Cash Back
Imagine this scenario. You use the Upside app to find a gas station offering the biggest discounts on gas. You go there even though the price on the sign is higher than the price at the station across the street that isn't on Upside. Rather than paying less without jumping through hoops using an app, you were lured to a more expensive station with hopes the cash back will offset the higher price.
On an off-chance Upside can't confirm your purchase with the gas station; you would have spent more than if you had gone to the cheaper station originally.
Your Cash Rewards are Not Immediate
Rather than getting an immediate rebate on gas, your cash back rewards go into a balance on your Upside account. You will have to keep on using the app regularly until you hit the minimum payout. This could be as low as $1 with Paypal minus the $1 service fee, or $10 for a gift card.
Similar to store gift cards with leftover money, there are likely a lot of people who used the app a few times and decided it wasn't for them. Rather than getting the money deposited directly into your bank account, it's sitting in Upside's.
Closing $ense
Upside makes it easy to earn cash back for things you are already doing every day – buying gas, getting groceries, and going out to eat.
You aren't likely to get rich from using the app, but it can help you save money on gas. Why pay full price when you don't have to? To maximize your earnings, take advantage of their referral program to refer friends and family and get a portion of their spending.
Currently, most of Upside's participating businesses are gas stations and the people who will save the most from using the app will be motorists.
To maximize gas savings and your cash rebates, you should use a three-tier approach. Use GasBuddy to see what the lowest price is in your area. Compare that price to those on the Upside app. Then use a rewards credit card when you fill-up.
In my area, Costco is usually the retailer with the lowest gas prices. I've seen Upside beat Costco by as much as 11 cents a gallon and you don't even need to pay for a membership.
If you are a new user, be sure to use the promo code AFF25 to save an extra 25 cents a gallon on your first gas purchase.
What are your experiences with the Upside app? Is it worth the time and effort?