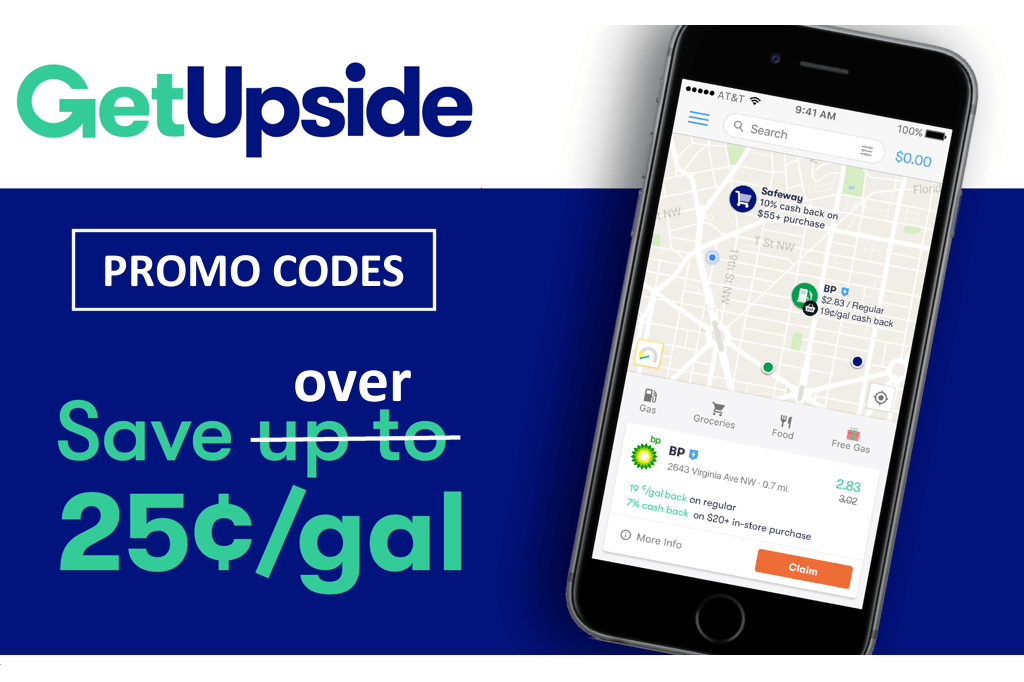 Get the latest GetUpside promo code to maximize your cashback rewards when you are using the app. Apply the below promo codes to your account and save even more money every time you fill up at your local gas station.
What Is GetUpside
GetUpside is a mobile app that lets you earn cash back for making purchases at gas stations, restaurants, and grocery stores. Most of the businesses that GetUpside partners with are gas stations where you can get up to 25 cents off per gallon.
Getting the advertised cashback offer is as simple as finding a local business on the map and claiming the offer. Then you make your way to the store within the allotted time frame, which is usually a few hours. After making the purchase using your debit or credit card, you upload a picture of the receipt through the app. A few days later your cashback reward will show up in your account once GetUpside verifies the purchase.
Read my full review of the GetUpside app on how you can avoid paying full price at participating stores ever again.
If you are thinking about signing up to GetUpside, you can use the referral code ZJVTF to get an extra new member bonus of 15 cents off per gallon. That means on your first fill-up using the app, you can save up to 40 cents a gallon!
Current GetUpside Promo Codes
GetUpside has two different types of promotion codes available. There is the new user signup referral code, which can be entered when you first create an account. Then there are stackable bonus promo codes that can be entered any time afterward.
As of October 2021, the below codes are currently verified as active. If you find any new promo codes or if the below codes have expired, be sure to let me know or post a comment below.
| | | | |
| --- | --- | --- | --- |
| PROMO CODE | BONUS SAVINGS | EXPIRATION | NOTES |
| ZJVTF | 15¢ extra per gallon | Never | Save on first fill-up |
| COMEBACK6 | 6¢ extra per gallon | 10/31/2021 | On next fill-up |
| 7CENTBONUS | 7¢ extra per gallon | 10/31/2021 | On next fill-up |
How to Add the New User Promo Code
Adding the new member discount code to your account is very easy. All you need to do is download the GetUpside app from the Apple App Store or Google Play Store.
Next, open the app and choose between signing up with your Apple, Google, or Facebook account; or using your email address. On the next screen, you will see the option to enter the referral code and select your preferred gas grade.
Once completed, tap "Create account" to finish setting up your account.
If you've already signed up to GetUpside, but haven't redeemed another promo code to your account yet; you can still add the new user referral code ZJVTF to your account and get the 15 cents per gallon new member bonus on your first fill-up by following the directions in the below section.
How to Add the Bonus Promo Codes
GetUpside regularly releases new promo codes that will earn you extra bonus discounts on top of the normal cashback discounts you get from using the app.
To enter the special bonus promo code in the app, tap on the menu (the three horizontal bars) at the top left-hand side of the screen.
When the menu pops up, tap on "Profile"
Look for the section that says "promo code" and tap on the "Edit" link.
Enter your promo code in the field on the following page and tap "Done" on the top right.
GetUpside lets you stack certain promo codes even though they only show the last code entered. To add additional promo codes, repeat the above steps for each code but erase the old code before adding the new one. All the bonus savings from each code will be combined for a big discount the next time you stop at the gas station.
Closing $ense
GetUpside is my current favorite app to save money at the pump. In my area, there are dozens of participating gas stations with cashback discounts ranging from 13 cents to 25 cents off a gallon.
It takes a few extra seconds to claim an offer, check-in, and upload a photo of your receipt, but the attractive discounts make up for it. The GetUpside app can help lessen the sting with gas prices going back up again.
If you do a lot of driving, whether it is because of your job or you are working a sharing economy gig like Uber, Lyft, DoorDash, or Instacart, you can keep more money in your wallet using GetUpside. Even if you don't get the rewards in the form of cash back, you can get them as gift cards to your favorite stores and restaurants.
Feel free to post in the comments below if you know of any new promo codes or if any of the above codes are no longer working. If you wish to post your personal referral code, you may do so on the GetUpside referral code page.