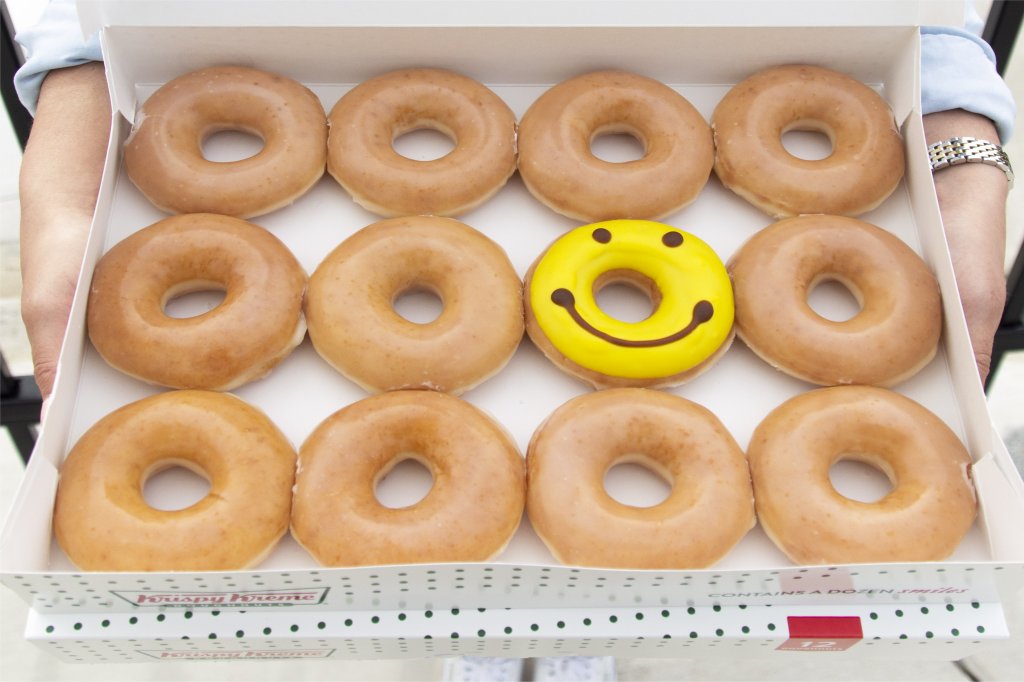 Does the mere thought of Krispy Kreme donuts make your mouth start watering? Did you know that there are several ways you can get free donuts from Krispy Kreme? Here are some ways you can satisfy your craving for Krispy Kreme without pulling out your wallet.
Join Krispy Kreme Rewards
It seems like everyone has a rewards program these days. Krispy Kreme is no different.
As a new Krispy Kreme Rewards member, you can score a free donut of your choice. Whether you want an Original Glazed doughnut or you want the Chocolate Iced Glazed doughnut with sprinkles, it is all free when you sign up for the rewards program.
When you join, you will get an email that you can take to your local Krispy Kreme store to redeem for your free donut.
Once you are a Krispy Kreme Rewards member, you are on your way to free donut heaven. You will receive periodic emails or notifications about upcoming promotions, offers, and discounts. When you make a purchase, you can give them your phone number, email address, or scan your rewards app to receive credit towards free single doughnuts, coffee, specialty coffees, and the Holy Grail – a dozen free Krispy Kreme doughnuts.
Be sure to download the Krispy Kreme app on Android and iOS.
Free Doughnut on Your Birthday
Are you tired of birthday cake? How about a birthday donut instead?
When you signed up for Krispy Kreme Rewards, you may recall entering your birthday. Krispy Kreme asks for your birthday because they send you a coupon for a free Krispy Kreme doughnut and a coffee during the month of your birthday.
Your birthday reward will be valid from the 1st day of the month until the last day of the month, so you will have plenty of time to stop by to pick up your free treat. Not a bad way to celebrate your birthday if you love donuts.
National Donut Day
National Donut Day (or National Doughnut Day) is celebrated on the first Friday of June each year. First started in 1938 by The Salvation Army to honor volunteers who served American soldiers on the front lines countless donuts during World War I, many doughnut shops now celebrate this day by giving away free donuts simply for stopping in.
This year National Donut Day will be on June 2, 2023.
Put this on your calendar and visit a participating Krispy Kreme store to get your free donut on National Donut Day. No purchase necessary. Limit one per guest.
National Coffee Day
National Coffee Day is September 29. Many places offer a free cup of coffee to guests who come in to celebrate this day of coffee. Since Krispy Kreme is best known for their doughnuts, they also give guests a free doughnut to go with that coffee.
Be sure to check the news as this day comes up to see what promotion Krispy Kreme will be doing this year. In past years, they've given away a free original glazed donut and a coffee to everyone. Last year, Rewards members received a free doughnut of their choice and a brewed coffee. Guests who are not Rewards members received a free coffee.
Halloween
The last few years, participating Krispy Kreme stores have been giving customers who show up to the store or drive-thru on October 31st wearing a Halloween costume one free doughnut of their choice. The whole family can get in on the fun and start the trick or treating early with a trip to Krispy Kreme.
Every October, Krispy Kreme also releases special Halloween-themed donuts. This past year's holiday edition treats have included Frankenstein, Dracula, and Werewolf monster doughnuts.
Veterans Day
Veterans and active military members can stop by a Krispy Kreme on Veterans Day on November 11 to receive a free doughnut of their choice and a small coffee.
This is one way Krispy Kreme says thank you to the men and women who serve our country. This offer is valid in-store only. No purchase necessary or coupon required. No ID required either. Simply identify yourself as a veteran or active duty service member. One donut and coffee per guest per visit. You may have to pay sales tax, however.
Past Offers
Here are some past promotions Krispy Kreme has run.
Free Donut and Coffee Mondays
Start your week off on a sweet note with a free doughnut and a coffee.
Visit Krispy Kreme on Mondays, March 29 to May 24, 2021 for an Original Glazed doughnut and a medium brewed coffee. This promotion was launched in conjunction with their Covid-19 vaccination offer for people who do not wish to get the vaccine.
Get Vaccinated and Get a Free Donut Every Day
To encourage and support those who chose to get vaccinated for Covid-19, Krispy Kreme's vaccine free donut offer gives anyone who stops by the store or the drive-thru between March 22, 2021 and the rest of 2021 with their vaccination card a free Original Glazed doughnut. No purchase necessary.
You are limited to one donut per person per day, or 285 free doughnuts if you were to get a donut every day the promotion is running!
While I wouldn't recommend eating that many doughnuts or you might end up gaining the "Covid 19 pounds", it's still nice to know you can grab a free goodie anytime you are craving a doughnut.
Closing $ense
With over 300 Krispy Kreme locations in the US, scoring some free donuts can be just a short trip away.
Many of their promotions are on certain days of the year. Set a reminder on your phone's calendar app to remind you of an upcoming promotion.
Another way to stay informed is to follow Krispy Kreme's Twitter. They will usually announce current deals and post the latest promo codes on there to save you some money.
Krispy Kreme also regularly has a buy a dozen doughnuts and get another dozen for free or for $1. That's almost equivalent to getting two boxes for the price of one. Combine that with the Rewards program and you'll even make Homer Simpson envious.
Do you know any other ways you can get free donuts or other items at Krispy Kreme?