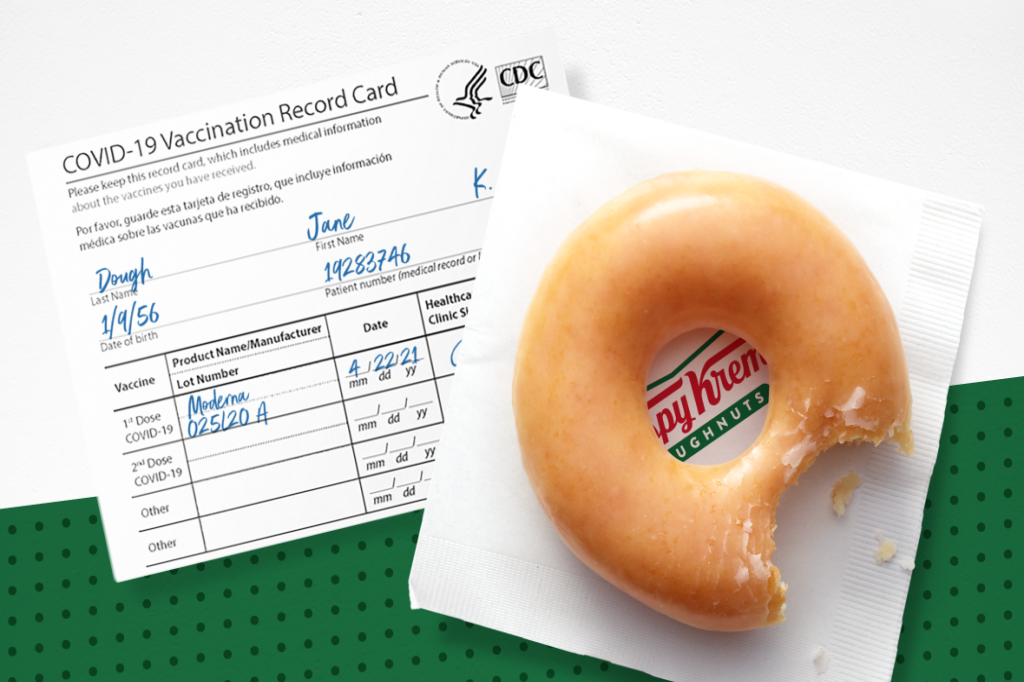 If you like donuts and you've gotten the Covid-19 vaccine, you are about to have a very happy year. Krispy Kreme is offering everyone a free glazed donut if they flash their vaccination card showing they've gotten the coronavirus vaccine shot.
The free donut offer for getting vaccinated has ended. Hope everyone enjoyed their free treat.
Starting Monday, 3/22/2021 until 12/31/2021, you can stop by any participating Krispy Kreme store in the U.S. and receive a free Original Glazed donut. Limit 1 donut per day. No purchase necessary.
You read that right. You get a donut. He gets a donut. Your mom gets a donut. Everyone gets a free donut!
Who Qualifies for the Free Donut Offer
Anyone who has a vaccination card showing they have gotten at least one of the two Moderna or Pfizer shots, or the one-shot Johnson and Johnson vaccine will be able to get a fresh donut hot from the oven.
Krispy Kreme employees will not document, photograph, or record any information from your vaccination card since it contains personal health information.
Which Krispy Kreme Locations Are Giving Away Free Donuts
This offer is valid at all the Krispy Kreme store locations in the U.S. except for Puerto Rico.
You may redeem the offer at the drive-thru or inside the store. Delivery, online orders, grocery, and convenience stores are not valid. You must go to an actual Krispy Kreme location.
There are approximately 363 Krispy Kreme locations, although some locations may be closed due to Covid-19 or other reasons. You can use the store locator on their site to find the nearest store and their hours.
Other Ways to Get a Free Donut
Sometimes it seems like there is an app for everything these days. You probably won't be surprised to learn that there is an app that could earn you free Krispy Kreme donuts.
If you are a big fan of Krispy Kreme, sign up for the Krispy Kreme Rewards program and download the app to start earning points towards free treats.
Best of all, you automatically earn a free donut of your choice simply for signing up.
Besides the the rewards program, there are many other ways you can get a free donut at Krispy Kreme.
Closing $ense
This free donut offer from Krispy Kreme is a nice way for the company to get their name in the news while also encouraging people to get vaccinated.
With 128.1 million doses already administered as of March 25 and more states starting to open up eligibility to everyone, the more shots given means the sooner we will reach herd immunity and the quicker the economy will open up and for things to return back to normal.
All those shots also mean many people who will be enjoying a tasty donut. For some, those donuts are better than crack.
Related: Coffee Addicts: Find out how to get free Starbucks coffee