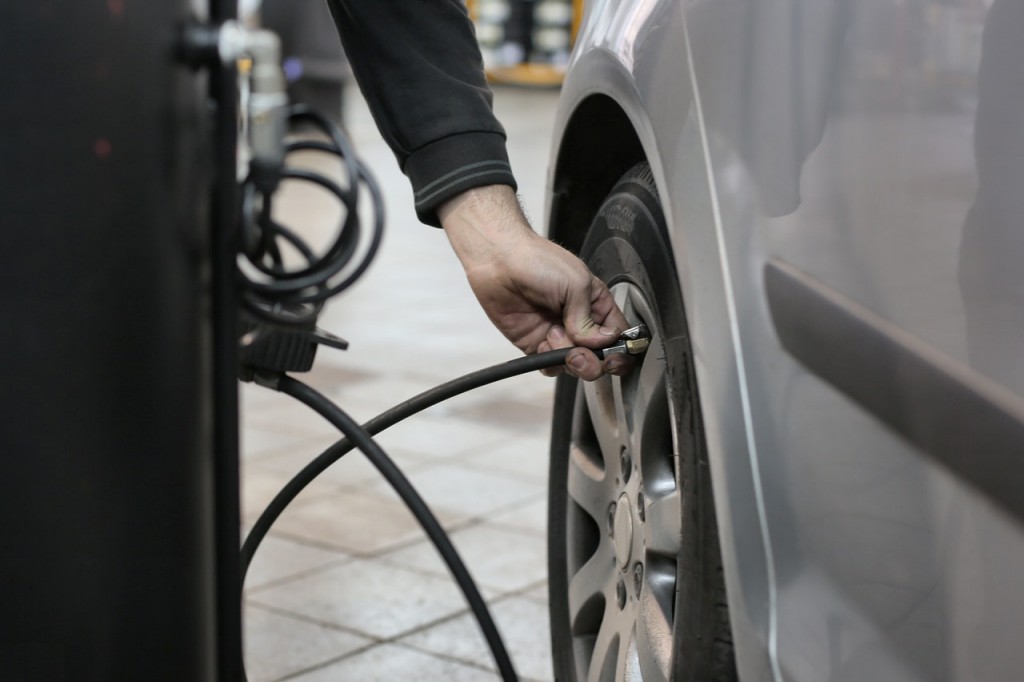 Properly inflated tires are important for better fuel economy, tire longevity, and improved handling. Here is a list of the places where you can get free air for your tires.
According to the U.S. Department of Energy, you can improve your gas mileage by 0.6% on average, and up to 3% by keeping your tires inflated to the tire pressure recommended by the manufacturer. Each psi less can reduce your gas mileage by 0.2%.
In the worst-case scenario, low tire pressure can lead to a sudden blowout due to the tire overheating from excessive friction and sidewall deflection. A blowout is most likely to occur at higher speeds such as when driving on the interstate. This could result in a major accident.
Places to Get Free Air for Your Tires
You may have likely discovered, air is everywhere around us and free except when you need air pumped into your tires. Then it is likely to cost you.
Finding free air for tires is getting harder and harder. Gas stations now charge anywhere from $1.50 to as high as $2.50 at one station I checked to use the air pump.
It has gotten so costly to use the air compressors that gas stations have started taking credit cards at the machine because we don't keep enough quarters in the center console. If that wasn't bad enough, the air pumps sometimes shut off before we finish airing up all the tires and we need to feed the machine even more money.
If you hate paying for air, here is where you can get free air for your tires.
Gas Stations With Free Air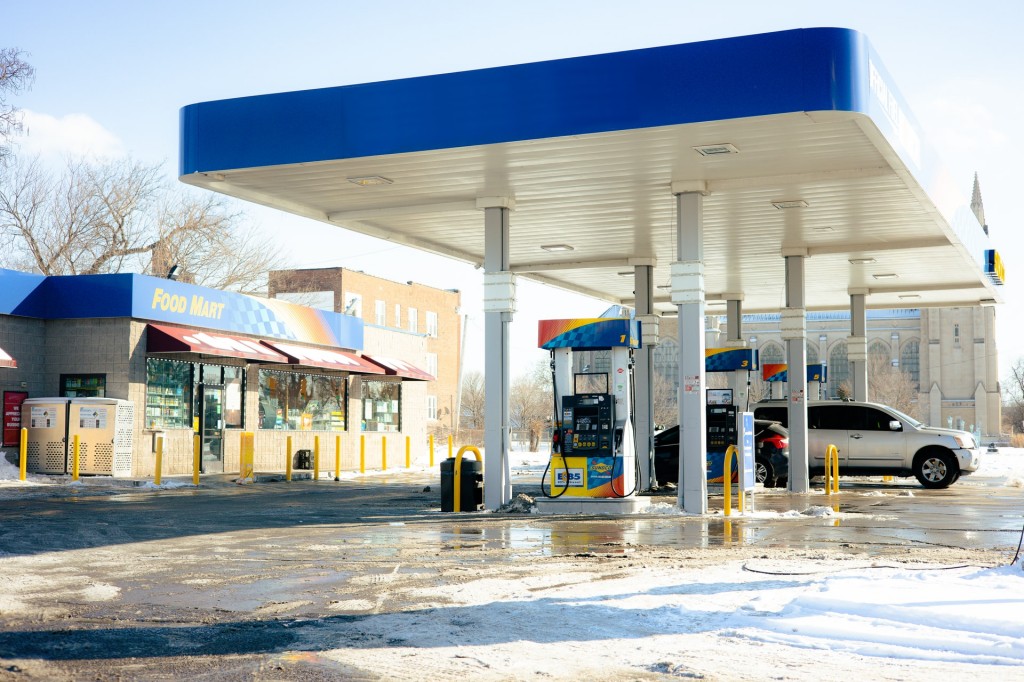 Casey's
Casey's is the third-largest convenience store chain in the United States with over 2,300 stores in 16 states. You can find Casey's stores in Arkansas, Illinois, Indiana, Iowa, Kansas, Kentucky, Michigan, Minnesota, Missouri, Nebraska, North Dakota, Ohio, Oklahoma, South Dakota, Tennessee, and Wisconsin. While free air is still available, there have been reports some locations have switched to charging for air.
Daily's
Daily's is a convenience store chain in Florida. There are currently 37 Daily's stores that are primarily located in Jacksonville, St. Augustine, Gainesville, and Broward County. All Daily's stores are open 24 hours a day, 7 days a week.
GetGo
GetGo is a chain of convenience stores owned by Giant Eagle. GetGo has 264 locations in the Indiana, Maryland, Ohio, Pennsylvania, and West Virginia area. Besides free air for your tires, they say on their website you can also find surcharge-free ATMs and free WiFi available at their stores.
Kum & Go
Kum & Go offers free air at its over 400 stores in 11 states which include Arkansas, Colorado, Minnesota, Missouri, Montana, Nebraska, North Dakota, Oklahoma, South Dakota, and Wyoming. Kum & Go recently announced they will be expanding soon to Idaho.
Kwik Trip / Kwik Star
Kwik Trip operates gas stations and convenience stores in Wisconsin and Minnesota. In Iowa and Illinois, they under the Kwik Star name. They recently opened their 800th location in January 2022. Use the store locator to find the nearest Kwik Trip or Kwik Star location.
QuickChek
QuickChek has 153 stores that are open 24 hours a day that serve the New Jersey and New York area. Use the location search and map on their site and look for stores with the free air icon.
QuikTrip
QuikTrip is a privately owned company that has grown to more than 935 stores in 14 states. You can find QuikTrip locations in Arizona, Arkansas, Georgia, Illinois, Iowa, Kansas, Louisiana, Missouri, Nebraska, North Carolina, Oklahoma, South Carolina, Tennessee, and Texas.
Sheetz
Sheetz operates more than 630 convenience stores that are open 24/7 in Pennsylvania, Maryland, Ohio, Virginia, West Virginia, and North Carolina. Besides offering free air at their gas stations, they sell everything from made-to-order food to specialty coffees.
Stewart's Shops
Stewart's is a family and employee-owned convenience store and gas station with more than 350 Stewart's shops across New York and southern Vermont. Stop in for free air for your tires and get ice cream, coffee, and food to go on your way out.
Wawa
There are over 950 Wawa locations spread across Delaware, Florida, Maryland, New Jersey, Pennsylvania, Virginia, and Washington D.C. that offer free air. The free air at Wawa is so popular they've added a second air pump to some stations due to the lines.
Related article: Smart Ways to Save Money On Gas and Improve Your Gas Mileage
Grocery Stores With Free Air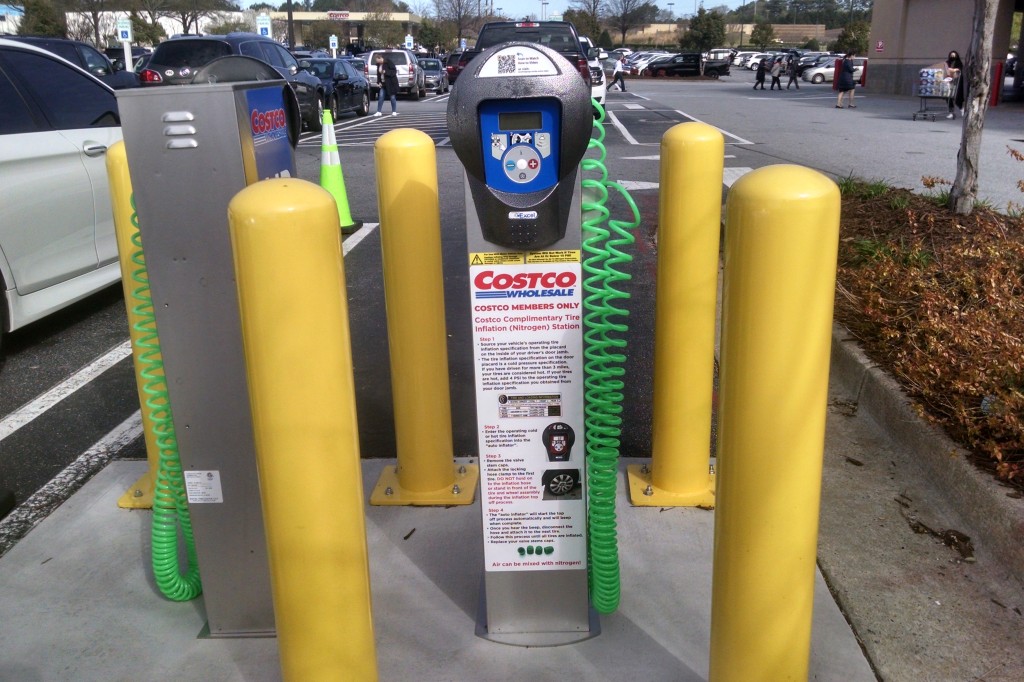 BJ's Wholesale Club
BJ's Wholesale is a membership club with 229 locations on the East Coast of the United States, along with Ohio and Michigan. Besides discounted gas for members, you can usually find electronic air pumps that make adding air to your tires a breeze. Be sure to check for available deals for a discounted membership for BJ's if you are not yet a member.
Costco
Costco is one of the largest retailers in the world with 828 warehouses worldwide, and 572 locations in the United States alone. My local Costco recently put in two self-serve automated air pumps for members in the parking lot by the tire center. For locations without air pumps, you can usually pull in front of a bay at the tire center and a technician will come out and do a free tire pressure check and tread depth check. Check my Costco membership deals page to see if there are current promotions to save on your membership fee.
Hy-Vee
Hy-Vee is a chain of more than 240 grocery stores in Illinois, Iowa, Kansas, Minnesota, Missouri, Nebraska, South Dakota, and Wisconsin. You can search for stores with a fuel department on their website.
Kroger
Kroger grocery stores with a fuel station may have a free air machine, but that number is decreasing. Two Kroger locations I frequent have replaced the free air pumps with ones requiring payment. Use the Kroger store location search to find stores with gas stations on-site.
Sam's Club
Sam's Club has 600 membership warehouse clubs in the United States. They are best known for selling merchandise in bulk. Besides free pressure checks and air, Sam's Club also sells cheap gas at clubs with a gas station. The tire center will also repair your leaky tire regardless of where you purchased your tires. Be sure to check to see if there are current promotions for you to save on a Sam's Club membership.
Garages and Tire Stores With Free Air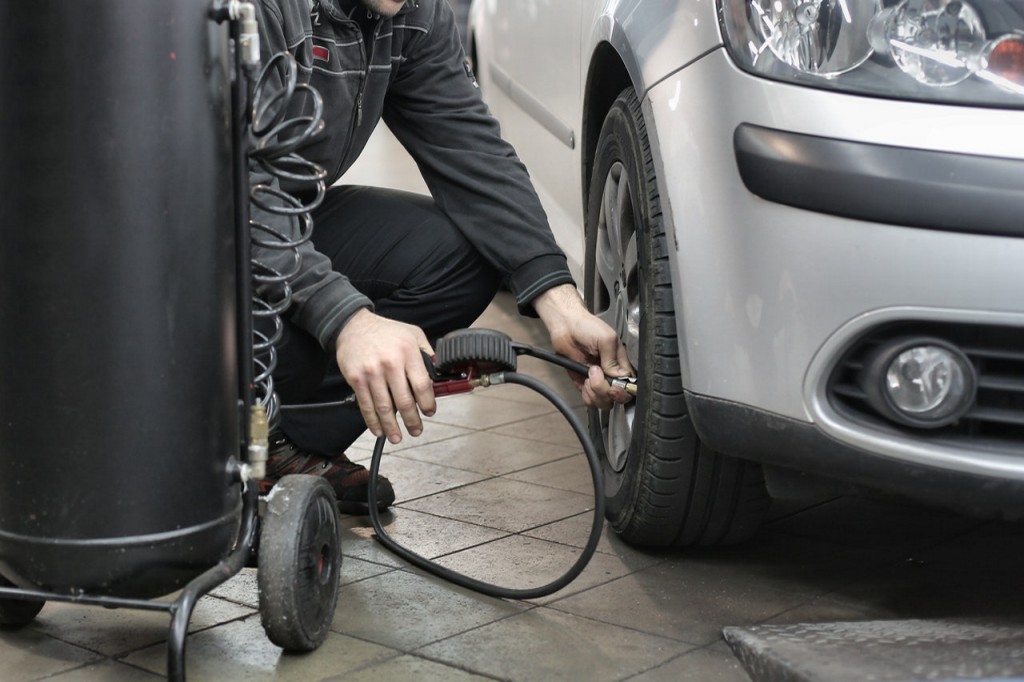 Tire stores are the next best place after service stations to get your tire pressures checked and corrected.
These businesses provide this free service so customers will keep them in mind when it comes time to purchase new tires. Getting people to come in for a pressure check may also mean a chance to look for worn tires that are due for replacement and give them first dibs to sell you a new tire.
Besides providing free air for tires, some tire shops will even patch a leaky tire at no cost to you.
Here are the tire service centers where you can get your tire pressure topped up for free:
America's Tire
Discount Tire operates as America's Tire in Northern and Central California, along with the Greater Los Angeles area due to an existing local company with a similar name. You get all the benefits and services offered by Discount Tire at America's Tire. When your TPMS light comes on, simply drive up to the designated air check area at any America's Tire location, and a technician will correct your tire pressure and have you on your way.
Atlantic Tire
Atlantic Tire & Service is a regional tire service center with five locations in the North Carolina Triangle Area. If your tire pressure is low, bring your car in and they will check your air pressure for free.
Belle Tire
Belle Tire is a tire, wheel, and auto service retailer with 128 locations in Illinois, Indiana, Michigan, and Ohio. They advertise as having free air machines available 24 hours a day, 7 days a week, and invite the public to swing by for as much air as they'd like.
Big O Tires
Big O Tires has more than 465 franchised and company-owned locations in 25 states. The company invites you to stop in to get your tire pressures checked and adjusted in all your tires and will get you back on your way in minutes.
Discount Tire
Discount Tire is the largest independent tire and wheel retailer in the world with almost 1,100 stores in 36 states. The company states on their website that they are happy to check your tire pressures no matter where you bought your tires. You do not even need to make an appointment. Simply drive up to the air check area at the store and ask to have your tires checked. Discount Tire also offers complimentary flat tire repair services to customers whether you purchased the tire from them or not.
Firestone Complete Auto Care
Firestone gives people who come in a free check-up that includes tire inflation, tread inspection, air filter inspection, and alignment check. Firestone has more than 1,700 convenient store locations for all your car maintenance needs.
Goodyear Auto Service
Goodyear Auto Service Centers are full-service tire and automotive repair stores owned and operated by the Goodyear Tire & Rubber Company. Take your car to any of the almost 500 locations for a free tire air pressure check. They will also make sure there are no signs of tire damage.
Just Tires
Just Tires is a subsidiary of Goodyear Tire that provides exclusively tire services such as tire sales, balancing, tire rotations, alignments, and flat repairs. Take your car to any Just Tires location for a free air and damage check.
Les Schwab Tire
Les Schwab has 510 locations with stores in Alaska, California, Colorado, Idaho, Montana, Nevada, Oregon, Utah, Washington, and Wyoming. Stop by any location for a free air check. Customers who purchase tires from Les Schwab also get a variety of free value-added services such as free flat repairs, tire rotations, balancing, tire replacements, pre-trip safety checks, brake inspections, alignment checks, and battery checks that help them save money.
Mavis Tire & Brakes
Mavis Tire has over 700 locations in 20 states. Stop into any Mavis location for free tire inspection and air filling services.
NTB
National Tire & Battery is owned by TBC Retail Group, which also owns Tire Kingdom. NTB has 409 locations in 16 states. You can stop by any NTB store for free air for your tires.
Tire Plus
Founded in 1976, Tires Plus was acquired by Bridgestone in 2001. Tires Plus now has over 400 stores in 23 states. Besides tires, the company offers total car care with services from repairs to maintenance. Tires Plus will gladly check and inflate your tires completely free of charge.
Tire Kingdom
Tire Kingdom has over 200 tire stores in the state of Florida. When your TPMS light turns on, you can stop by any Tire Kingdom location for a free tire pressure check. Should you hear your brakes screeching, Tire Kingdom also offers free brake checks.
States That Require Gas Stations Offer Free Air
The following states have laws on the books that require free air to be provided to motorists:
California
California BPC § 13651 requires that "every service station in this state shall provide, during operating hours, and make available at no cost to customers who purchase motor vehicle fuel, water, compressed air, and a gauge for measuring air pressure, to the public for use in servicing any passenger vehicle".
Connecticut
Connecticut legislative code Ch. 250 Sec. 14-325a states that any person licensed to "dispense motor fuel for sale to the public for any motor vehicle shall provide for free public use an air compressor for the purpose of tire inflation during the hours such premises are open for business."
Other Free Air Locations Nearby
Besides the service stations and businesses listed above, you can use the site FreeAirPump.com for a crowd-sourced map of locations near you that provide free air for your car and even your bike.
Enter your city, state, or zip code in the search field to pull up a list of places with free air.
Since the database is user-generated, it should not be considered 100% definitive. New places need to be submitted by other visitors before they appear on the site. A business could have removed their free air compressor and the listing may not have been updated yet.
Get A Portable Air Compressor
Free air pumps at service stations are occasionally out of order because the compressor is broken or the chuck or air hose was damaged by people driving over it with their car.
If you want the convenience of filling up your car's tires anytime and anywhere, you can consider getting a portable air compressor to leave in your car's trunk for about $35.
AstroAI Air Compressor Tire Inflator
FAST INFLATION & ADVANCED ACCURACY: High-quality materials were sourced for this tire inflator so it can inflate the 195/55/R15 car tire from 0 to 35 psi under 5 minutes
PROGRAMMABLE INFLATION: The air compressor will automatically shut off when it reaches the pre-set pressure
WIDE RANGE OF APPLICATIONS: 3 Nozzles and Extra Fuse Included. Inflates any Schrader valve on cars, SUVs, motorcycles, and bicycles; the included accessories quickly inflate balls, air pillows, cushions, balloons and mattresses
Assuming it costs $2 each time you use the air compressor at the gas station, buying your own will pay off after 18 uses and you can use it for other things such as adding air to your bicycle and inflating an air mattress or pool float.
Get a compressor that plugs into your car's 12V power socket instead of a battery-powered model. That way it will always be ready when you need it.
A portable tire inflator will take about 1.5 to 2 minutes to top off your tire.
Use A Bike Pump
If you ride a bicycle, you may already have a bicycle pump in your garage since bike tires always seem to go flat after a few months of sitting.
As long as your bike pump fits the standard Shrader valves, you can use it to add a few pounds of air for free without leaving the driveway.
A bike pump is not particularly fast and you will have to put some work into it, but you will be able to air up your car's tire no problem.
How long it will take depends on the size of your tire. From experience, I'm able to add one psi of air per ten pumps to a truck-sized 265/70R17 tire. For a smaller motorcycle front tire, I'm able to add six pounds of air in fifteen pumps.
I recommend getting a bike pump with a durable metal body and base. That way it will likely last for many years of use.
CONVENIENT AND COMFORTABLE: Large barrel helps inflatables fill faster with a psi range of 0-120. Has an extended hose length for ease-of-use
WIDE METAL BASE: Adds stability for easy pumping and adds long-lasting durability
BUILT-IN PRESSURE GAUGE: Get your tires filled to the right pressure faster with a large dial and easy-to-read psi markings
CONFUSION-FREE PUMP HEAD: Dual easy indicator pump head fits both Shrader and Presta valves. Indicator is green when locked and ready to use and red when it's not
How to Check Your Tire Pressure
Checking your tire pressure takes only a minute or two and requires no mechanical knowledge or special skills.
The only tool you need is a simple pencil tire pressure gauge that costs a few dollars. You could also go with a fancier digital tire pressure gauge, but you will have to deal with replacing batteries.
Some newer cars may have a menu on the dash that displays the tire pressure readings for the individual tires. The car tire pressure display will help you keep an eye on the tire pressures, but you should still have a tire pressure gauge handy for when you are adding air to your tires.
The first thing you will want to do is find the manufacturer's recommended tire pressure. Look for the decal on the driver's side door pillar, in the glove box for older cars, or in the owner's manual. Do not use the number on the side of the tire. That is the maximum tire pressure of the tire.
You should wait to check the tire pressure when your tires are cold. Tires are considered "cold" when the car has been parked for at least three hours or if the car has been driven less than a mile.
Remove the cap on the valve stem and push the round end of the gauge onto the valve stem. The air pressure will push a bar out on the bottom of the pencil tire gauge showing the psi reading. A digital gauge will show the reading on the screen.
A money-saving idea when you are paying for air is to check the reading for all four tires and note down the numbers first. That way you do not waste time while the clock runs down before the machine shuts off.
Now use the air compressor to add air. If you are adding air at a gas station when the tire is "hot", add 3-4 extra psi than recommended. Adjust the pressure later when the tire is cold as needed.
Should you add too much air, push down on the middle of the tire valve to release the extra air. Pencil tire gauges will usually have a nub on the back of the head to assist in depressing the valve.
Finally, replace the cap on the valve stem when you are done adding air. The cap protects the tire valves from dirt, moisture, and debris.
Closing $ense
The NHTSA says keeping your tires properly inflated can save you up to 11 cents per gallon and extend your tire's life by 4,700 miles.
More reading: How to Know When It's Time To Replace Your Car's Tires
When you see the yellow TPMS light come on in your dash, your tire pressure is already too low. Typically, the light comes on when the tire pressure is 25% below the recommended pressure. According to tire experts, a tire will usually lose 1 to 2 psi per month.
Waiting for the TPMS light before going to the gas station is penny-wise but pound-foolish when there are so many options of free air for your tires. If there are no available free air pumps in your area, you will likely come out ahead after a few years by buying a portable air compressor or a bike pump for your car tires. You will also recoup the costs even faster when you have two or more cars in your household.
What do you think about having to pay for air? Do you know any places that offer free air for your tires?