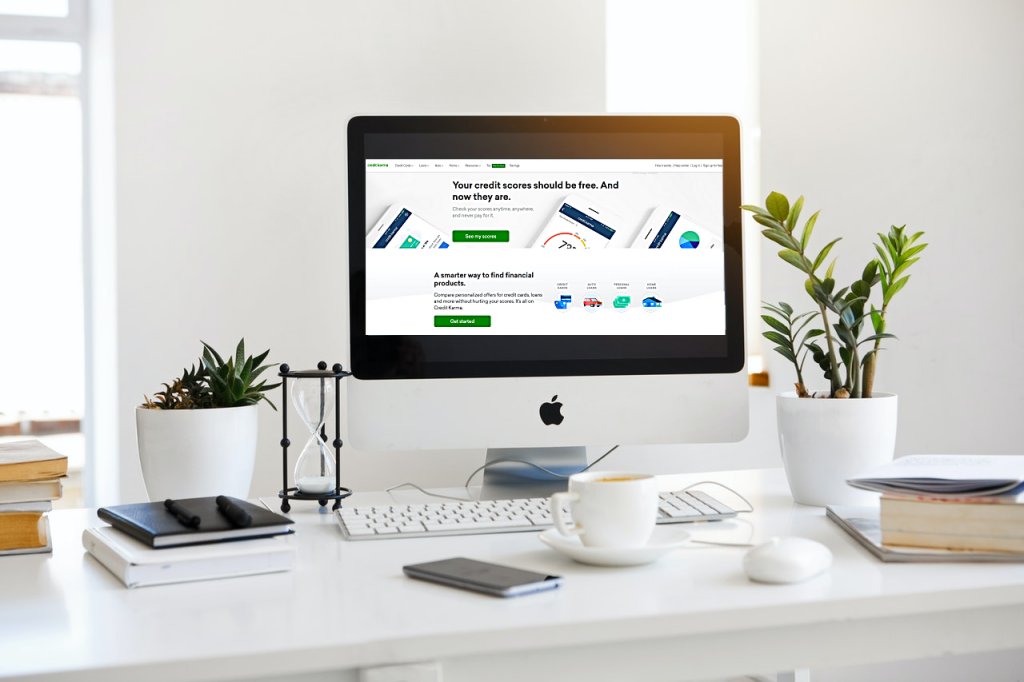 Do you want to know your credit score but hate the idea of having to pay money to get it? Over 100 million people feel the same way. That is the number of members who have signed up for Credit Karma, the website and app that has been providing free credit scores and reports since 2007.
I've been a Credit Karma member for several years now. If you are a little hesitant about signing up to Credit Karma or weren't really sure whether they are legit and whether you should trust them with your personal information, here is my review on everything that you need to know about the company and their services.
Is Credit Karma Really Free? What's The Catch
The saying "there is no such thing as a free lunch" comes to mind whenever we hear the word "free". There has got to be a catch, right? After all, they have to make money somehow.
Yes, Credit Karma's credit scores are completely free.
This is not one of those "free trial" offers either, where you are tricked into signing up and then get a surprise charge on your credit card if you forget to cancel after a few days. When you register for the site, you are never asked to provide a credit card at any point during the process.
How Credit Karma makes money is by referring you to companies that are offering credit cards, auto insurance, auto loans, mortgages, and personal loans. If you apply for a credit card, request a quote for insurance, or apply for a loan, Credit Karma will receive a small commission.
You are never obligated to ever sign up for a credit card or other financial products to see your free credit score or check your credit report.
How To Sign Up for Credit Karma
It is a simple 3-step process to become a member with Credit Karma:
1) Create your account by providing your email address and a password
2) Provide some personal information
Name
Address
Date of birth
Last four digits of your Social Security Number
3) Verify your identity
To confirm your identity, Credit Karma will ask you a series of questions using information that is found on your credit report that only you would know. This may include former addresses and companies with whom you had loans or credit accounts currently or in the past.
Click here to create a free account at Credit Karma
If you had frozen your credit with the credit bureaus to prevent identity theft, you will need to temporarily unfreeze it with TransUnion and Equifax before you can sign up with Credit Karma.
How To Get Your Free Credit Scores
Upon logging into Credit Karma, the first thing you see is your dashboard showing your VantageScore 3.0 scores from two of the three credit bureaus – TransUnion and Equifax. The bureau that isn't included is Experian.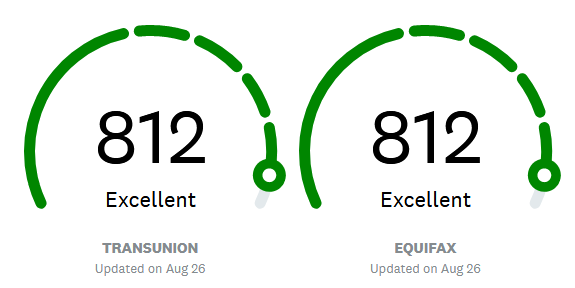 Credit Karma updates the credit scores weekly so you will always have the most up-to-date numbers.
The great thing about Credit Karma is unlike other free credit score services which may only provide scores from one credit bureau; they show your scores from both TransUnion and Equifax. This lets you quickly see if there are any differences with your credit reports at the different bureaus. Lenders may also report slightly different information to the credit bureaus at different times so there may be some differences between the two scores.
Credit Karma VantageScore vs FICO
Created in 2006 by the three credit bureaus, VantageScore competes with the more widely known FICO score from Fair Isaac Corporation.
While not exactly the same as a FICO score, VantageScores are becoming more common and popular with lenders. Research firm Oliver Wyman found that VantageScore credit scores were used 12.3 billion times between July 2018 and July 2019 by all lenders except the mortgage industry.
The difference between FICO and VantageScore is mostly how the two algorithms weigh the different credit factors from the data in your credit report. While a particular VantageScore won't translate to the same FICO score, it should be close.
See Your Full TransUnion and Equifax Credit Reports Any Time
It is recommended that you check your credit report at least once per year to stay on top of what is happening with your credit and avoid cases of suspected fraud or errors.
Everyone is entitled by federal law to get a free copy of their report once a year from AnnualCreditReport.com from each of the three credit bureaus. As you can imagine, a lot can happen in a year between when you last requested your credit report.
A free membership at Credit Karma gives you access to your full credit reports from both TransUnion and Equifax in an easy-to-read format as often as once a week. Your credit reports are requested and updated every week whenever you log in to the site so you will always have the most recent information.
To view your credit reports, click either one of the credit scores on your Dashboard. Below your score history, you will see a link to view the credit report along with the option to print it.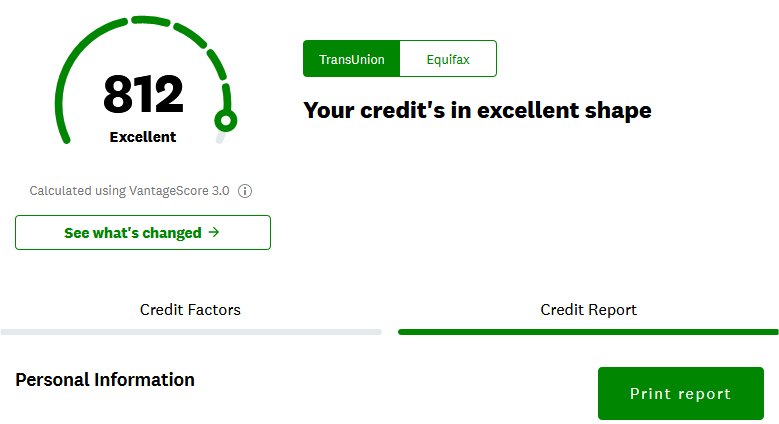 If you want to see how your credit history changes over time, be sure to log into your account regularly. You can find a link to view your past credit reports at the bottom of the credit report page.
Using the Credit Score Simulator
If you are curious about how certain activities might affect your credit score, Credit Karma's credit score simulator tool can give you insight into how your score might change.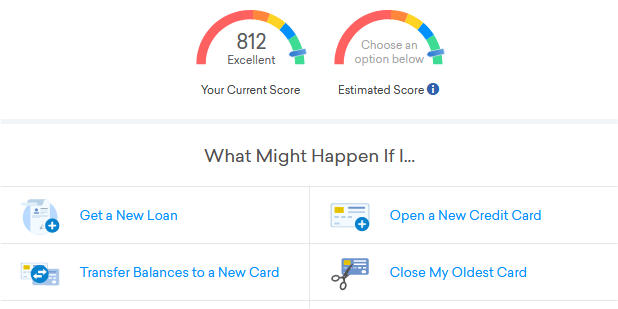 With the simulator, you can see what would happen if you:
Get a new loan
Transfer balances to a new card
Have a credit application denied
Open a new credit card
Close your oldest credit card
Get a credit limit increase
Increase or decrease your balances
Let an account go past due
Go into foreclosure
Have an account sent to collections
Have your wages garnished
You can find the simulator tool under the 'Resources" tab on the top menu.
Does Using Credit Karma Affect Your Credit Score?
Signing up for Credit Karma or checking your credit score with the service will not affect or lower your score. This is also true no matter how many times you check your score on the site.
When the service requests your credit information from the credit bureaus, they only perform a soft inquiry, which won't impact your scores.
However, if you decide to apply for a credit card or loan through Credit Karma or from anywhere else, this is a hard inquiry and that will lower your credit score temporarily.
File Your Taxes Free With Credit Karma
Credit Karma lets you file your federal and state taxes completely free regardless of income.
If you wanted to save money by doing your taxes yourself, you had several options. You can use the free tax-filing services like TurboTax Free Edition, but you are limited to simple tax returns that did not include itemized deductions, business income, stock sales, or rental income. Other free filing products are only free if your adjusted gross income is less than a certain amount. You can use FreeFileFillableForms.com, but you'd need to have a general idea of what you are doing and the site doesn't support filing state taxes. Or you can pay for the full-priced edition of commercial tax software.
If you are tired of being nickel and dimed for additional services by other "free" tax services, Credit Karma Tax is worth a look.
Besides being 100% free to file both state and federal tax returns, you also get:
Max Refund Guarantee. If you get a bigger refund or owe less in taxes when filing an amended return with another online tax service, they will pay you the difference up to $100.
Accurate Calculations Guarantee. If Credit Karma Tax makes a calculation error, they will reimburse you for up to $1000 in IRS or state tax penalties.
Audit Defense. If your tax return gets audited by the IRS or your state, a tax professional will assist you in responding, collecting and identifying supporting documents, help with tax debt resolution options and identity theft, and attend hearings on your behalf with the tax authorities.
Easy Switching. Save time by easily importing your previous year's return from H&R Block, TurboTax, or TaxAct.
Join Credit Karma and start filing your taxes for free
Credit Karma Savings Account
The newest service offered by Credit Karma is a high-yield online savings account. With the national average interest rate of savings accounts currently sitting at 0.06%, if you are keeping your cash in an account that pays barely anything, you are leaving money on the table.
While Credit Karma Savings' interest rate isn't as high as some of the other high-yield savings accounts out there, there are some benefits of opening a savings account at Credit Karma:
No account fees
No minimum deposit to open an account
No recurring deposit requirements
FDIC-insured for up to $5 million
I particularly like that if you do need a place to stash a lot of cash for whatever reason, their savings account is insured for $5 million compared to $250,000 at other banks.
How Credit Karma can offer such high deposit insurance is because they are not a bank. Instead, they partnered with MVB Bank, which is FDIC-insured. After your money is deposited into your account, your money is distributed to a network of over 800 banks for safekeeping.
By integrating their Credit Karma Tax service with Credit Karma Savings, it hopefully makes saving money easier. When you get your tax refund, instead of your money going to your checking account and tempting you to spend it, you can have your refund automatically allocated to your Credit Karma Savings account. If you don't have a savings account yet, you can create one with a few clicks during the tax filing process.
Sign up for a free Credit Karma savings account
Is Credit Karma Safe?
Their site is as safe as any other financial website such as your online bank or brokerage. You can review Credit Karma's security practices about how they keep your personal information secure.
They state that they use 128-bit or higher encryption to protect your data from your browser to their site. A check of their SSL certificate shows that they use 256-bit encryption; similar to what is being used by other financial services such as Capital One, Wells Fargo, Citibank, and Fidelity.
Besides working with independent parties to regularly audit their security, they also have a bug bounty program where they offer cash rewards for people to find vulnerabilities on the website, iOS, and Android apps.
Finally, Credit Karma was acquired and is currently owned by Intuit, the giant financial services company best known for TurboTax, Quickbooks, and Mint.
How Does Credit Karma Use Your Personal Information
Since you are making your private financial information available an internet company, you may be concerned with how your personal information will be used. Their privacy policy lists what they will do with your personal information.
You can rest easy knowing that Credit Karma explicitly states that they do not share your credit reports or scores with unaffiliated third parties and they do not sell or share your personal information with unaffiliated third parties for advertising or marketing purposes.
Credit Karma may use your information to present you with certain offers that are a good fit. For example, if you have an excellent credit score, they may show you credit cards for people with excellent credit.
They do state that if you click on a partner site, they may provide some of your personal information to prepopulate forms to simplify completing the application, but you still have the final decision whether to submit the information to the partner.
Closing $ense
Unless you plan to pay cash for everything, you need to have an idea of what your credit score is before you apply for a mortgage, auto loan, personal loan, credit card, or refinancing any of your existing loans. Even if you do not foresee applying for credit, your credit score can still determine whether you get a job, how much you pay for insurance, are able to rent an apartment and more.
Credit Karma offers an easy way for you to stay informed and manage your credit. They are the only service I know of that offers free weekly updates of both your credit scores and credit reports.
Combined with their online tax preparation service, high-yield savings, identity monitoring, loan calculators, credit score simulator, and unclaimed money search, you get a whole lot of features with your membership for free. That is why I am a member and a regular user.