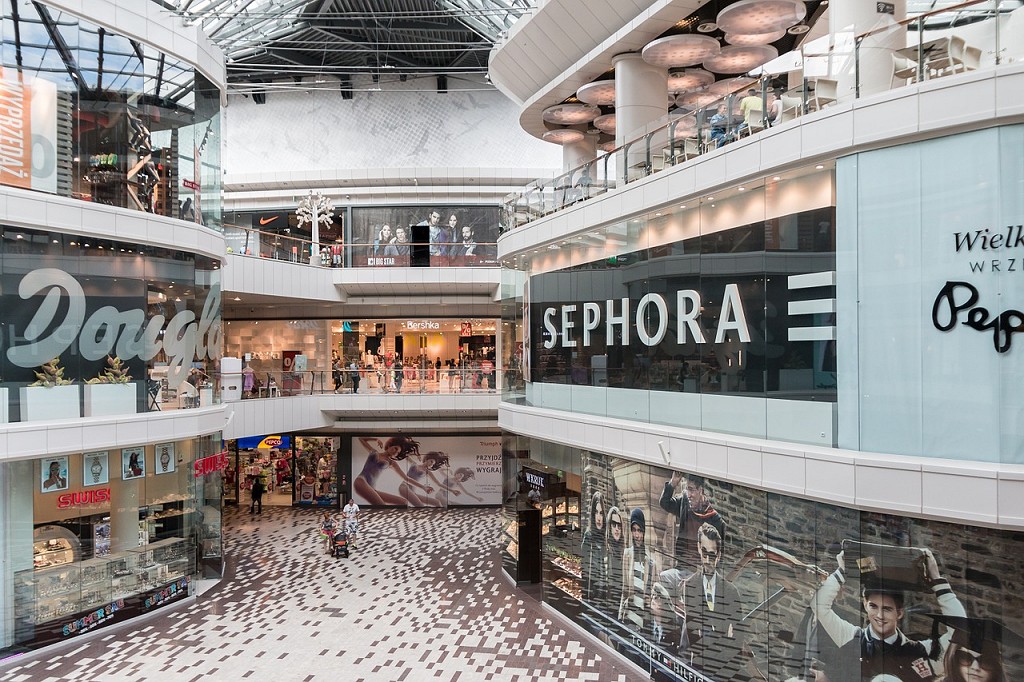 Shopping and how we buy products have changed immensely in a few short years. The internet has enabled buying just about anything we can imagine with a few clicks of the mouse or swipes on our phones. There are now over 100 million Amazon Prime members who happily pay $119 a year simply so they can get their purchases shipped free and in their hands in two days.
I've seen how online shopping has affected traditional retail stores. Black Friday 15 years ago, I was at Fry's Electronics in our city at 4 o'clock in the morning – two whole hours before opening. There were hundreds of other holiday shoppers in a line that wrapped around the outside of the store around to the back, all hoping to get an awesome deal on televisions, computers, or kitchen appliances. Last year we showed up half an hour before opening and there were less than fifty of us in line. Rather than deal with crowds and traffic, people are staying home, shopping online, and having their items delivered directly to their door.
Whether you choose to do your shopping online or in traditional retail stores, there are pros and cons to both. Here are some insights to both options and how you can use their advantages to save some money.
Advantages of Shopping Online
More choices: There is limited shelf space in physical stores, which means there are only so many kinds of a particular item that the retail store will keep in stock. There are no such limitations when shopping online. If you are looking for a certain brand of a product and in different sizes and colors, you can almost always find whatever you are looking for online.
Get hard to find items: Rather than spending a whole day running from store to store looking for a certain product or replacement part, you can use your keyboard and let Google do the work for you.
Shop any time: There are no such things as business hours online. Websites are always open and ready for your order. A couple weeks ago I was in Home Depot trying to decide on which silicone sealant and it was closing time so I had to come back another day. Feel free to shop online at midnight in your pajamas.
Save gas and avoid traffic: Shop in the comfort of your home on your couch using your phone and avoid fighting over parking spots, sitting in traffic, or getting your dings in your car from people who don't put their buggies back in the cart return.
Easily compare prices: You will always know you are getting the best deal on an item. Rather than checking multiple stores and jotting down prices (I personally prefer to take a picture using my phone) only to find out the first store had the best price and having to trek back there again, you can check multiple online stores and even local stores' websites at once by simply opening multiple tabs on your browser.
Keep costs in check: How many times have you had all your items scanned by the cashier only to be surprised by a big unexpected bill? When you shop online, you get the total for everything in your online cart before you pay. If you are over-budget, you can easily remove the item from your cart.
Avoid long lines: Murphy's Law says that whichever checkout line you choose, the one next to you will always go faster. With online shopping, you get to skip the lines and the crowds, saving a lot of time while avoiding stressed-out workers and frustrated shoppers.
Send gifts to friends and family: Never worry about packing birthday, wedding, or Christmas gifts in boxes and taking them to the post office. Buy online and have the item delivered directly to their home. Some stores will even gift wrap it for you and let you add a note. My mother has even ordered flowers online to be delivered to a family member's gravesite in a different state.
Better prices: Great deals and lower prices can be found online because online stores have lower overhead. They don't have to worry about all the extra costs like labor, rent, and utilities that come with having a physical store. You can even cut out the middlemen by buying products directly from the manufacturer or overseas.
Tip: Use CamelCamelCamel to check the price history of a product on Amazon and set price alerts when the price falls to a certain threshold.
Reviews and research: Never wonder if a product sitting on the shelf is any good again. When you buy from an offline store, you are depending on a salesperson's recommendations or your own personal judgment based on the product's packaging or your experience with that brand's other products. When you shop online, you can find hundreds or even thousands of reviews on that item from people who've bought it.
Keep your purchases discreet: Stop being embarrassed by your purchases or paranoid about people judging you. Products purchased online arrive in a plain box with no one knowing what is inside it besides the person who packed it. That person probably packs hundreds of boxes a day and won't remember you or your item by the end of the day.
No pressure: Sometimes you just want to look around without the high-pressure sales tactics from salespeople looking to make a commission. You can avoid the sales talk and feeling guilty for not buying something by shopping at your leisure with online shopping. If you are looking at buying a car and don't want to deal with car salesmen, you can even rent any car using the internet nowadays if you want a more thorough test drive.
Better recordkeeping: Buy from a retail store and you get a paper receipt that eventually gets lost or thrown away with your other receipts. Even if you are extremely organized, after a few years, you might find that the print on the thermal paper had faded out and the receipt is now unreadable. You don't have this problem with online shopping. You will usually get an email confirmation and some sites will keep an online record of your purchases forever.
Advantages of Traditional Shopping
While online shopping has become incredibly popular in recent years, there are times where shopping at a brick and mortar store is still better.
Get it immediately: Sometimes you need something immediately and you cannot wait for Amazon, UPS, or FedEx to deliver it. I was installing a new kitchen faucet for my parents that we snagged this past Black Friday and the new faucet needed an adapter for the water connections. I was able to hop in the car, drive to Home Depot and back in 20 minutes. Had I ordered the parts online, my parents wouldn't have been able to use the sink for days while waiting for the parts to be delivered.
Easy returns and exchanges: Bought something and it was broken or didn't fit? You can simply take it back to the store to exchange it that day. Returns for online purchases means you will need to call, chat, or email someone to get an RMA. Then you need to take it to the post office or UPS Store. In some cases, you might even need to pay for return shipping, like with many sellers on eBay. In the worst case, you are charged a restocking fee.
Be more selective: When you buy something from the internet, you are stuck with whatever arrives in the package. When you buy one from the store, you can carefully look over the item and pick which one you want. You can avoid any damages and imperfections. You can make sure there are no loose threads on that dress and the zipper works smoothly.
Personalized service: The human element in purchasing decisions can't be ignored. You can get advice, ask questions and get feedback from someone who sells those products day after day and will know more about it than you will. A good salesman will steer you towards a product that best fits your needs and requirements.
See it in person: Two-dimensional photos on a screen can only provide so much detail about an item. It might look good online, but you might have second thoughts when you see an item in person. At a traditional store, you can hold an item to see how heavy it is, see how big it is, how that shirt fits, and get a better idea of the quality of materials and how well it was made.
Less fraud risk: In recent news, both major online and offline retailers have gotten hacked and had their customer data stolen. People looking to avoid such headaches have the option of paying with cold hard cash at the checkout when shopping at a traditional retail store.
No shipping costs: A great deal online might not be such a great deal anymore if there are additional shipping costs added to the total. Even Amazon Prime members, who get two-day free shipping might not be getting such a good deal in the end if they do not order enough from Amazon to make the annual membership fee worth the cost.
No shipping delays or problems: The only sure way to make sure you get your purchase is to pick it up yourself. When you are depending on the post office, UPS, or FedEx to deliver your package, there is always the possibility of your items getting lost, damaged, delivered to the wrong address, or even stolen off your doorstep.
Avoid analysis paralysis: Sometimes having too many choices to choose from leads to wasting a lot of time making a decision. When you can find three dozen brands of phone cases available to you on a big shopping site like Amazon, you could find yourself spending hours reading reviews and looking up features when all you need is a basic case to protect your phone.
When To Buy Online and When To Buy In The Store
Should you shop online or buy from your local store? Here are my thoughts on which one I would choose if I was doing the shopping.
Groceries
Pros of Buying Groceries Online
Online shopping can be a solution if you tend to overspend on your grocery budget. When you shop online, you will know exactly what you will spend before you checkout. Supermarkets are laid out so that you have to wander from one end of the store to the other to get all your groceries. Along each step of the way, the grocer is bombarding your senses to tempt you to pick up additional items not on your shopping list.
Shopping online for groceries can help you save not only money but also time. Place your order online and pick up at your local store to save on home delivery fees. An employee will do the walking of the aisles for you picking up your items and bring them all to your car when you pull up.
Buy your staples online for the convenience. A can of soup, bars of soap, and packages of toilet paper are the same no matter if you are the one picking it off the shelf or an employee does it.
Pros of Buying Groceries From The Store:

You are picky about your produce, dairy, and meat selections. Perhaps you are buying a watermelon or cantaloupe and you want to get the biggest melon for your money. Or you are buying grapes or apples and you prefer ones that are crisp and aren't bruised. When you are the one doing the choosing, you can pick your favorite out of the bunch.
Another benefit of doing the shopping yourself is you can pick out your favorite cut of meat. You get to look through the carton of eggs and check that none of them are cracked. You can pull out the freshest gallon of milk from the back of the refrigerator.
Sometimes the cost of shipping for certain heavy or oversized items makes it uneconomical to buy online. Yes, you can buy cases of bottled water, big bags of pet food or rice, or toilet paper in bulk online, but you will likely get it for cheaper at the store.
More: How To Save Money Shopping For Food
Clothing
Pros of Buying Clothes Online
If you know exactly the style, sizing, or color of what you are looking for, buying your clothing online opens up a much larger variety and choices to choose from.
Those with special sizing requirements, like big and tall men's sizes that aren't always available in the brick-and-mortar store, will have an easier time finding it in stock online. You can visit several online stores with a few clicks of the mouse that cater specifically to those shoppers.
Shoppers who are looking for the best deals can sign up for emails from their favorite online stores to be notified about big online sales. Those who are willing to wait a couple of weeks can even order clothing from overseas sites or factories for even bigger savings.
Pros of Buying Clothes In-Store
Need something immediately for a work or social occasion? Even with two-day shipping, nothing will get you your new clothes faster than going into a physical store and walking out with them.
Buying your clothes at the store lets you see, feel, and try them on before parting with your money. My mother bought dresses from China and even with all the careful measuring with a measuring tape before clicking "Purchase", she has gotten a few items that didn't fit or look as good as it did on the model on the store's website. A few years ago, I bought khakis after checking both Walmart's and Wrangler's website and gotten pants that were a dark shade than I had hoped. You will never run into these problems when you see the items in person.
This brings up the next perk of buying locally. If you get something that didn't fit or you change your mind, you can easily take them back to the store. You don't have to pay for return shipping, spend time standing in line at the post office, and the money will be instantly back in your bank account or wallet.
You can save money buying at the local store by signing up for sales emails, checking the weekly ads, and looking out for sales and end of season clearance events.
Prescription Glasses
Pros of Buying Eyeglasses Online
There are two major reasons to buy your eyeglass online – selection and low prices.
I remember as a kid going into Sears Optical every two years to get my eyes checked and pick out a pair of new eyeglasses. There would be entire walls of frames on display stretching from one end of the store to the other. My father's insurance would pay for any frame up to about $50. Out of that entire store, there would maybe be a couple dozen that was within budget and they were usually not that fashionable.
Buying eyeglasses online was a real eye-opener (see what I did there). Sites like Zenni Optical has thousands of stylish frames to choose from, more than what any optical store will have in stock. On my last purchase, I picked up not one, but three pairs of glasses – frames and lenses included, for under $50.
More: How to Save Money Buying Eyeglasses Online
Pros of Buying Glasses at the Optician
When you go shopping for eyeglasses at your local eyeglasses store, you are trading price and selection for personalized service. You get to ask questions, see how a pair of frames will fit your face, and the optician will tweak the nose pads and earpieces on your pair of glasses so it sits perfectly on your face.
For your first purchase of a pair of glasses, going into a local shop is a good idea. Once you've bought your first pair of glasses, you can use it as a point of reference to choose a similar pair online. Using a ruler or tape measure, you can measure the frame width, temple length, lens width and height on your pair of glasses and use those measurements to narrow down your selection.
Medication and Personal Health Products
Pros of Buying Medicine Online
Buying medication and health products online offers convenience, better prices, and more privacy.
Not only can you buy general over-the-counter medicine, you can now even buy prescription medication online, delivered right to your doorstep. This allows greater availability of drugs for people who live far from a pharmacy or who are disabled. Rather than making a trip to the pharmacy, doctors can call in a prescription or customers can mail or fax in the prescription and have their medication delivered a few days later.
Buying medication online allows easy comparative shopping among a large variety of sites to get the best prices.
Some online pharmacies will have pharmacists on-call 24/7 to answer any customer questions.
Then there is the privacy issue. Products will be shipped to you in a plain brown box. There have been posts on Reddit from teens feeling embarrassed or awkward about buying condoms. Online shopping eliminates this problem. One can go to the grocery store and buy an Amazon gift card with cash, then sign onto Amazon, and have their purchases shipped to an Amazon locker at the local public library. No more standing in line with an item to checkout and running into a neighbor or your mom's friend, or having to interact with the cashier.
Pros of Buying Medication at the Store
Maybe you have a headache, stomachache, or having an allergic reaction and are breaking out in hives. When you are sick, no one wants to wait days for medication to arrive when relief can be found just minutes away with a trip down to the local pharmacy or supermarket.
Many national pharmacies such as Walgreens and CVS, big grocery stores like Kroger, and retailers like Walmart and Target will carry both name brand medication and their own store brands for less, giving you a choice if you are price conscious. Bulk generics can be found at Costco.
Another benefit of shopping at your local drug store is being able to check the expiration date on the package to avoid expired medication. You can avoid fake, questionable, or contaminated meds whose origins are a mystery.
More: Where To Get the Best Deals on Allergy Medications
Electronics
Pros of Buying Electronics Online
Buying consumer electronics online gives you a larger selection. Many computer and electronic stores will carry the most popular or latest gadgets due to the shortage of shelf space. You can easily find phones from Samsung, Motorola, or Apple at Best Buy or the cell phone store. But if you were looking for a previous generation phone to save some money or a phone from a manufacturer like OnePlus or HTC, you'd have to check online.
Another advantage of buying electronics online is the ability to purchase refurbished products. You may be trying to get the best price on a product or perhaps you already owned the product and it performed marvelously but the item has since been discontinued. I've seen this with the Samsung printers a family member has in his office. HP bought out Samsung's printer division and discontinued the printers in 2017. The printers he has work great, have all the features he needs, and there is something to be said about stocking up on one model of toner versus different kinds. The local and online stores no longer sell new printers, but we can still find open box models on eBay.
Online shopping also takes away the hassle of dragging your purchase home. This is especially true as more and more people get tempted by 65" and larger TVs. The TVs and boxes they come in are so large; you need a proper truck or SUV to get them home from the store. You can buy the television online, relax at home, and wait for the item to be delivered to your doorstep.
Pros of Buying Electronic Goods at the Store
Online shopping as grown in recent years, but when I was in Best Buy over the Christmas holiday, the store was packed with shoppers. There is still a reason to go into a store to buy your electronics.
By going into the store, you get to check out your potential purchases in person. You can to play around with the tablet, phone, or laptop and see how bright and responsive the screen is. I went over to the monitor section to see how big the 32" monitor I saw on sale on Black Friday was and decided it was way too big after seeing it in person.
Having your electronics delivered to your door can be an advantage, but it is also a disadvantage. We've all seen viral videos of the stressed-out delivery driver running over a customer's package repeatedly with his van or throwing a package like Tom Brady chucking a football. There is also the thought of having a $500 item sitting outside on your doorstep for hours in the rain or with thieves following the delivery drivers around just waiting to nab your new laptop while you are stuck at work.
Closing $ense
When deciding whether to shop online or shop at your local retail store, there is no one size fits all solution. You will have to decide which best suits your situation. For the best results, you should shop both online and at traditional stores. In some instances, online will be better. In others, walking into a local store is the better solution.
Do you prefer shopping online? Or do you prefer local brick-and-mortar stores? Which products do you prefer buying in the store and which ones do you prefer buying online?