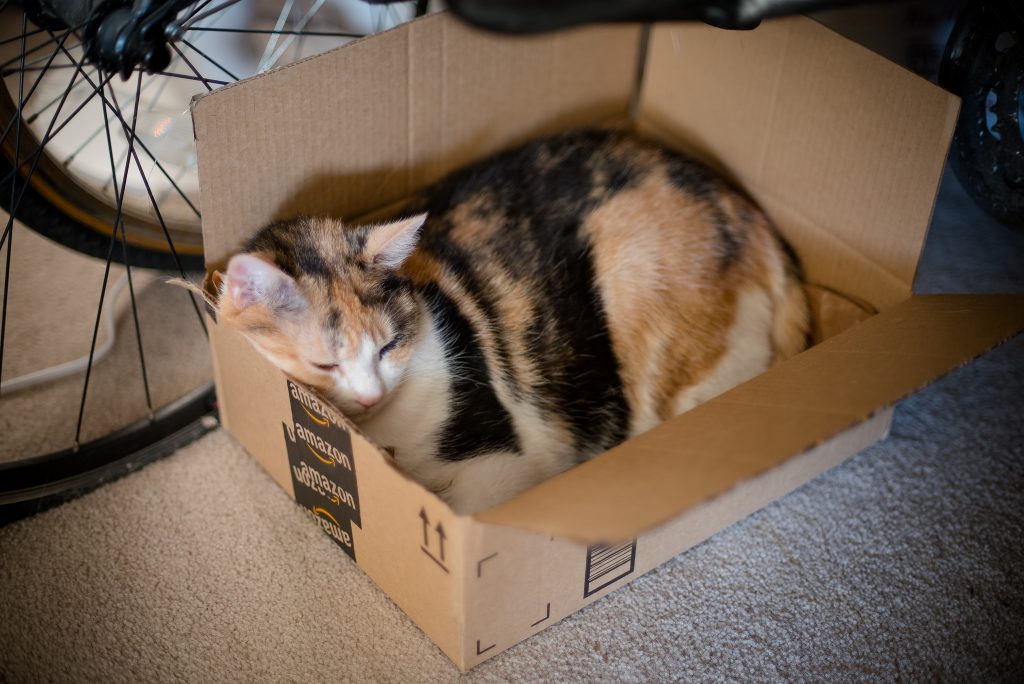 Amazon announced during their fourth-quarter earnings report they will be increasing Amazon Prime prices across the board for both annual and monthly memberships in the US starting in February 2022. Here is what you can do to save money on your Amazon Prime subscription.
Last Thursday Amazon made headlines after announcing they will be increasing the price of monthly Prime memberships by 17% starting February 18, 2022. They will be bumping the monthly subscription fee up from $12.99 to $14.99 a month. This comes out to $180 a year or a $24 increase.
New members who join Amazon Prime annually starting February 18 will now pay $139, up from $119 before. Current members will renew at the new rates after March 25, 2022.
Looking at some of the comments on Twitter, many people were not happy about the price increase. Those who had chosen the monthly membership may not be as affluent as those who are able to shell out for an entire year at once. The new pricing will hit the pocketbooks hard for those who may be least able to afford it.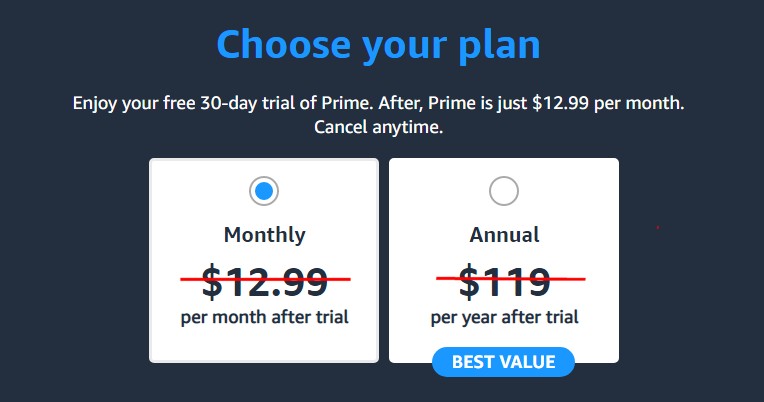 What To Do About The Amazon Prime Price Increase
Cancel Your Amazon Prime Subscription
Every time a company increases the price of its services, it's a good time for customers to evaluate their usage to decide if they are getting their money's worth. Often customers will have the service automatically billed to their credit cards or bank accounts and may not be taking full advantage of their membership. Even worst, some customers may have completely forgotten about the service and are paying for something they do not even use anymore.
If you are not taking advantage of Amazon's free two-day Prime shipping, Prime Video, Prime Music, Amazon Fresh, Prime Pantry, or any of the other Prime member-only benefits, you can cancel your subscription here and save $14.99 a month.
Consider Switching To The Annual Membership Plan
It may start making sense financially to switch over to the annual membership plan from the monthly plan if you see yourself using Prime regularly over the course of a year.
You have until February 18 to look over your last few months of Prime usage and determine if any changes should be made. If you have been a monthly Prime member for over a year and are regularly using the free shipping or video streaming benefits, go ahead and sign up for the annual membership now and save some money. I know commitment is hard. Just do it.
Think of it this way. If you think you will use Amazon Prime for at least nine months out of the year, you will get the other three months free. Everyone likes getting free stuff.
Do You Really Need Two-Day Free Shipping?
These days, everything is about instant gratification. I remember the days of 2400 bps modems where I had to watch a GIF appear on the screen line by line as it was downloaded. Now, if a website hasn't loaded in a couple of seconds, we are frantically hitting the reload button.
Back in May 2017, Amazon reduced the minimum order size to $25 to qualify for free standard shipping. This used to be $49. They lowered the free shipping threshold to $35 to compete with Walmart, which had introduced free two-day shipping on orders over $35. Isn't competition great?
With Amazon's standard shipping, your order will arrive in 5 to 8 days after all items are available to ship. If you do not see yourself needing your purchases immediately, it is now easier than before to hit the minimum order size to qualify for free shipping. By putting your items into your shopping cart or saving it into a wishlist until you have $25 worth of purchases, you can get your items shipped free and save the most money.
Sometimes by putting your impulse purchases off until later, you will decide that you really didn't need that fidget spinner after all and save even more money.
Get A Reduced Prime Membership If You Have An EBT Card
If you have a valid EBT card for any government assistance programs, Amazon offers a Prime membership for $5.99/month. You qualify if you are in any of these programs: Temporary Assistance for Needy Families (TANF); Women, Infants, and Children (WIC); and Supplemental Nutrition Assistance Program (SNAP),
You will receive all the Prime benefits except for the Amazon Household Sharing. Amazon states that you will receive the lower pricing for up to 48 months, but you will need to re-qualify every 12 months.
To join Amazon Prime under the reduced rates, click here to confirm your EBT number and sign up.
Selectively Join Prime When Needed
Maybe you are like me and don't order from Amazon regularly. This is what the monthly membership option is best used for. Rather than pay a lump sum upfront for a service that you rarely use, join Amazon Prime for a month at a time as needed.
This option is perfect for the holiday season when you are ordering gifts for everyone and want to make sure everything arrives on time.
It is estimated that there are 153 million Prime members in the U.S. as of the second quarter of 2021. For the times that you need something immediately, you might be able to find a friend to place an order for you using their membership and you reimburse them.
Consider Other Alternatives
Are you a member of Amazon Prime because you order a lot of stuff from their online store or do you use the other perks like Prime Video?
People who are Amazon Prime members because they like shopping from home can save money by joining other services like Walmart Plus. The Walmart Plus shopping membership is $12.95 a month or $98 a year. This gets you free delivery from your local Walmart store or free shipping on any item shipped by Walmart with no minimum costs.
Closing $ense
According to data from Morgan Stanley and Statista, Amazon Prime members spend over 400% more than non-Prime members. By increasing the fee for the monthly subscription option, Amazon is hoping to push more members to sign up for the yearly membership.
It is not uncommon for businesses to offer cheaper prices for customers who are willing to commit to a longer term upfront. You see it in all kinds of products and services. Buying an Epic Pass season pass from Vail gets you unlimited days on the mountain that pays off after only 7 days. You can join Tinder Plus for $9.99 a month if paid monthly or $3.33 a month if you pay for 12 months at a time if you really like swiping and being disappointed. Gyms will also reduce the monthly fees and waive the initiation fee if you commit to a longer term.
The way they see it, it is better to get a larger sum of money even though it might be a lesser amount than risk a customer only making a couple of purchases and end up with even less money. Knowing this, a smart consumer with good financial stability can save a ton of money over someone who doesn't have the extra money available.
For example, when a friend was looking to join a gym a couple of years ago, I showed him the potential savings of purchasing the two-year $399 gym membership through Costco over the $34.99 monthly membership with $49.99 initiation fee. After running the numbers, he would only need to join for 10 months and the remaining 14 months would have been on the house. That is a savings of almost $490.
This also works when buying products when they are on sale and stocking up. Last summer when Costco had boxes of cereal on sale for $2.40 off, we bought a year's worth of cereal at once and saved $72 off the regular price. What? We really like Honey Bunches of Oats. Not only did we save bunches of money, but we also save time not having to go back to the store to buy cereal for a year and dealing with long checkout lines and finding parking.
Are you an Amazon Prime member? If you are, what made you join Prime? Are you getting your money's worth? If you are not a Prime member, why not?