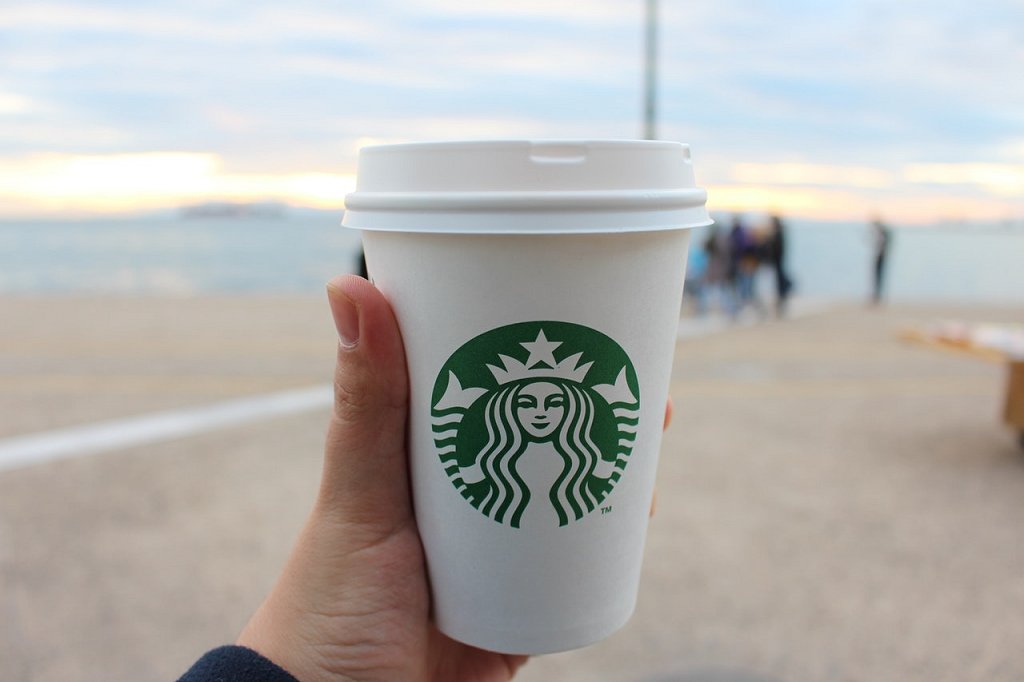 Do you have an obsession with Starbucks where it seems like you are spending a fortune on coffee there? You are not alone. Starbucks says 75 million customers visit their stores every month for their caffeine fix. That is a lot of cups of pumpkin spice mocha Frappuccinos.
Rather than tell to you drop your Starbucks coffee habit and drink water instead, I'm going to tell you how you can have your coffee while paying almost nothing for it. In some cases, you can even get your Starbucks coffee for free.
Join the Starbucks Rewards Program
If you are a Starbucks addict, you've probably heard about the Starbucks Rewards program.
If you haven't, you need to sign up now and download the app. It's free to join and opens the door to earning free drinks and food at Starbucks.
How the Starbucks Rewards program work is you earn Stars when you make purchases at Starbucks, which can then be used to redeem for rewards. When you check out, you simply scan your member barcode in the app before paying.
When you are already at Starbucks buying drinks and food, you may as well be earning Stars for what you are purchasing. Depending on how you pay for your items, your Stars will start adding up fast.
Earning Starbucks Stars
Stars are earned at the following rates:
Star per dollar spent: When you pay with cash or credit/debit card at the register, or link a payment method to your account and pay through the app
Stars per dollar spent: When you pay with a physical Starbucks Card or load money to your digital Starbucks Card in the app and then pay for your purchase
Stars per dollar spent: When you sign up for a Starbucks Rewards Visa and load your Starbucks Card with the Starbucks Visa card, then pay using your preloaded Starbucks Card. You get one Star for using your Starbucks Visa and two Stars for paying with the Starbucks Card.
Redeeming Your Starbucks Stars for Starbucks Rewards
Once you've started racking up a giant pile of Stars, here are what you can redeem them for:
25 Stars: Customize your drink with an extra espresso shot, dairy substitutes such as almond, soy, or coconut milk, or a splash of your favorite syrup
50 Stars: Get a brewed hot coffee, bakery item, or hot tea
150 Stars: Now we are talking. Get a handcrafted drink, breakfast sandwich, or parfait
200 Stars: Redeem for a sandwich, wrap, salad, or protein box
400 Stars: Get select Starbucks swag like a travel cup, bag of packaged Starbucks coffee, or an accessory
Buy One Get One at Starbucks Happy Hour
Bars have happy hours. So does Starbucks. Instead of beer and a buzz, you can get your favorite coffee and stay up all night.
Starbucks Happy Hour occurs on random Thursdays each month from 2 PM to 7 PM. You need to be a Starbucks Rewards member to get a BOGO coupon in the app that lets you buy one handcrafted drink and get one of equal or lesser value for free.
Order as many qualifying drinks on the same order as you want, they are all BOGO. Share with friends or drink them yourself.
Drinks that qualify are grande or larger and include all espresso drinks, Frappuccino beverages, seasonal drinks, cold coffees, and iced teas. Exclusions are hot-brewed coffee, hot teas, ready-to-drink beverages, and alcohol.
Free Starbucks Coffee Refills
Starbucks Rewards members can get unlimited hot or iced brewed coffee and hot or iced tea refills. That's right, unlimited refills!
To get your refill, you must scan your member barcode when you first purchase your original drink. Then when you order your refill, you will have to scan the barcode again with the cashier.
Besides scanning the barcode on the Starbucks app, the only other stipulation is that you cannot leave the store after ordering your first drink. As long as you stay at the store, you can drink as much coffee as you can chug down during your same Starbucks visit.
Finally, if you ordered a venti Caramel Frappuccino, you cannot get another venti Frappuccino for the free refill. The drink refills you can choose from are either a hot, iced, or cold-brewed coffee, and tea.
The free coffee refills perk is great for people who are looking for a place to work remotely without looking like a squatter, or studying for class and would appreciate the extra caffeine injection to stay focused and alert.
Get a Free Starbucks Drink on Your Birthday
When you signed up for the Starbucks Rewards program, did you notice the field where it asked for you to enter your birthday? There is a reason for that.
That is because on your birthday, you can get a birthday reward of either one complimentary handcrafted beverage, one food item, or one ready-to-drink beverage.
What better way to celebrate your birthday than going all out and getting your favorite customized coffee drink loaded with all the fixings. Or if you prefer, you can order something from the food menu for breakfast or lunch.
To be eligible, you must have joined Starbucks Rewards at least 7 days before your birthday, and earned at least one Star prior to your birthday for each year. You cannot redeem for beverages with alcohol, merchandise, or packaged coffee.
How to Supercharge Your Stars Earnings
Earning about 2 Stars for every dollar spent at Starbucks means you'd need to spend at least $75 before you can get that tasty Mocha Cookie Crumble Frappuccino. Here is how you can earn Stars even faster.
Take Advantage of Double Star Days
Once a month, Starbucks does a Double Star Day where you can earn twice the number of Stars for each dollar spent. This means you can earn 4 Stars for every $1 that day, getting you closer to your goal of a free coffee twice as fast.
Be sure to sign up for promotional emails to be notified of upcoming Double Star Days.
Earn Bonus Stars
Starbuck Rewards will sometimes notify you of challenges you can complete to earn extra Bonus Stars. For a limited period of time, if you complete the challenge you will find bonus Stars added to your account. Types of challenges include:
Purchase – Buy specific items from the Starbucks menu
Visits – Visit Starbucks a certain number of times during a period
Streak – Visit Starbucks a specific number of days in a row during a period
You must be opted-in to receive promotional and marketing offers to receive personalized special offers to earn Bonus Stars. You may not redeem Stars for an item and have the item count towards your Bonus Star offer.
Secret To Free Starbucks Without Buying Coffee
All the above ways to get free coffee except for on your birthday requires you to spend money on expensive Starbucks coffee to earn Stars.
What if you are someone who loves Starbucks but doesn't love it enough to spend $6 or more regularly on a coffee? Here is how you can still get that free coffee.
Earn Free Starbucks Gift Cards
One of the easiest ways to earn Starbucks gift cards is to sign up for Swagbucks.
How Swagbucks works is you earn points for doing things like answering quick surveys, watching videos, shopping online at your favorite retailers, playing online games, searching the web, and more.
With Swagbucks points, you can redeem them for Starbucks gift cards between $5 and $100 at 100 SB points per dollar.
Besides getting Starbucks gift cards, they also offer many other gift cards from other popular retailers and sites, such as Amazon, Walmart, Target, Best Buy, and more. Or you can simply redeem for cash back through Paypal.
As of January 2021, Swagbucks have paid their members over $503,551,526.
Get the Starbucks Rewards Visa
Signing up for the Starbucks Rewards Visa card as a new cardmember lets you instantly bank 4,500 Bonus Stars if you spend $500 in the first 3 months. That is equivalent to 30 handcrafted free drinks at 150 Stars each.
The Starbucks Rewards Visa doesn't limit you to spending money only at Starbucks to earn Stars. Here are the rates Stars are earned for using the card:
Star per $1 spent – When you load your physical or digital Starbucks Card with your Starbucks Rewards Visa
Star per $2 spent – For everyday purchases at grocery stores, gas stations, and paying for cable, internet, and phone service
Star per $4 spent – On everything else you purchase using your card
Assuming that free Frappuccino would have cost you $6, each Starbucks Star is worth about 4 cents.
This means if you were to load your digital Starbucks Card with the Starbucks Rewards Visa, you are earning rewards at 4% per $1 added to your account. When you use the preloaded funds to pay for coffee and other items at Starbucks and receive the two additional Stars, you are effectively earning 12% on Starbucks purchases. When you use your Starbucks Visa for non-Starbucks spending, you are earning 2% on everyday purchases, and 1% everywhere else.
Another way to think about it is you get a free Starbucks coffee for every $600 you spend on the card for miscellaneous purchases. You can also get a free coffee for every $300 you spend at the supermarket, gas station, or when you pay your internet and cell phone bill.
The downside with the Starbucks Rewards Visa is after the first year, there is an annual fee of $49.
Starbucks Rewards Visa Prepaid Card
If you hate credit cards and annual fees, you can still earn Bonus Stars by getting the Starbucks Rewards Visa Prepaid Card.
The Starbucks Visa Prepaid Card is a reloaded debit card that allows you to earn Stars anywhere you shop without annual or reload fees. You can reload your prepaid card using your existing debit card from any bank or transfer funds from your Chase checking or savings account.
Starbucks Stars are earned by:
Get 150 Stars the first time you load your registered digital or physical Starbucks Card with your Starbucks Prepaid Visa card with $10 or more
Earn 1 Star for every $10 spent anywhere Visa is accepted except for rentals (such as car, equipment, and furniture)
Read more: Why You Should Use a Credit Card Instead of a Debit Card
Closing $ense
There are many ways to save money and even get free coffee at Starbucks. While you can save money on coffee by making your own cup of Joe at home for about 20 cents, many people still like to visit cafes and coffeehouses as a treat to themselves.
Since you are going to go to Starbucks to buy a coffee anyway, you may as well sign up as a Starbucks Rewards member and download their app to start earning some free drinks.
People who must have their daily Starbucks to function might benefit from signing up for their Visa credit card to earn Stars even faster. I've heard of people who own businesses putting their Google Adwords or Facebook ad spending on their Starbucks Visa and end up with thousands of Stars so they never have to spend actual money at Starbucks to pay for coffee.
What are some ways you've saved money or gotten free coffee and other perks at Starbucks?