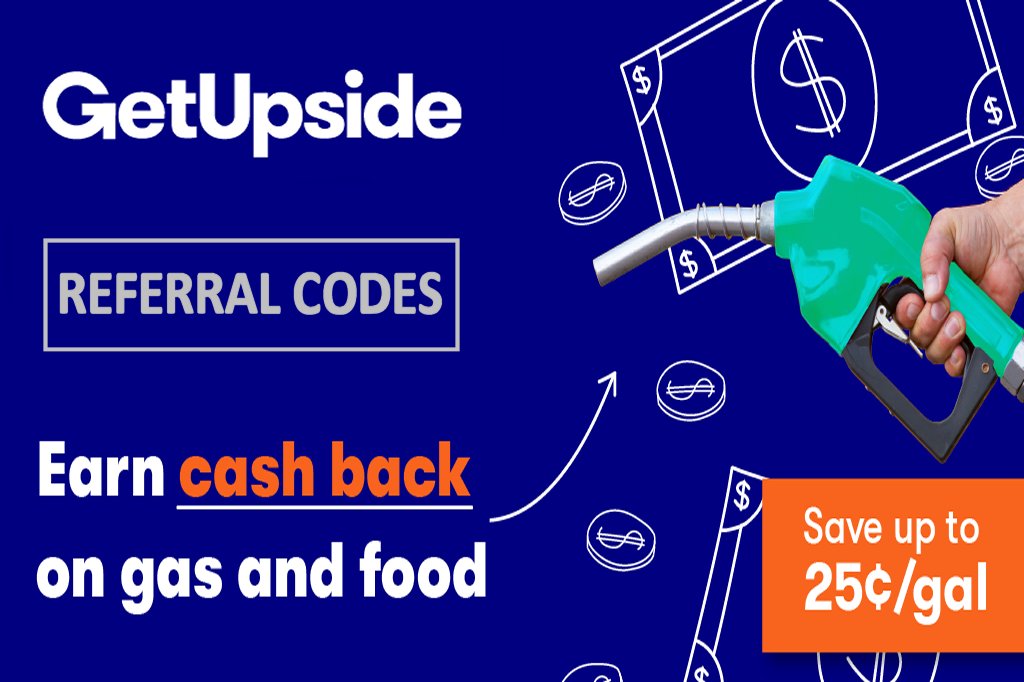 Are you looking to save money at gas stations, restaurants, and grocery stores with the GetUpside app? Before you download and install the cash back app, consider using a GetUpside referral code when you register to save even more on your first fill-up.
For more details about how the app works, you can read my full GetUpside review.
Why Use a GetUpside Referral Code
As someone who is thinking about getting the GetUpside app, you may be wondering what's in for you to use someone's referral code.
Using a referral code when you sign up gets you an extra 15¢ off per gallon on your first time getting gas using the app. That is an extra 15¢ bonus in addition to the up to 25¢ cash back that you are normally getting. So take advantage and make sure to fill up your car's tank completely if your new member discount is active.
Occasionally, that new user referral code could be worth even more in cash back. In fact, a whole lot more. GetUpside regularly runs special promotions and I've seen them offer new members as much as $20 simply for signing up using a referral code.
Need a GetUpside Referral Code?
Use the GetUpside referral code AFF25 if you are installing the Getupside app and don't have a code yet. Support my writing, this site, and save some extra money too.
Already have a referral code? I can help you there too with this list of active GetUpside promo codes that you can use to get additional gas savings after joining.
The GetUpside Referral Program
You may have seen many people encouraging their family, friends, and even strangers to sign up using their GetUpside referral code. There is a reason why the GetUpside referral program is so popular.
Each active user you refer gets you 15¢ off per gallon on your next trip to the gas station too. Refer ten people and the next time you go buy gas you will save you $1.50 per gallon plus the normal cash back amount. Refer enough people and your gas will be free!
But that is not all. The GetUpside referral program is one that keeps on giving you money. GetUpside will pay you 1¢ per gallon each time your referrals buy gas – forever!
And there's more! When they refer their friends, you will get .5¢ per gallon from their referrals as well.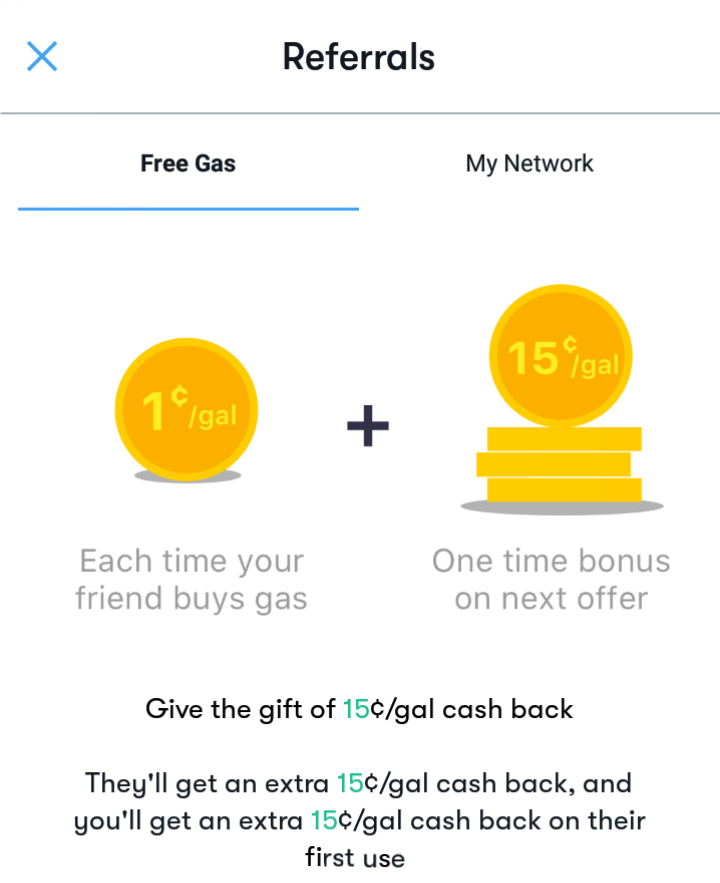 To get your new referral bonus, your friends and family must buy $10 worth of gas before they are considered an active user.
Don't have any friends to refer? Don't let that stop you.
You can also share your referral link via email; on social media apps like Facebook, YouTube, Twitter, Tik Tok, or Instagram; on chat apps such as Snapchat, WhatsApp, Discord, and Signal by adding your referral code to the end of the below link:
https://upside.app.link/<YOURCODE>
Those who want to market offline with business cards, flyers, and car magnets with their personal referral code, can visit the GetUpside Vistaprint Portal to order custom-printed marketing materials.
GetUpside Bonus Referral Promotions
Just like how GetUpside occasionally gives bigger bonuses to new members who signed up under someone's GetUpside referral code, they also run special bonus promotions to encourage you to refer new users.
Here are some examples of special offers I've gotten:
Get $5 for every friend you refer in 30 days
Earn $10 in cash bonuses for every new member
Get an extra $100 cash for 5 referrals in a month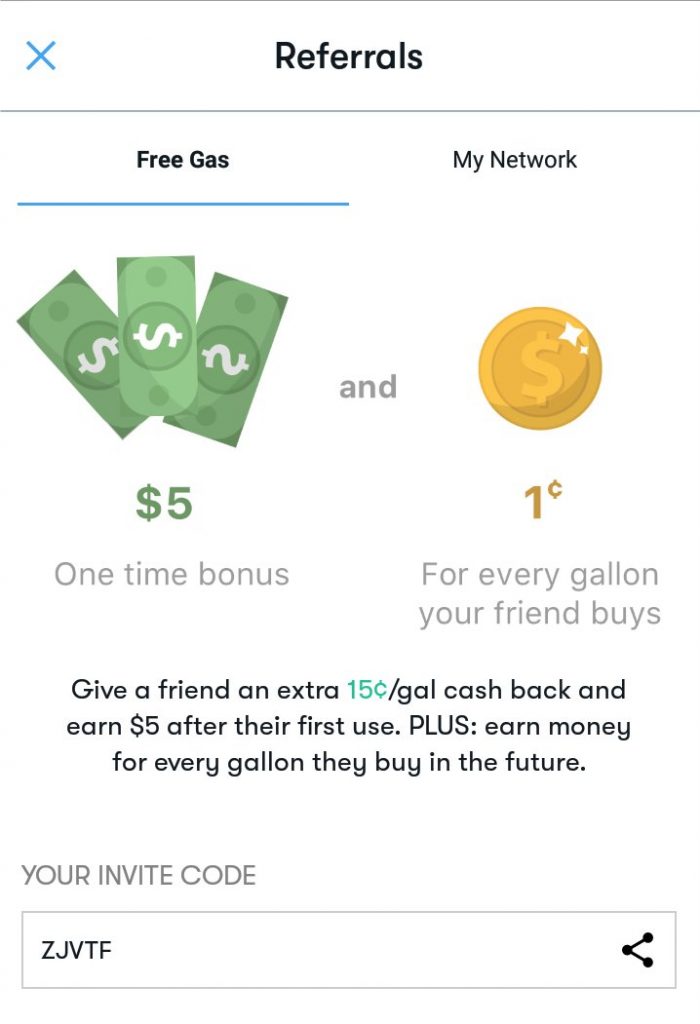 Keep an eye on your email for special events and promotions. These promos are usually announced at the beginning of the month and only run until the end of the month.
If getting an instant cash bonus wasn't enough, you will continue to earn recurring revenue for each gallon of gas your referrals buy in the future.
Sharing Your GetUpside Referral Code
Due to the new GetUpside terms of service update on November 12, 2021, you are limited with whom you can share your referral code. The referral program is now only available to friends and personal acquaintances.
You are prohibited from:
sharing your personal referral code on a website or blog
purchasing advertisements featuring your referral code
posting your referral code at gas stations, restaurants, or grocery stores
sharing your referral code on your social media if you have more than 2,500 followers
publishing your personal code for general public use
Unfortunately due to the new terms, I've saved and then redacted all previous comments with a referral code so that one's GetUpside account doesn't get locked. New comments with a referral code will not be listed.