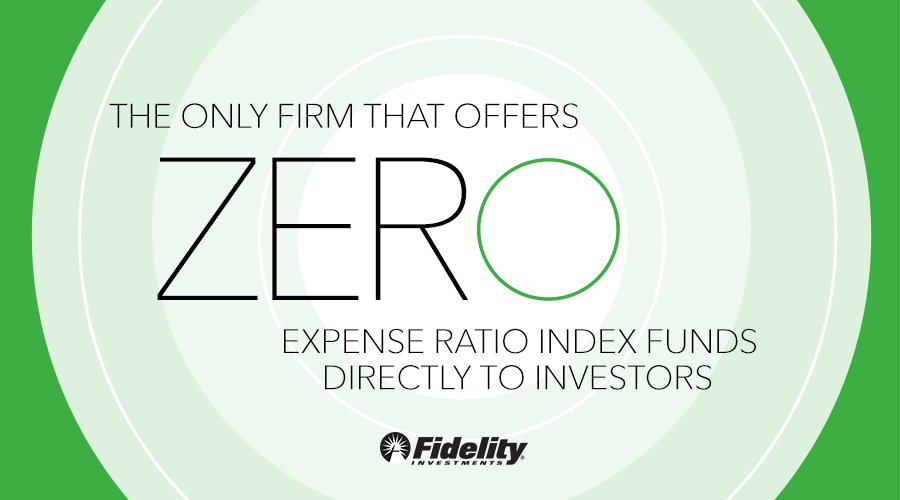 When companies compete, customers win. This is no different in the financial services industry. Last month Vanguard fired their shot with an announcement that in August they will be offering nearly 1,800 ETFs commission-free for all online trades on their platform. Now Fidelity has responded with one of their own and it's a doozy. This is a huge win for investors.
Zero, Zilch, Zip, Nada, Nothing
Fidelity has announced they are now offering for individual retail investors:
 Zero account fees
 Zero domestic money movement fees
 Zero minimums for opening accounts
 Zero minimum investments on Fidelity mutual funds and 529 plans
 Significantly reduced pricing on existing Fidelity index mutual funds
 Zero expense ratio index mutual funds
The first three items are nice changes for many customers because no one really wants to spend time going through a list of charges they might be hit with for managing their account. Having simple, low cost, and easy to understand pricing without any hidden fees is not always easy to find.
The last three on the list are some pretty significant changes which I will go into on more detail on why they will have an enormous impact for existing Fidelity customers, potential new customers, and beginning investors.
New Zero Fidelity Account Fees
First of all, the zero account fees. Everyone hates to be nickel and dimed. Effective immediately with their new announcement, Fidelity has done away with many of the account fees that other competitors still charge for.
By doing away with minimums to open a new account, and not charging customers for things like domestic bank wire transfers, returned checks, low balance maintenance fees, and check stop payments will definitely attract the cost-conscious customer to Fidelity.
Here is how Fidelity's fees stacks up to competitors Vanguard and Charles Schwab:
 
Fidelity
Charles Schwab
Vanguard
Account ATM fee
$0
$0
$0
Account service fee
$0
$0
$20 / year
Account transfer out
$0
Full: $50, Partial: $25
$0
Bill payment
$0
$0
$4.95 / month
Bank wire transfer
$0
$25
$10
Insufficient funds fee
$0
$25
$20
IRA closeout fee
$0
$0
$0
Late settlement fee
$0
$25
$0
Minimum initial investment
$0
$1,000
$0
Mutual funds low balance fee
$0
$0
$20 / year
Proprietary retail mutual fund minimum fees
$0
$100

$1,000 – $3,000
Investor Shares

$3,000 – $100,000
Admiral Shares

Reorganization fee
$0
$39
$0
Stop payment
$0
$0
$15
Online equity, options, and ETF trades
$0
$0
$7 to Free depending on assets
Source: Fidelity – 10/15/2019
You can also see how Fidelity compares to other online brokers such as TD Ameritrade, Schwab, and E*Trade.
Zero Minimum Investments on Fidelity Mutual Funds and 529 Plans
Many index and managed mutual funds require a big initial investment to get in. This makes them unavailable to amateur investors until they've accumulated enough money. For this reason, ETFs have become extremely popular lately for allowing people to purchase a single share for the price of the trading commission.
Before this new change, Fidelity's Total Market Index Fund Premium Class (FSTVX) had a lofty minimum investment of $10,000. Until an investor saves up that much money, they'd have to settle for the "Investor Class" with over doubled the expense ratio and even then, they'd have to scrape together $2,500.
With no minimums anymore at Fidelity, this will force other investment brokers to re-evaluate their own mutual funds to remain competitive. To compete with Fidelity, Vanguard has closed their "Investor Shares" which had minimums of $3,000 to new investors and lowered their minimums for their "Admiral Shares" to $3,000 from $10,000.
Significantly Reduced and Simplified Pricing on Existing Fidelity Index Mutual Funds
Like many people, I'm super annoyed by the separation of mutual funds into investor, admiral, premium, or institutional classes with each class having lower expense ratios than the next.
Not only do you have to go looking to see if there is yet another fund that is cheaper than the only you are looking to invest in, buying into one fund and "upgrading" later to get lower fees has a major implication depending on the type of account. In a non-retirement account, the share class conversion could be a taxable event, which might negate any benefits of lower expense ratios.
As a side-note. The nice thing about Vanguard and Fidelity owned mutual funds is the conversion to a new class of the same fund is a non-taxable event and done automatically. With other funds and brokerages, you'll have to do your own research.
With the new reduced and simplified pricing, Fidelity has basically consolidated the expenses to the lowest cost share class available. For example, the Fidelity Total Market Index Fund used to have expense ratios of 0.09%, 0.035%, and 0.015% for the different classes. Now the expense ratio is 0.015% across the board.
Fidelity expects the expense reductions will save index fund shareholders approximately $47 million a year.
Here is how Fidelity's new expense ratios compare to mutual fund leader Vanguard: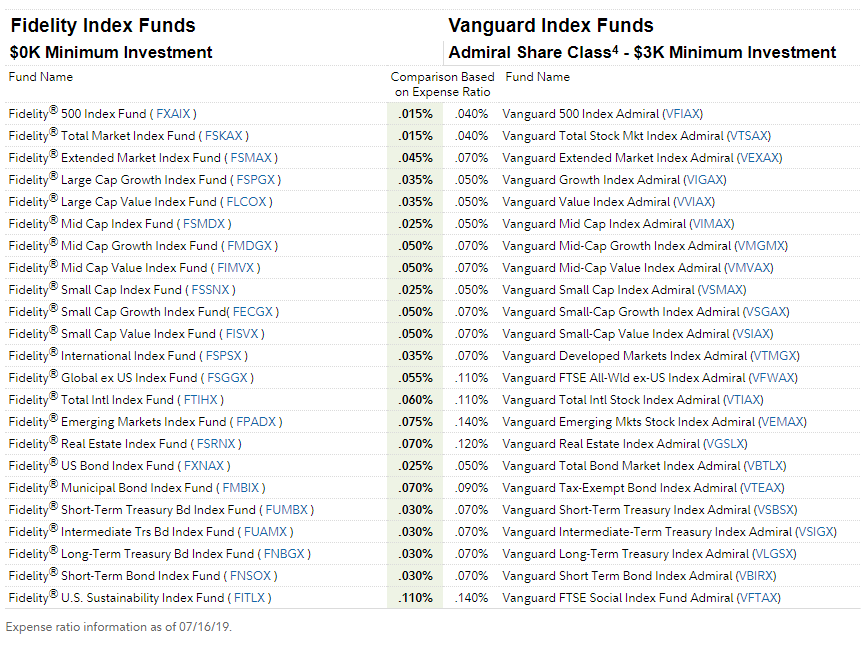 Looks like Vanguard is going to have to step up their game!
Zero Expense Ratio Index Mutual Funds
Finally, we get to the major news that everyone has been talking about – their zero cost index funds.
Fidelity is now offering (4) four zero expense ratio index funds: Fidelity Zero Total Market Index Fund (FZROX), Fidelity Zero International Index Fund (FZILX), Fidelity Zero Large Cap Index Fund (FNILX), and Fidelity Zero Extended Market Index Fund (FZIPX), all with zero minimum investment.
Here is how these funds compare to Vanguard and Schwab.
Total Stock Market index fund comparison:
| | | | |
| --- | --- | --- | --- |
| Firm | Fidelity | Vanguard | Charles Schwab |
| Fund name | Fidelity ZERO Total Market Index Fund (FZROX) | Vanguard Total Stock Market Index Fund (VTSAX) | Schwab Total Market Index Fund (SWTSX) |
| Expense ratio | 0.00% | 0.04% | 0.03% |
| Minimum investment | $0 | $3,000 | $0 |
Total International Stock index fund comparison:
| | | | |
| --- | --- | --- | --- |
| Firm | Fidelity | Vanguard | Charles Schwab |
| Fund name | Fidelity ZERO International Fund (FZILX) | Vanguard Total International Stock Index Fund (VTIAX) | Schwab International Index Fund (SWISX) |
| Expense ratio | 0.00% | 0.11% | 0.06% |
| Minimum investment | $0 | $3,000 | $0 |
Large Cap index fund comparison:
| | | | |
| --- | --- | --- | --- |
| Firm | Fidelity | Vanguard | Charles Schwab |
| Fund name | Fidelity Zero Large Cap Index Fund (FNILX) | Vanguard Large Cap Index Fund (VLCAX) | Schwab Large Cap Growth Index Fund (SWLGX) |
| Expense ratio | 0.00% | 0.05% | 0.035% |
| Minimum investment | $0 | $3,000 | $0 |
Extended Market index fund comparison:
| | | | |
| --- | --- | --- | --- |
| Firm | Fidelity | Vanguard | Charles Schwab |
| Fund name | Fidelity Zero Extended Market Index Fund (FZIPX) | Vanguard Extended Market Index Fund (VEXAX) | N/A |
| Expense ratio | 0.00% | 0.07% | N/A |
| Minimum investment | $0 | $3,000 | N/A |
How These ZERO Funds Affect You
Now I know the big question on everyone's mind is… should you switch? Whether it is from Vanguard or Schwab to Fidelity or from another one of Fidelity's total market or international index funds to the new Zero funds.
I would say it depends.
If you are already at Fidelity and own one of their other Total Market Index funds with an expense ratio of 0.015% and you have a retirement account, then go ahead. Otherwise, it might not be worth the tax consequences. At 0.015%, your cost is $15 a year for every $100,000 invested.
In a taxable account, the long-term capital gains tax is 0%, 15%, or 20% of your realized gains and since we've been in a long bull market, the tax costs can be heavy. At 0.015% or even 0.04% expense ratios, it will take decades or even centuries to cover the tax bill.
The same for if you are at Schwab and Vanguard with a taxable brokerage account. I'm sure both of them might possibly respond with similar offerings of their own to keep too many people from jumping ship. For some people who might not want to wait, one thing you can do now is open a new Fidelity account and direct new funds to that account if you don't mind the extra time of managing two accounts at different companies.
Closing $ense
It looks like the fee wars are over and Fidelity has chosen the nuclear option by eliminating fees for two index funds and lowering minimums to zero for the rest of their funds. The only thing other investment services can possibly do to beat this is by actually paying investors. I'm going to keep my fingers crossed for this.
With the Fidelity Zero Total Market Index Fund (FZROX) and the Fidelity Zero International Index Fund (FZILX), investors will be able to own a broad range of U.S. stocks and international stocks to diversify their holdings with no minimums or costs. The only thing Fidelity needs now is a zero fee bond index fund to round out their offering. With a total market, international, and a bond index fund, you'll have all you need to fully diversify your portfolio.
What do you think of the new Fidelity offerings? Who are you currently using for your investment brokerage? Are you thinking of switching over to Fidelity or the new ZERO funds?