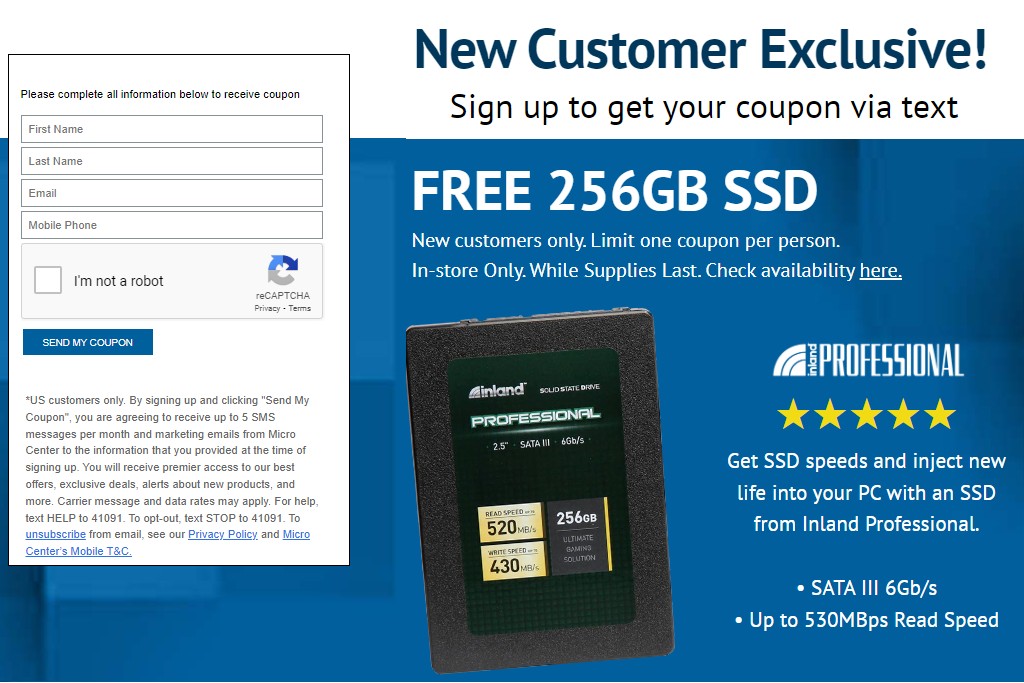 Increase the performance of your computer by heading over to your local Micro Center and picking up a free 256 GB SSD. No purchase necessary. Here is how you can score yourself a totally free SSD with a bit of legwork. You don't even have to pay tax!
Update: This offer is no longer available. Clicking the offer link will take you to a page where you can now get a $15 off coupon for any graphics card, SSD, hard drive, or ram.
Before banks have taken to giving away hundreds of dollars in bank bonuses or even free Amazon Prime memberships for opening an online account, they used to give away free toasters and other small home appliances. It seems people love free stuff.
Micro Center, a computer and electronics store with 25 locations in 16 states is getting on the bandwagon by offering new customers who provide their email address and phone number a coupon for a free 256 GB Inland SSD.
Quick Summary
Offer: Free Inland Professional or Inland Platinum 256 GB SSD
Availability: See list of Micro Center retail locations below
Expiration: While supplies last
How: Submit your name, email address, and mobile phone number online to receive a one-time use coupon code via text. Take the coupon to any Micro Center location and pick up your free SSD. It's that easy.
Micro Center 256 GB Free SSD Promotion Details
Micro Center is giving new customers who provide their first and last name, email address, and mobile number on the free SSD promo page a coupon that can be redeemed at the store for a 2.5″ Inland 256 GB SSD.
You can choose from the Inland Professional 256 GB SSD with SKU #103929 or the Inland Platinum 256 GB SSD with SKU #357236. See the section below for direct links to check whether these are currently available at your local Micro Center.
After submitting the form, you will receive the coupon code via text within 3-5 minutes.
Keep in mind that this offer is for new customers only. If you have shopped at Micro Center previously and your email or phone number is already in their customer database, you are not eligible for the coupon code.
You must submit a mobile phone number with your cellular provider. Many people have reported that VoIP services such as Google Voice and TextMe are blocked.
This offer is only available at Micro Center retail stores. You may reserve the SSD online and do in-store pick-up. Ordering the free SSD online from their website for delivery is not available. Micro Center is hoping you will browse around the store and maybe pick up other additional items while you are there.
This free SSD offer is available while supplies last. Limit one coupon per customer.
The coupon code has an expiration date, so be sure to check whether the Inland SSDs are in stock using the links below before requesting your coupon.
Micro Center Locations and Promo SSDs In Stock
Click the below links for your nearest store to go to the Micro Center website and see the current number of drives available.
Inland Professional vs Inland Platinum SSD Comparison
Inland is Micro Center's in-house brand. Their 256 GB SSDs are normally on sale for around $30.
The important details between the two drives are listed in the table below to help you quickly compare the two.
| | | |
| --- | --- | --- |
| | Inland Professional 256 GB | Inland Platinum 256 GB |
| Endurance | 170 TBW | 150 TBW |
| Read Speed | Up to 520 MBps | Up to 500 MBps |
| Write Speed | Up to 430 MBps | Up to 430 MBps |
| Random Read Speed | 55,000 IOPs | 40,000 IOPs |
| Random Write Speed | 50,000 IOPs | 40,000 IOPs |
| Mean Time Between Failure | 1,500,000 Hours | 1,000,000 Hours |
| Warranty | 4 Years | 4 Years |
| | Buy on Amazon | Buy on Amazon |
Closing $ense
Swapping in an SSD to replace a mechanical hard drive is a quick way to increase the performance of your desktop or laptop PC. This free SSD from Micro Center would be perfect as a boot drive for an older computer or using it for installing computer games that you want to load faster.
I recently replaced a 2.5" WD hard drive in an old laptop with a Samsung EVO SSD. Before the swap, Windows 10 would take almost two minutes to start up. Now Windows boots to the login screen in less than 40 seconds.
A disk drive with spinning platters will achieve about 70 to 200 I/O operations per second (IOPS) during reads or writes. Compare that to the 50,000 IOPS from the Inland Professional 256 GB SSD. Other benefits of an SSD over a HDD are lower power usage and more durability and reliability due to fewer moving parts.
As someone who lives near a Micro Center, it's great to have a store that sells computer hardware and accessories now that Fry's has closed its doors for good. Micro Center also occasionally mails out postcards to current customers with coupons for things like 32 GB USB flash drives, SD memory cards, and even wireless Bluetooth headphones.
Do you have a Micro Center near you? Have you tried Inland SSDs or replaced a hard disk drive with an SSD?