Want to Autopay your bills with a bank account? Here is how to do it safely with less risk to your finances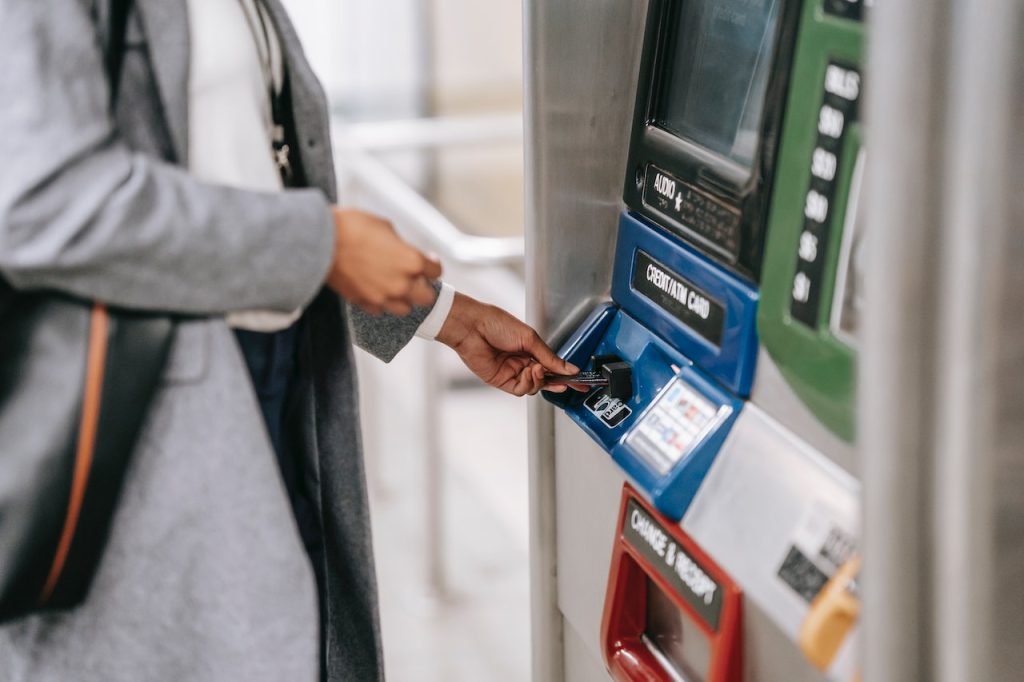 T-Mobile recently confirmed they will soon stop offering their $5 / month per line Autopay discount for certain customers. This change will take effect in mid-May 2023 and will affect people who pay their mobile bill by credit card. Debit card and bank account customers are not affected.
Companies discontinuing discounts for auto payments with a credit card is not something new. Verizon and Comcast also have a $10 Autopay discount when paying with a debit card and/or bank account. Credit card users are left out in the cold.
Here is how you can safely Autopay your bills even when forced to use a bank account.
Why Autopay Is A Bad Idea
In a previous article, I wrote about the dangers of enrolling in auto payments for your bills. Signing up for Autopay can be tempting since it is convenient. Autopay saves time. It can prevent you from overlooking a bill.
The cons of allowing access to automatically withdraw money from your debit card or checking account are the risk of overdraft fees if you do not have the funds available when the draft hits or a billing mistake or fraud could result in your account being completely emptied of funds.
People who wish to pay their bills automatically with less risk can use a credit card or set up recurring payments using online billpay with their bank.
Autopay using a credit card is a better option than a debit card or electronic ACH transfer because you are using funds from the credit card company. Many credit cards offer zero fraud liability for unauthorized charges and you can hold off paying the disputed amount while it is being investigated. Choose to use a debit card or electronic transfer and the money is instantly gone from your bank account.
More: Why You Should Never Ever Use a Debit Card
Online billpay can be a good choice for Autopay when you have monthly recurring charges such as your mortgage or rent, or car payments that are the same each month. With billpay, you remain in control of how much money you are sending to the biller.
Autopay Without Credit Card or Online Billpay?
The $5 per line discount for Autopay with T-Mobile can add up when you are on a family plan. With four lines, that is an extra $20 less you could be paying each month or $240 a year. Not exactly peanuts.
But considering that T-Mobile was hacked numerous times where private customer information got stolen, do you really want your bank account details in their hands?
The solution is very simple.
Open a separate checking account to be used for automatic bill payments only.
Besides using this bank account for Autopay, you can also use it at places you don't want to have access to your primary account. This could be your gym, crypto exchanges, or apps that use Plaid and want your banking login.
Any checking account with no monthly fees and minimum balance requirements will work.
Two online checking accounts I use and recommend are:
eChecking at CIT Bank
360 Checking at Capital One
CIT eChecking Account
The CIT Bank eChecking account has a $100 minimum opening deposit. Once you open the account, there is no minimum balance or minimum balance fees.
Speaking of fees, the eChecking account barely has any, making it perfect as a secondary checking account. There are no monthly fees, no direct deposit requirements, free incoming wire transfers, and no fees for online transfers.
People worried about getting hit with overdraft fees can also rest easy. There are no overdraft fees either. You don't have to worry if an auto payment hits and your account has insufficient funds.
People who have over $25,000 in the account also get free outgoing domestic wire transfers. I don't recommend keeping that much in a low-interest checking account when you have better options such as their Savings Connect account.
The eChecking account comes with a debit card that you can use for purchases and ATM access. To prevent unauthorized charges, you have the ability to lock and unlock the card at any time. CIT will reimburse you up to $30 each month in other banks' ATM fees.
Accounts with a minimum balance of $25,000 also receive 0.25% APY. Otherwise, you will earn 0.10% interest.
Capital One 360 Checking Account
The Capital One 360 Checking account is another good choice for a free secondary checking account. Compared to the CIT eChecking account, the major benefit of this account is there is no minimum deposit required at the time of account opening.
You also get no monthly service charges, no minimum balance requirements, and free incoming wire transfers.
You can fund your account via mobile deposit and electronic transfers from your linked bank accounts.
The 360 Checking account offers three overdraft options:
Auto-decline transactions that will overdraw your account
Link a savings account to cover overdraft transactions
No-Fee Overdraft, where you will not be charged a fee if Capital One approves the transaction. You will need to deposit additional funds to cover the overdraft
My recommendation is to auto-decline any excessive transactions over your account's available balance.
Money in the 360 Checking account earns 0.10% interest.
Auto Payment Account Flow Chart
Below is an example of how to structure your accounts to pay your monthly recurring charges.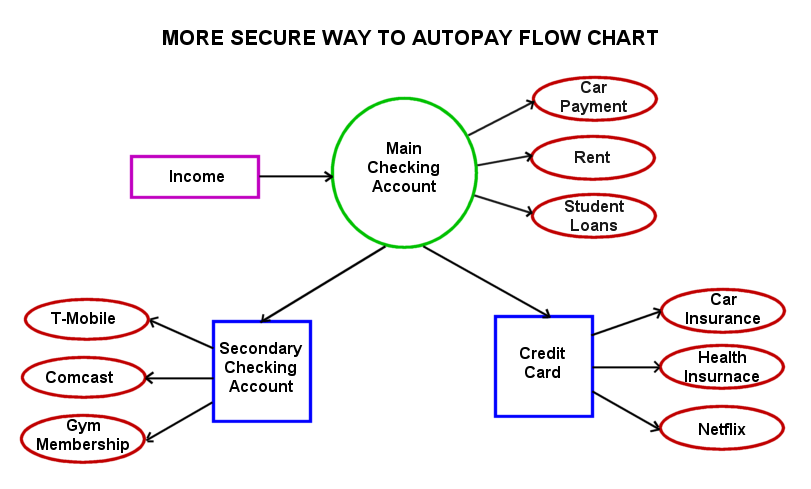 You have income coming into your main checking account. From there, you can write checks or use online billpay to send out payments from the main checking account for important monthly bills such as your car payment, rent or mortgage, and student loans.
Then put as many of the recurring charges and monthly subscriptions for things such as streaming services and utilities on the credit card as possible. At the end of the billing period, look over your credit card to make sure the charges are correct. Then pay off the credit card bill.
Any Autopay charges that have to come from a bank account will be withdrawn from your secondary checking account. You can set up a monthly auto-transfer from your main checking account to fund the secondary account with just enough money to cover the monthly Autopay withdrawals.
By setting up your accounts this way, you are putting a moat between your main account and companies that are trying to get access to your money. If there is a billing mistake or your info gets stolen from one of the businesses, you limit the amount of money taken.
Closing $ense
I don't usually recommend Autopaying your bills unless you also check them each month for overages. I would almost never recommend allowing a company to pull money directly from your bank account.
If you are a T-Mobile customer, the savings from the $5 monthly Autopay discount can quickly grow to hundreds of dollars a year depending on the number of lines on your wireless plan. For this reason, taking 10 minutes to sign up for a checking account specifically for Autopay can be worth the time and extra security.
Are you a T-Mobile customer affected by this policy change? How do you deal with Autopay?