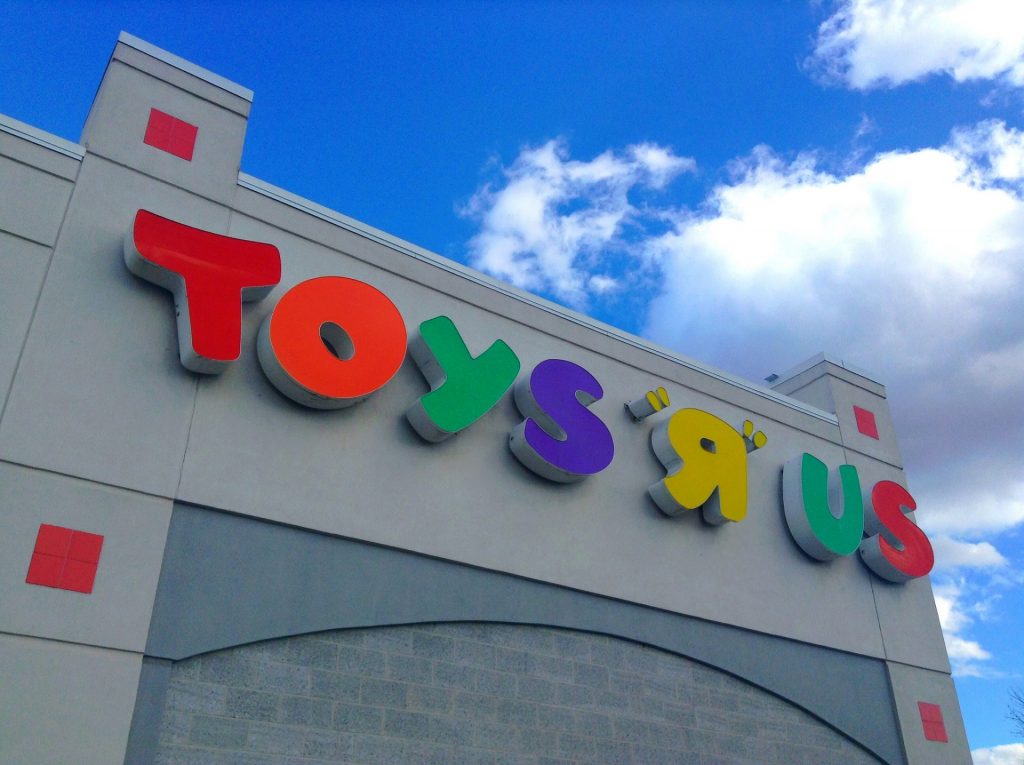 RIP Toys R Us and Geoffrey the Giraffe. After 70 years, Toys R Us along with Babies R Us are going out of business and closing their doors for the last time.
The popular toy store, which was part of many of our childhoods growing up, has announced that they will be shutting down or selling off their 735 stores. The massive liquidation sales began on Friday, March 23 and are expected to run through June.
What You Should Know First
First things first. If you have any Toys R Us or Babies R Us gift cards sitting somewhere, you have 30 days or until April 21 to use them. After that date the cards will become worthless, so cash them out immediately!
According to a company spokeswoman, prices are expected to be discounted by about 30% in the beginning of the sale with bigger discounts in the upcoming weeks.
Keep in mind once the sale starts, all purchases are final. You will not be able to return items if you change your mind. If there is a problem with a purchase, you will have to deal with the manufacturer's warranty department. This is another good reason to use a credit card over debit or cash to pay for purchases since many credit cards offer return protection as a cardholder benefit.
Customers with items on layaway will be notified and given 21 days to pay the balance due for the product, request a refund, or forfeit the product.
Liquidation sales mean everything must go and you can expect big discounts at the cash register. There are a couple ways you can take advantage of this and maybe even make some money.
Stock Up On Toys and Gifts
It may only be March, but if you have kids, have friends or family members with kids, or if you know someone who is having a baby, now is a good time to plan ahead for upcoming birthdays, baby showers, and maybe even next Christmas.
Maybe you are thinking of donating to Toys for Toys later this year. Or maybe you are looking for movies and video games for yourself.
Whatever the reason, it's never a bad idea to say no to a giant going out of business sale if you are anticipating needing something in the near future. Kids are only kids once and they tend to lose interest and outgrow things rapidly. Avoiding paying full price on a doll or action figure never hurts.
However, seeing something marked down doesn't always mean you are getting an amazing bargain. Be sure to compare prices online on Amazon or Walmart. Download the Amazon Shopping or Walmart app from the Google Play Store or iTunes and use the barcode scanning feature and your phone's camera to quickly do a price comparison.
Make Money Through Retail Arbitrage
What is retail arbitrage? Retail arbitrage is when you purchase a discounted product from a retail store and resell it for a profit. People have found they can buy clearance items locally from stores looking to clear shelves to make room for new products and sell those items online for close to full price.
Retail arbitrage is becoming more popular since online shopping is growing rapidly worldwide. According to Statista, 1.66 billion people worldwide purchased goods online in 2017. They estimate that by 2021, online purchases will make up 17.5% of retail sales, more than double the 8.6% from 2016.
When people think of buying and selling products online, the two sites that come to mind are Amazon and eBay.
Selling on Amazon
What many people don't know is Amazon allows individuals and third parties to sell on Amazon. For an individual seller, you can set up an account for free. When an item sells, Amazon takes a commission, which varies by category. Amazon's referral fees ranges from 6% to 20%, with the average seller paying 15% plus $0.99 per item for an individual seller.
In recent years, selling on Amazon has gotten extremely popular because of their Fulfillment By Amazon (FBA) program, which lets sellers send in items to Amazon's warehouses for extremely low rates due to their shipping volume with UPS. With FBA, Amazon handles all the packing, shipping, and customer service while buyers enjoy getting their purchases in 2 days with free shipping if they are an Amazon Prime member.
To get an idea of actual fulfillment costs and profits with FBA for individual products on Amazon, you can use their Fulfillment By Amazon Revenue Calculator.
There is a drawback with selling on Amazon though. They have been requiring approvals to sell in certain categories along with requiring sellers to prove they are authorized sellers by submitting invoices or receipts. In addition, some brands are restricted from being sold on Amazon.
To make it easier to find retail items to sell on Amazon, after you sign up for a seller account, you can use the Amazon Seller App. With the app, you can scan an item's barcode and it will bring up details like if you are restricted from selling the item, the sales rank or popularity of the item, and the listed price and potential gross proceeds if that item sells.
Selling on eBay
For many years garage sales were where people got rid of old things around the house that they no longer needed. You put up a sign next to the highway outside your neighborhood advertising your garage sale and hope people stop by. Then came the internet and eBay, which let anyone put all their old knick knacks in front of millions of eyes.
What started out as an auction site has evolved into an online marketplace where sellers range from people looking to get rid of things around the house, mom and pop businesses, to large corporations.
It was not uncommon to find brand new items on eBay such as the SNES Classic game systems going for double the retail price at launch last fall due to huge demand and scarcity.
eBay makes the perfect side hustle for beginners. You get out what you put in and starting up is free. To encourage people to list and sell items on their site, eBay gives the casual seller 50 free listings a month. When your item sells, eBay's fee is 10% of the final value for most items. If you accept payment by Paypal, their fees are listed on the Paypal fees page, and are pretty straightforward at 2.9% plus $0.30 per transaction.
Closing $ense
I still remember my first bicycle, a 20" BMX bike my father bought for $50 from Toys R Us when I was 7 years old. Then when I was a teen, my aunt got me a Tyco radio controlled truck, also from Toys R Us. As kids, trips to the local store were always an exciting time. I remember wandering the aisles and seeing all the toys and games stacked stories high to the ceiling. I remember their commercials with the jingle "I Don't Wanna Grow Up" during Saturday morning cartoons.
For a kid, Toys R Us was the greatest place on Earth. Even though many of us probably haven't stepped foot into a Toys R Us in decades, we will still miss them when they are gone.
Do you have any special memories about Toys R Us? Are you thinking of taking advantage of the Toys R Us going out of business sale?