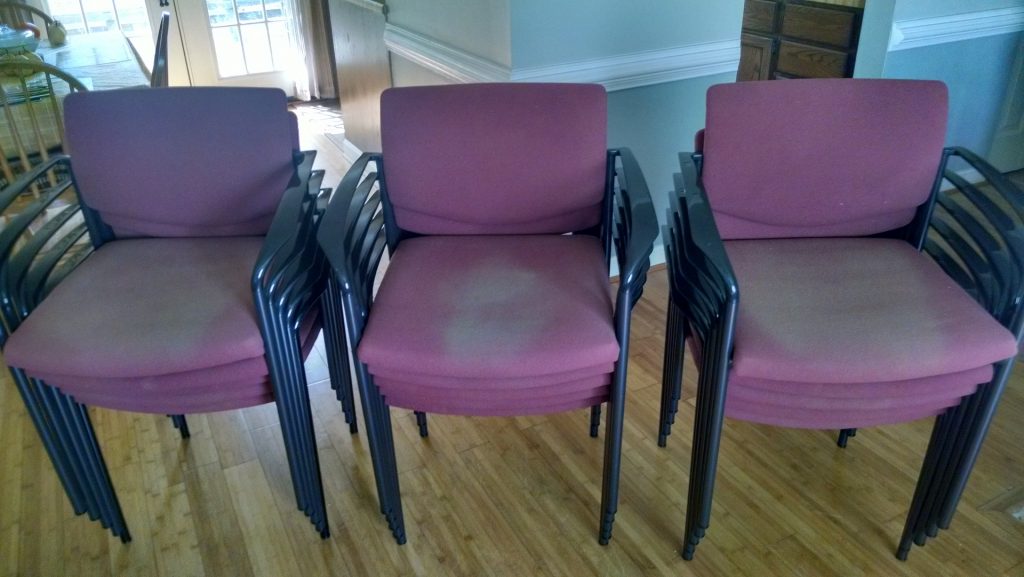 The Background Story
A family member is currently venturing into starting their own business. After working for other people the last several years and dealing with long commutes and office politics, he has decided to go off on his own after a layoff.
There are many benefits to being your own boss. You get to make your own decisions. If successful, the sky is the limit for your earnings. When it's time to retire, you can cash-out your hard work by selling the business.
Unlike me, who's able to work from anywhere, whether it is from home, at a coffee shop, or at public libraries, he needed a physical office, and one of the things that every office needs is furniture.
Normally you can find used office furniture such as desks, bookcases, and file cabinets on Craigslist for amazing prices. In some instances, even for free. In his case, he needed a lot of guest chairs for the waiting room, and they needed to match.
After spending a day driving around to office supply stores, furniture outlets, and used furniture warehouses to see what was available, we came to the conclusion that 1) even used business furniture can be really expensive, and 2) finding close to 20 used chairs was really hard. Our best bet was Office Depot, which had new chairs for $50 each.
We then went online onto Craigslist to see what was available and found a post by someone who was liquidating an entire office building that used to be occupied by AT&T. Upon showing up, we found a roomful of stackable Steelcase Player guest chairs that were a perfect fit. It turns out they've been selling everything off for 3 months already, and what was left were in poor to fair condition with the fabric on the seats badly faded. The seller assured us that all we needed to do was re-dye it with fabric dye in a spray can that can be found at JoAnn and it would be good as new.
The cost? $10 a chair. We handed over $150 and carted home 15 chairs. It's hard to say no to $600 in savings when you are bootstrapping a new business. Plus, butts won't know the difference between a new or used chair. At least mine can't.
After washing the chairs, we tried using burgundy Dupli-Color Vinyl and Fabric on a small test spot and found that the color rubbed off. Just what we needed. Customers will sit in the chairs, leave with red on their clothing, and never come back. Not exactly great for business.
Another option was using the Tulip ColorShot Fabric Spray from JoAnn, which is supposed to be permanent, but some reviews said it left the fabric rough to the touch and it will take many, many cans to dye all fifteen chairs.
We decided reupholstering the chairs instead would be a better solution, especially since the waiting room chairs are the first things people see upon entering the office and you want to give a good impression. A call to the local upholstery shop returned a quote of $135 per chair. That is over $2,000 to cover all fifteen $10 chairs! At that rate, we might as well buy all new chairs.
Being an avid DIYer, I decided to tackle the project myself. After all, all you need is a staple gun, lots of staples, and some free time.
Step By Step Reupholstery Process With Photos
Use a pry bar to pop the back panel off the seatback. There are five plastic clips holding the panel on for the Steelcase Player chairs. Three at the top; two on the bottom

 

 Try to get the pry bar between the clip and the wood seatback. If you try to pry between the clip and the plastic back panel, you will pry the clip from the panel or break the clip's head off. If you pry a clip from the panel, you can push it back in with a bit of force. If you break a clip, swap it out with the one from the center

 

There are four screws holding the seatback to the chair frame

 

Seatback removed

Flip the chair upside down and remove the four screws holding the seat bottom to the frame. Notice the manufacturer date from 1994 on the sticker.

We used duck cloth, also called duck canvas for the new covering. It is a heavy, plain woven cotton fabric used for a variety of applications from upholstery to dufflebags, workwear, tents, and sandbags

Cut the fabric for the seat bottoms, seatbacks, and the back panels. Remember: measure twice, cut once

Use the staple gun to staple the duck cloth to the cushions, pulling the fabric tight as you staple. I did not remove the old fabric because they used hundreds of staples per section and it would have taken too long

I used 5/16" staples for the seat bottom and seatback. 1/4" staples plus a couple pieces of cardboard from cereal boxes were used for the back panels since I wasn't able to find 1/8" staples at the store

The top of the seat cushion now like new

Here are the chairs with the seatbacks reassembled afterwards. I left the bottoms off the chairs so I can stack the chairs tighter into the back of the car

All fifteen chairs piled into the back of the car for the trip to the office

Guest chairs fully put back together

Waiting room chairs ready for guests
Total Cost of Guest Chairs For The Office
| | | |
| --- | --- | --- |
| Item | Item Cost | Total Cost |
| 15 Steelcase Player Chairs | $10 | $150 |
| 11 Sq. Yards Duck Cloth | $6.99/yd on sale | $77 |
| JT21 Staple Gun | Already owned | |
| 1/4″ JT21 Staples (1000) | $3 | $3 |
| 5/16″ JT21 Staples (1000) | $3 | $3 |
| | Total | $233 |
The total cost of purchasing all the chairs and materials for the upholstery project was about $233 or less than $16 a chair. This is a savings of $517 than if we had gotten chairs from Office Depot.
Doing the upholstery project ourselves cost us $83 in materials. I estimate it took about 3 hours to disassemble all fifteen chairs, 3 hours to cut all the fabric, 1 hour to reupholster each chair, and 5 hours to put them all back together. This comes out to a total of 26 hours spent on the project. Anyone who is moderately handy should be able to do this project themselves. This is a massive savings from the $2,025 that an upholstery shop was charging to reupholster it.
I hope this DIY tutorial showed you that the process of making a 24-year-old chair look like new can be easier than you think. Before you throw out an old chair, consider tackling your own upholstery project and save yourself some money. Good luck!