With the Flashfood app you can get major discounts on food while reducing food waste and helping the planet. Use these Flashfood referral codes for even more savings.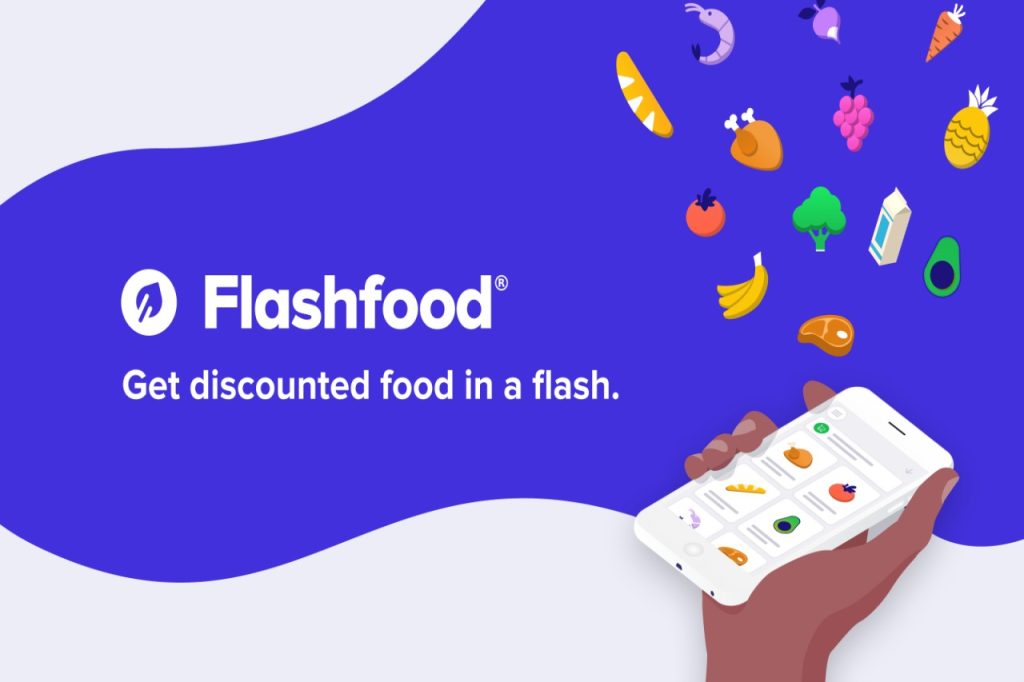 Walking around the grocery store, you may wonder what happens to all the dairy, meats, and produce that reach their best-by date and haven't sold yet.
You may be surprised to hear that RTS, a commercial waste and garbage disposal company found that 30% of the food in American grocery stores is simply thrown away. That is 16 billion pounds of food waste a year that ends up in the landfill when much of it is still good to eat.
What if that food never ended up in the dumpster while you got massive discounts for purchasing it? This is where the Flashfood app comes in.
What is the Flashfood App?
Founded in 2016, Flashfood is a mobile app that makes it extremely easy to find discounted surplus food at your local grocery stores approaching their "best if used by" date.
The free app is available for download for both Android and iOS. Using the app, you can find great deals on food for 50% or more from the shelf price.
By partnering with Flashfood, supermarkets can recoup some of their costs by advertising their expiring food to a large group of interested shoppers seeking a great deal while also helping the planet.
Available Flashfood Referral Codes
Want to save even more money on your grocery shopping? Use the below Flashfood referral code when you sign-up or before your first purchase to get even more rewards.
| | | | |
| --- | --- | --- | --- |
| PROMO CODE | SAVINGS | EXPIRATION | NOTES |
| CALK3XMMW | $3 in rewards | 12/31/2023 | First purchase over $15 |
Your Flashfood referral credit will show up in your account after a few days and can be used to pay for future purchases on the app.
How to Use Flashfood
Signing up and using the app is extremely easy. You can create an account with your Google or Facebook account. Or you can choose to sign up by using your name, email, and password.
Once you've created an account, you can start browsing your local grocery store for available items. But if you are curious about what is available or whether there are any local grocery stores participating on Flashfood without having to register, you have the option to "Skip Sign In".
You can find almost anything available for sale on Flashfood. There are meats; boxes full of random fruits and vegetables; dairy products such as milk, cheese, and yogurt; and bakery items. You may even see packaged goods like cereals and juices that may not expire for months. I even saw a package of charcoal and trash bags listed for sale for half off.
Here is a random selection of items listed for sale on the app:
Once you've added your selections to your cart, add a payment method by tapping the menu icon (the three horizontal lines) on the top left and then selecting "Payments". Then pay for your items in your cart right in the app.
Next, head to your store and pick up the items from the Flashfood pickup location usually located near the customer service area. Show the store employee your order info and be on your way with your haul.
If you are thinking about signing up to Flashfood, you can use the referral code CALK3XMMW to get $3 credit when you spend at least $15 on your first purchase on the app.
How to Add Your Referral Code
You have two ways to add your referral code when you use the Flashfood app.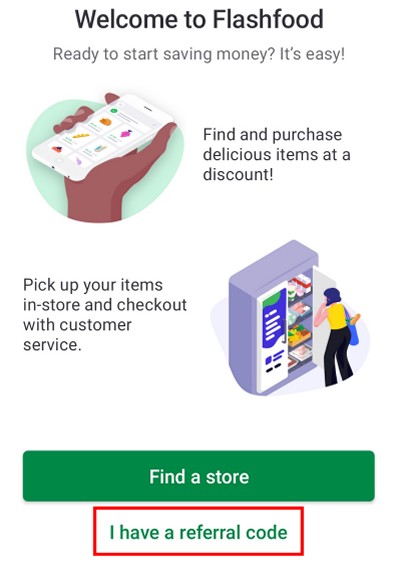 During Registration
After downloading the Flashfood app from the Apple App Store or Google Play Store, go through the account creation process by signing up with your Google or Facebook account, or using your email address.
If using your email address, you will be asked for your name, email, and password. Next, tap the "Create Account" button.
On the welcome screen, you will have the option to find a nearby store or to enter your referral code to get your new user bonus.
Anytime Afterwards
To add a referral code or any other rewards codes afterward, tap the menu icon on the top left of the screen.
Tap "Rewards" when the menu pops up.
Look for the button labeled "Redeem A Code"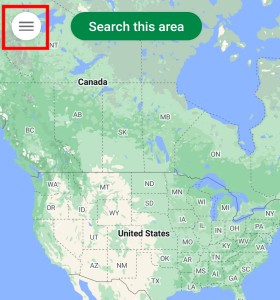 Flashfood Participating Grocery Store Locations
Fastfood is available in over 1,450 grocery stores in the US and across Canada:
Dominion
Family Fare
Food Lion
Giant Eagle
Giant Food
Hy-Vee
Independent
Loblaws
Martin's
Maxi
Meijer
Mt. Plymouth IGA
No Frills
Provigo
Real Canadian Superstore
Save A Lot
Stop & Shop
Tops
Vallarta Supermarkets
VG's Grocery
Wholesale Club
Zehrs
Flashfood has been raising money and quickly expanding its partnerships and store locations in the last three years.
In the United States, you will find Flashfood in the Midwestern states from Wisconsin to Pennsylvania, the Northeast, and in Dallas, TX and Jacksonville, FL in the South.
If you are near one of the grocery stores above, check out the Flashfood app to see if your local store is on the app to start saving money on food.
Closing $ense
Finding foods approaching their expiration dates is one of the best ways to save money on groceries and beat the rising prices from inflation.
Even though something has hit its best-by date, food doesn't instantly spoil the next day. People with large families or who cook at home regularly shouldn't have a problem buying food close to its expiration date if it's used within a week.
Recently, I purchased milk for 50 cents a gallon, chicken breasts for 96 cents a pound, and snagged several jars of Ragu for half price from my local grocery store. I haven't paid the full price for bread in years.
Without an app like Flashfood, finding clearance foods takes more legwork. You have to know when your local grocery store marks down prices. The stores may place the items in a specific area. Finally, you will have to compete with other shoppers to get the best deals before they are gone.
Flashfood on the other hand makes it quick and easy to find bargains. Open up the app before you go shopping or check the app while at the store to see what is available. Immediately pay for your items. Then show the customer service associate your order, grab the items from the Flashfood area at the store and be on your way.
People who love getting awesome deals and trying food from different restaurants should check out the Too Good to Go app. Similar to Flashfood, Too Good to Go partners with local restaurants to sell leftover food not purchased by customers for 70% off the menu price.
What is your experience with Flashfood? Would you buy clearance food and produce at your local supermarket that is approaching its expiration date?