Discover how you can buy and eat delicious restaurant food for 70% off the menu price while preventing food waste with the Too Good To Go app.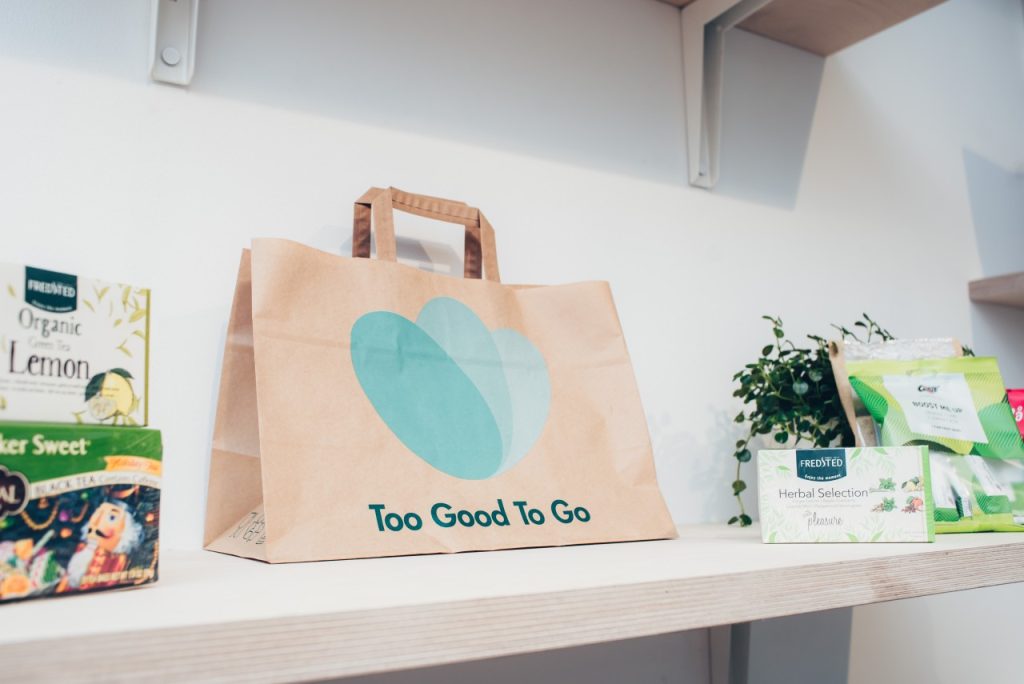 In a recent TikTok video, a Dunkin' Donuts employee showed the number of donuts that were simply thrown into the trash at closing time. Only five minutes ago, those tasty donuts were being sold to customers.
What happens to unsold donuts at Dunkin' is a common occurrence in restaurants across the country and around the world. In America alone, 40% of the food waste in landfills is from restaurants, grocery stores, and food service companies. This adds up to tens of billions of pounds of food thrown away. Discarded food contributes to 11% of global greenhouse gas emissions.
Here is where the mobile app Too Good To Go comes in. Too Good To Go combines saving money, saving the planet, and trying out delicious food from local restaurants you may not have come across otherwise.
Find out how with the Too Good to Go app, everyone wins.
What is Too Good To Go?
Too Good To Go's purpose is to match restaurants, cafes, bakeries, and grocery stores that have surplus food with customers. You get to purchase food at a big discount and the business makes money selling food that would have gone to waste. In the end, both parties benefit.
Initially launched in 2016 in Denmark, Too Good To Go is now available in 18 countries. There are over 154,000 restaurants participating, and more than 100,000 meals are kept out of the landfill daily.
The app is free for customers and is available for download on iOS and Android.
Too Good To Go makes money by taking a commission that is paid by the business for every order.
How to Use Too Good To Go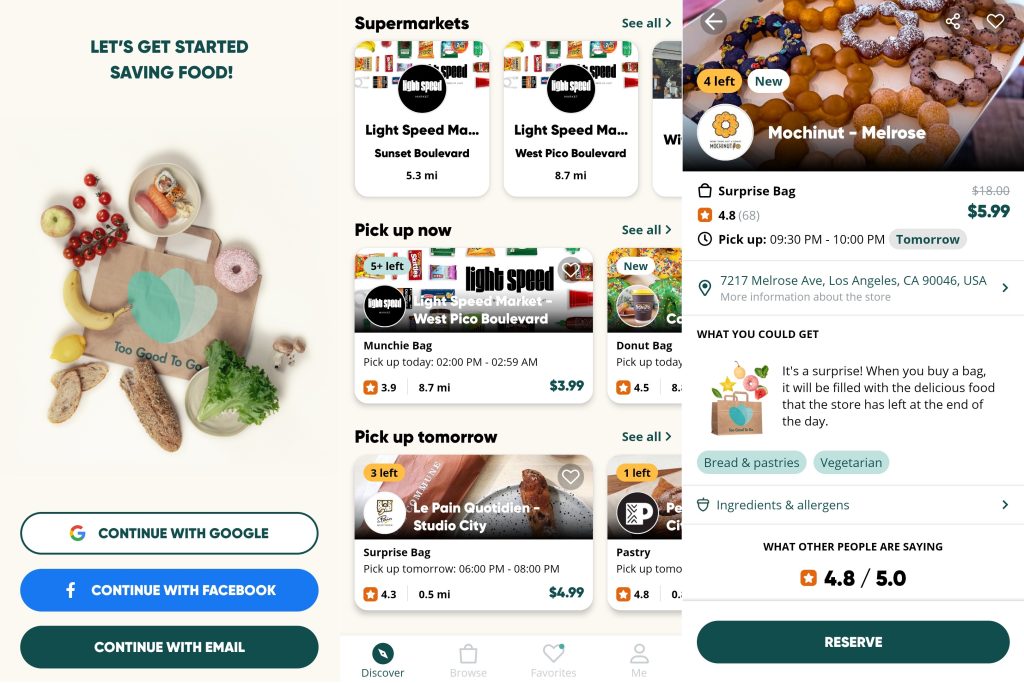 Registration
Getting started on finding deals on food is extremely simple. Once you download the app, signing up for the account is as quick as using your Google or Facebook account to register or your email address.
If you go the email route, nothing else needs to be entered besides selecting your country. There are no passwords to remember. You don't even need to enter your name or phone number; you can do that later along with adding a credit card, Paypal, or Google Pay as your payment method.
Once you are signed in, you can adjust your location and distance to start checking out participating businesses in your area.
Finding Food Deals at Local Businesses
When you order an item on the Too Good To Go app, you are buying a Surprise Bag. It is called that because you are not told what you will be getting.
You may be getting an order that was never picked up by DoorDash; leftover food that did not sell during the dinner rush; or grocery items that are approaching their expiration date. You could get a random assortment of fruits and vegetables from supermarkets, pizza slices, sushi rolls, and yes, even leftover donuts.
Once you set your search radius, you can start looking for exciting businesses you want to try.
Browsing on Too Good To Go
On the "Discover" tab, businesses are listed under categories like "Recommended for you", "Pick up now", "Pick up tomorrow", "Pick up for dinner", "Supermarkets", "Baked goods", and "Meals".
You also have the option to tap over to the "Browse" tab and scroll through a list of available bags in your area sorted by distance.
Each business offering items will have a pickup window, the distance, price, rating, and the number of bags available.
Should you discover you enjoy a particular restaurant's offerings, you have the option to favorite the business. That way, you can quickly check to see whether they may have anything available the next time you do not want to make dinner.
Surprise Bag Pricing
Upon looking closely, you will notice the price of a Surprise Bag is determined by the total value of the items in the bag as decided by the business.
In the United States, the cost of a Surprise bag is listed below:
A surprise bag valued at $12 costs $3.99
A surprise bag valued at $15 costs $4.99
A surprise bag valued at $18 costs $5.99
As you can see from the prices above, you are getting the same food other customers are paying at the restaurant for almost 70% off the menu price.
Find something that you like?
Reserve and pay for the bag. Then head to the business during the pickup window, and show the cashier your order ID to get your food. It is that easy.
What Businesses are on Too Good To Go
You can find just about everything on Too Good To Go. There are smaller supermarkets and convenience stores selling grocery items. For restaurants, you will find plenty of coffee spots, bakeries, pizzerias, cafes, bagel shops, and a variety of international eateries and bistros.
You will rarely find national chains like Starbucks or McDonald's, although I did see Peet's Coffee and Panera Bread on the app. You will not find upscale restaurants either.
The growing selection of participating restaurants is a win-win situation for both you and the business. You get to try food from a new place you might not have noticed before, and the restaurant gets a chance to earn a repeat customer.
To get an idea of what people are picking up on the Too Good To Go app, all you need to do is head over to Reddit's Too Good To Go subreddit, where customers post pictures of their scores and what they paid.
Too Good to Go Countries and Locations
As mentioned previously, the service is in 18 countries currently and expanding. The app became available in the USA in 2020.
Too Good To Go is available in the following countries:
Austria
Belgium
Canada
Denmark
Faroe Islands
France
Germany
Ireland
Italy
Netherlands
Norway
Poland
Portugal
Spain
Sweden
Switzerland
United Kingdom
United States
As of January 2023, the company is currently available in the following US locations:
Austin
Baltimore
Boston
Chicago
Los Angeles
New York City
Portland
Philadelphia
Providence
San Diego
San Francisco
San Jose
Seattle
Washington D.C.
If your country or city is not on the list, check back later since they are expanding rapidly.
Who Should Sign up for Too Good To Go
If you are a foodie or like subscription boxes, you are the perfect Too Good To Go user. You have to have a flexible diet since there is no telling what you may get in your bag.
People with strict dietary requirements or food allergies may have more difficulty finding something acceptable. Currently, only vegetarian and vegan filters are available to narrow down restaurant options.
Closing $ense
At a time when prices of meals at a restaurant are up, and the rumblings that a recession is coming, an app that lets you buy food from a restaurant without paying full price can bring back the nostalgia of when everything wasn't so costly.
In the first few times you try Too Good To Go app, I recommend going with businesses with posted ratings. Previous customers who purchased Surprise Bags can rate their experience with a rating out of five stars and choose reasons such as "friendly staff", "great value", "great amount of food", "delicious food", "quick collection", and such.
If you would like to save money on discounted food at the grocery store that is approaching its best-by date, you can check out my Flashfood review and also get a promo code to get $5 when you spend $10 using the app.
Unfortunately, food waste is a big problem in our country. According to Action Against Hunger, more than enough food is produced to feed the global population, yet 829 million people still go hungry every day.
An app like Too Good To Go that helps keep food out of landfills is a major benefit for the environment. A significant amount of resources are spent getting food from the farm to the table.
Related: How to Save Money on Food at the Grocery Store
Have you tried Too Good To Go? What other ways or apps do you recommend that help save money on food?