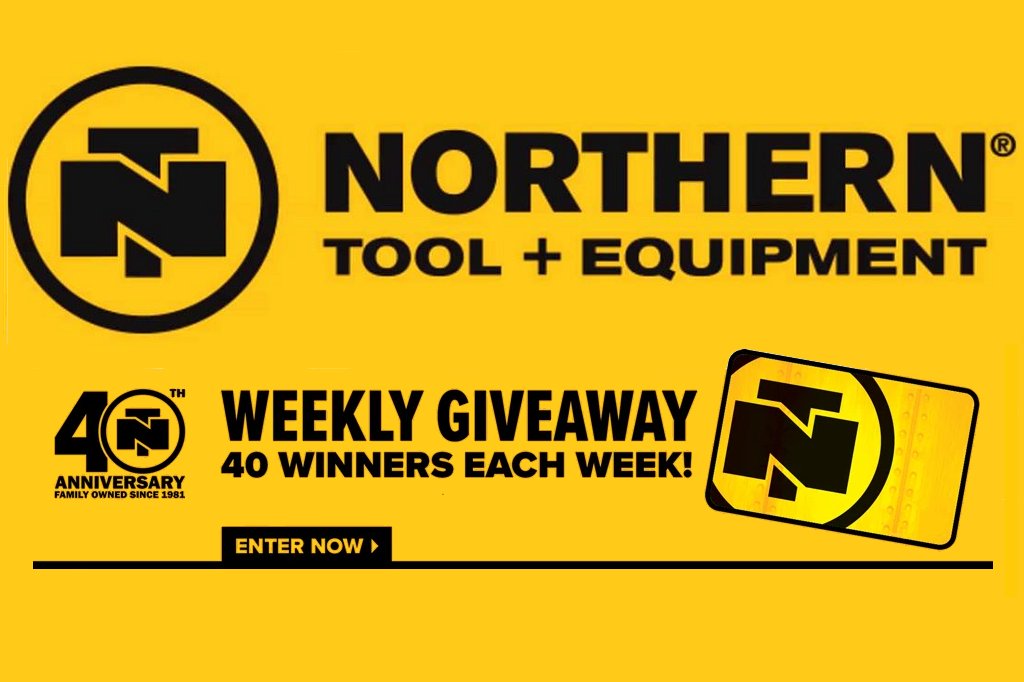 Northern Tool is giving away $66,000 worth of prizes between 5/20/2021 and 6/28/2021 to celebrate their 40th year in business. Enter the Northern Tool Giveaway every week for your chance to win one of 40 prizes.
The Northern Tool 40th Anniversary Giveaway is now over. Congratulations to all the winners.
The Prizes
Enter every week to win one of the following prizes:
Who is Eligible
This giveaway is open to US residents in the 50 states and District of Columbia who are at least 18 years old. Northern Tool employees and their family members are not eligible.
Limit one prize per family or household. No purchase is necessary to enter the giveaway.
How to Enter
To enter the sweepstakes, go to the Northern Tool Giveaway page and enter your name, email address, and zip code on the form.
Each entry period starts on Tuesday at 12:00 AM and ends on Monday at 12:00 PM. Return each Tuesday to enter for that week's giveaway item.
Multiple entries in a period will result in disqualification of all entries for that week.
Winner Notification
Prize winners will be notified by email within 48 hours of winning. You must respond within 5 days or you will forfeit the prize and a new winner will be selected.
Closing $ense
I like that entering the Northern Tool sweepstakes is fast and easy with only a short form to fill out with three fields. From my experience, you can never have too many tools as they will always come in handy. Doing your own small home improvement projects is one surefire way to keep some money in your pocket.
You may have to pay taxes for the prize, but you can always come out ahead if you win something that you don't need by selling it on one of the many online classifieds sites.
Good luck!