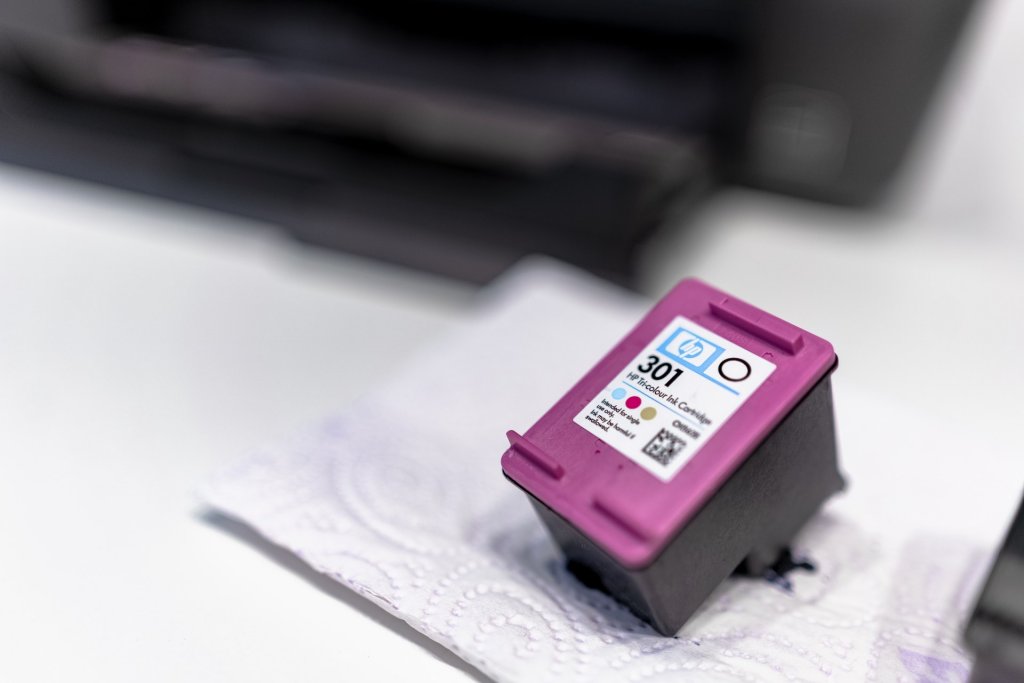 Does it seem like you are spending a fortune on ink for your printing needs? You are not imagining things. Consumer Reports found that ink for inkjet printers ranged from $13 to $95 per fluid ounce, or about $2,002 to $14,630 a gallon. Yikes!
With many office workers now working from home, you may be using your printer a lot more. Many people likely never thought twice before hitting the print button at the office since work paid for the printing supplies.
When you are paying for the ink and paper, each time you hit "print" is money coming out of your wallet.
Luckily, there are many easy ways you can save money on printing and the cost of ink. I spent the last three years in charge of an office's printing needs. Here is what I learned.
Switch to a Laser Printer
There is a reason businesses choose laser printers over inkjet. With a laser printer, you get faster print speeds, crisp text, and none of the wasted ink experienced with inkjet printers.
I've had inkjet printers many years ago. These days I would pick a laser printer over them when it comes time to buy a new printer. For people who own an inkjet printer and print only occasionally, you will likely discover the ink has dried out in the cartridge or in the print head. Laser printers don't have this problem.
Laser printers tend to have higher upfront costs than inkjet printers but have a lower cost per page. Replacement toner cartridges may seem more expensive than inkjet cartridges. Comparing the page yields between the two, the laser cartridge can usually print thousands of pages before needing to be replaced.
Manufacturers may sometimes sell a printer at a lower price or at a loss. Then they make it up by selling you pricey ink and toner cartridges for the lifetime you own the printer. What is even worst is many manufacturers put a "starter cartridge" in new printers with a lower page yield.
When shopping for a new printer, take the cost of the replacement ink cartridges and divide it by the number of pages to get your actual cost per page.
Buy Third-Party Cartridges
People who go to their local office supply stores for brand name cartridges when they run out of ink or toner are spending a fortune for replacement cartridges.
Aftermarket, refurbished, or remanufactured cartridges available online, on Amazon, or eBay can be a fraction of the cost of a brand-name cartridge.
The printer manufacturers hate it when you don't buy printer cartridges from them. They argue that OEM ink and toner give better printing results. You will get more accurate colors. The genuine cartridges are better for the environment because they can print more pages between changes. You won't void your warranty if the non-OEM ink causes damage to your printer.
For the Samsung printers in the office, the generic toner cartridges I buy on eBay for $20 prints just as well as the brand name toner Samsung sells for $80 at the store.
As long as you buy ink that is compatible with your printer, you should be safe. In the off-chance you do one day damage your printer with bad ink or toner, you will have likely saved enough on printer cartridges to buy a new printer.
Refill Your Printer Cartridges
When looking at the number of pages your ink or toner cartridge can print, you may have seen them mention something like 1,000 pages at 5% page coverage.
What page coverage means is if all you printed out were Word documents or emails, you should get close to the claimed page yield of the cartridge. But if you are someone who prints a lot of graphics, you will use more ink and likely run out sooner.
Just like aftermarket cartridges, you can find refill kits online. Inkjet refill kits will usually come with colored ink and a syringe. Toner refills will come as a bottle of powder. You will usually receive instructions or you can go online to find info on how to refill your cartridges.
In our fax machine, the starter cartridge was good for up to 700 pages. Instead, what we got was around 500. I attribute that to lots of faxed advertisements with graphics and pages full of text that were more than the 5% coverage.
When the print started fading, I cut off the plastic rivets on the toner cartridge to get to the fill cap. Then I dumped out the remaining toner and refilled it with new toner powder.
Keep in mind that toner powder and inks are not universal. You must buy toner that is compatible with your printer. I had a family member use HP toner in their Brother laser printer. That resulted in toner streaking across the entire page.
Should you decide to keep refilling a laser printer cartridge, you should also dump out the waste toner container regularly. Otherwise, you will end up with a big mess inside the printer.
Replace the Printer Cartridge Chips
Refilling your toner cartridges with bulk toner or ink is a very cost-effective way to make your cartridges last longer and save money on printing costs. For about $23, I can buy 1,000 grams of bulk toner that can refill my cartridge ten times.
The printer manufacturers know that frugal people looking to save money on ink will refill their cartridges instead of buying new ones. To keep you from reusing your old cartridges, they added a chip on the cartridge to track the number of pages remaining.
Once the cartridge has printed out a set number of pages, the printer will display a warning to let you know you will need to replace your toner or ink cartridge soon. Eventually, the printer will stop printing if you ignore the low toner warning.
When you buy toner and ink refills, you may be able to buy a replacement chip that you can swap in to reset the page count. Depending on the cost of the chip and the toner, it might be cheaper than buying a new aftermarket cartridge.
Another option to replacing printer smart chips is to use a modified firmware that you can buy from sites like InkChip. These chipless firmware will disable tracking of the number of pages printed by your printer.
Print in Eco or Draft Mode
You can use less ink in your printing by going into the preferences for your printer. Look for the option to enable draft mode. For Samsung printers, this is labeled as Toner Save mode.
Printing in draft mode is faster and uses less ink. The print resolution may be lower and the colors might not be as vibrant or the text may not be as dark as normal mode.
Printing in draft mode might not be a good idea to use for resumes, but the print quality will be fine for things like homework assignments and notes.
For example, I sometimes print out receipts of expenses for tax time. The draft model is perfect for this.
If you are printing in Adobe Reader, be sure to click the Save ink/toner box in the Print dialog box. Adobe says this option can use up to 15% less ink.
Skip Printing in Color or the Color Printer Altogether
Think back to how often you need to print in color. Unless you need to print a lot of photos or fancy presentations for work, you may not even need a color printer at all.
Should you already have a color printer, do you really need a full-color copy of that web page or will black-and-white be good enough?
Business News Daily found that the average cost per page for a black-and-white copy was around 5 cents and the average cost of a color copy was 10 to 15 cents a page.
You can go into your printer preferences and change the settings to grayscale or monochrome to save money on printer ink.
Not only do color printers cost more to buy and use, but you will still need to eventually replace the color toners or ink cartridges even if you do not print in color. Many printers will also use the colored inks for maintenance and cleaning.
Printer manufacturer Brother states that even with the printer set on monochrome mode, the printer will still use the color cartridges during the initialization, cleaning, and calibration process. Eventually, you will get a replace toner message for the color cartridges. We experienced this with a color HP laser printer.
Worst of all, some color printers will not print if one of the four cartridges is empty. With four different cartridges in a color printer, the costs will add up quickly.
It might make more sense financially to buy a black-and-white laser printer and go to the office print store for your occasional color printing needs.
Leave Your Inkjet Printer On
If you have an inkjet printer, leaving the printer powered on will save you more money than the cost of electricity. Many printers will go into a low-power sleep mode when they aren't actively being used.
Consumer Reports found that an inkjet printer can use as much ink on maintenance tasks as it does printing. That means half of your ink cartridge does not even make it onto your paper.
By leaving your printer on, you will hopefully avoid triggering a maintenance cycle every time you turn on your printer.
Recycle Your Old Cartridges
Rather than throwing out your old ink and toner cartridges, recycle them and turn them into cash!
Not only are you reducing the amount of waste in the landfills, but you are also getting money back in your wallet for them.
Both Staples and Office Depot have in-store and mail-in recycling programs for your old cartridges.
Office Depot's ink recycling program may be the better of the two. When you are a rewards member, you will get back $2 in rewards per cartridge for up to 10 cartridges each month. Then when you make a $10 qualifying purchase in the same month, you will get your rewards in the form of a rewards certificate. Qualifying purchases are any product or service purchase made in-store, online, by phone, or fax, and exclude postage stamps and prepaid/gift cards.
Staple's recycling program will give you $2 in rewards per cartridge for either 10 cartridges per month for Base Rewards members or 20 for Premier Rewards members. However, to get your rewards, you must spend at least $30 on ink or toner in the store or online within 180 days before recycling.
Print on Both Sides
These days, many printers support duplex printing. You can set the print options to print on both sides of the paper. This will reduce the amount of paper used by half.
Your printer will automatically feed the paper a second time and print on the back without having to manually insert the paper back into the printer.
Use Print Preview and Only Print What You Need
When you print online web pages, you are likely to print out extraneous content such as the comments section, sidebar, and advertising when you only wanted the article.
Before mindlessly hitting "Print", take a quick look to see what is being printed. Instead of printing everything, cut out all the fluff that usually appears at the bottom of the preview.
Some sites may also have a printer-friendly option that removes all the ads and graphics that kills your ink usage.
Reduce the Document Size
When I was in school writing papers that needed to be a certain number of pages, I would sometimes go into the page layout and slightly increase the line spacing to bump up the page count when I ran out of things to write on. You can use this method in reverse by decreasing the line spacing and margins to get more words onto the page.
When you use Adobe Reader to print a PDF, there is a setting to print two pages side-by-side on each sheet. Look for the "Page Sizing and Handling" section and the "Multiple" button in the Print dialog box. You will be decreasing the size of a page by half, so make sure you are still able to read it.
You can use "Save to PDF" in Chrome or "Microsoft Print to PDF" to turn web pages and other documents into a PDF to save on printing.
Certain fonts will also use less ink than others and let you fit more on a page.
Use Fax-to-Email
Do you need a fax machine for your small business office? When shopping for a multi-function printer, copier, and scanner with fax capabilities, look for one that supports sending received faxes to an email address or saving them to a computer on your network.
We have saved thousands of pieces of paper by not printing out faxes over the years with this feature. An additional benefit is you will be able to get access to your received faxes any time, not only when you are at the office.
Many businesses print out documents only to re-scan them in the fax machine to send as a fax. We also saved paper and toner by skipping this step and sending the document directly to the fax machine from the computer.
Think Twice Before Printing
Finally, the best way to save money on ink and toner is to not print anything at all unless needed. This may be easier said than done. Some people prefer to have a hard copy to read when convenient without needing to be in front of a computer or laptop.
One thing you can do is invest in an affordable tablet or an Amazon Fire tablet. Tablets have improved over the years. They are lighter and smaller than a laptop. You can get as much as a dozen hours of reading from a charge.
With support for PDFs and Adobe Reader, reading documents on a tablet is as easy as flipping pages on a book.
Closing $ense
Stop wasting so much money on printing every month. By following these best practices and selecting the right printer for your home and office needs, you can save a fortune in printing costs. Take that money you would have spent on ink cartridges and toner and use it for other more important things in your budget.
What are ways you've saved money on printing costs? Do you prefer inkjet or laser printers for your home or office use?