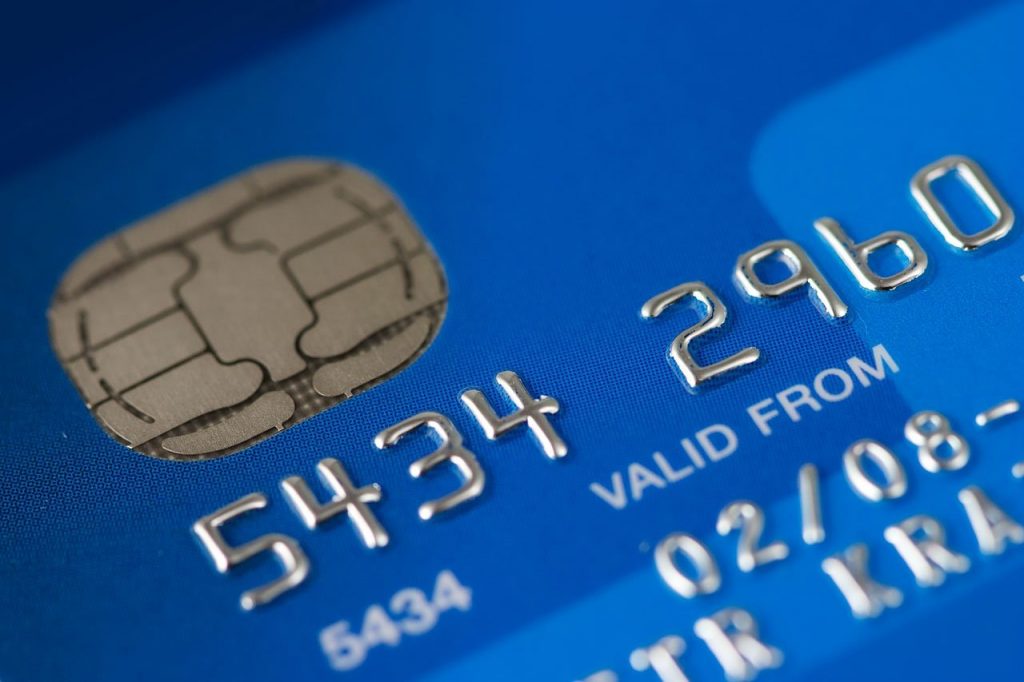 Capital One is the third largest credit card issuer in the United States so when their commercials ask "What's In Your Wallet", if you don't have a Chase or Citi credit card, you might have a Capital One.
I have their Quicksilver rewards card, which was a decent 1.5% cashback card at the time until it was surpassed by Citi's Double Cash card. What makes Capital One's cards still worth keeping even now though is their no foreign transaction fees if you travel internationally. But what if you have better rewards cards you'd rather carry in your wallet and you want to cancel your Capital One credit card.
Before you cancel your account, you will want to stop any monthly recurring payments and pre-authorized charges that are being charged to your card. If you haven't already paid off the entire balance or transferred the balance to another card yet, you will have 90 days to do so once you make the request to close your account.
Now that you've done that, follow these easy steps on how to close your Capital One account by internet, phone, and through the mail.
Cancel A Capital One Credit Card Online
Usually, credit card companies make you cancel by phone so their representatives can try to convince you to keep the account open. Rather than listen to someone tell you a few dozen times why you should keep your credit card account open, fire up your browser and go online instead. You can cancel your account in less time than you would have spent on hold.
Follow the below step-by-step instructions on how to cancel your Capital One credit card online:
1. Go to www.capitalone.com and sign in with your username and password to your online account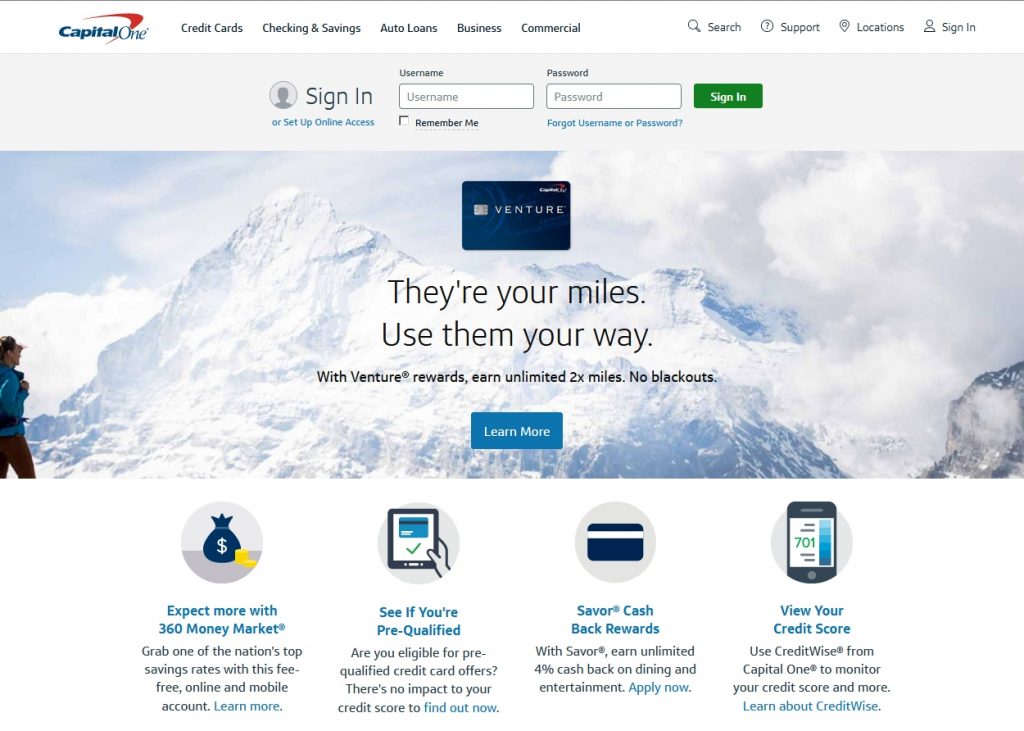 2. Click the the "I Want To…" button on your credit card details page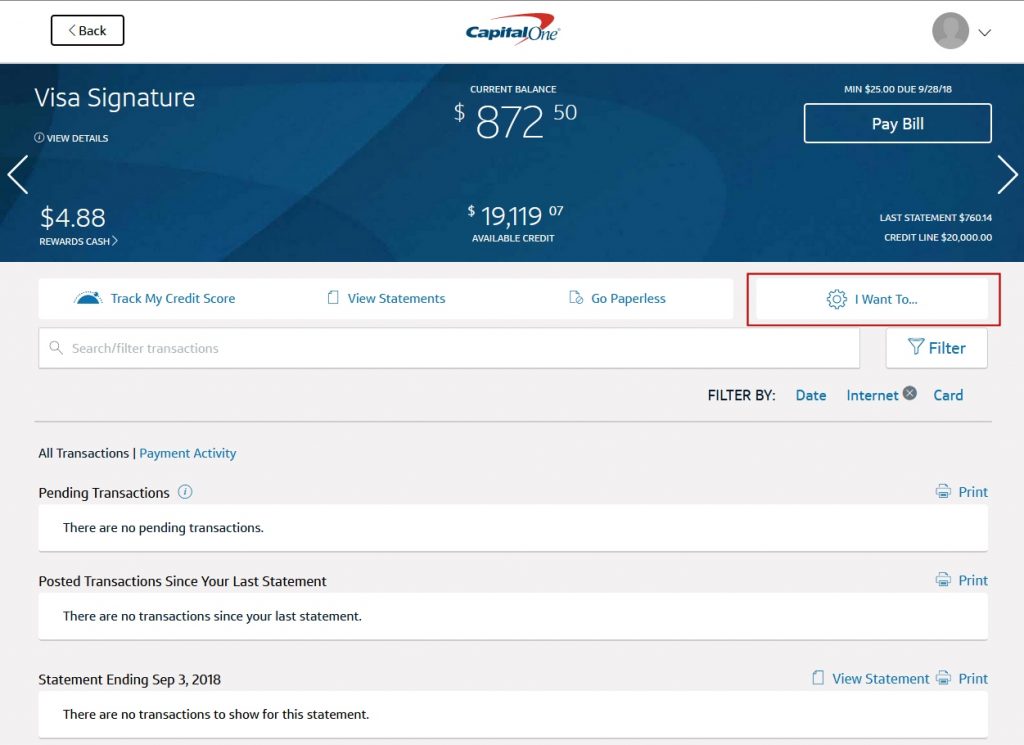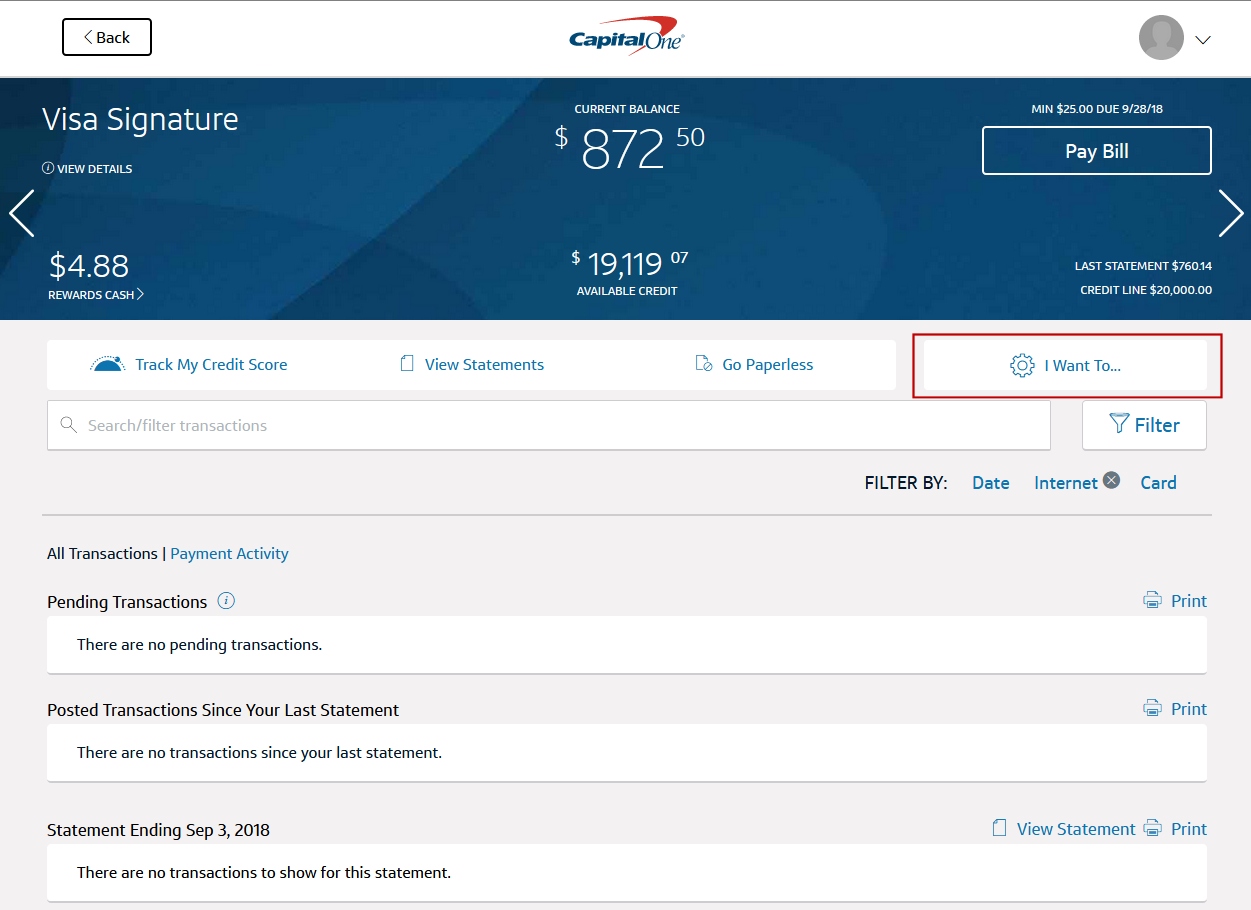 3. Scroll down to Control Your Card and click "Close Account" under Account Services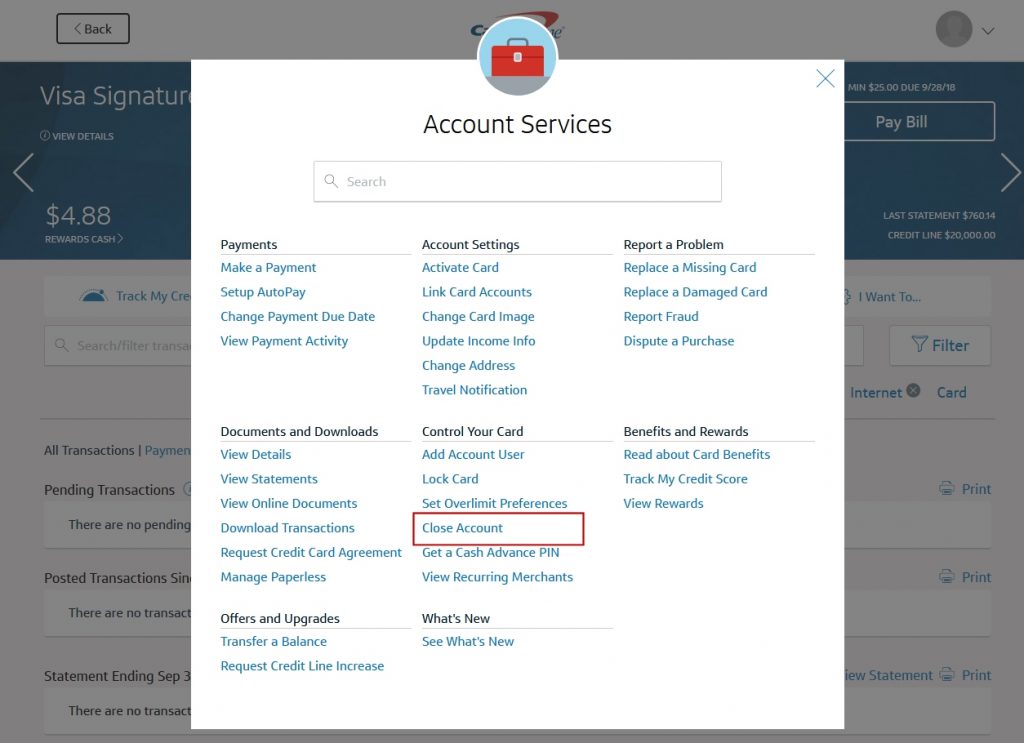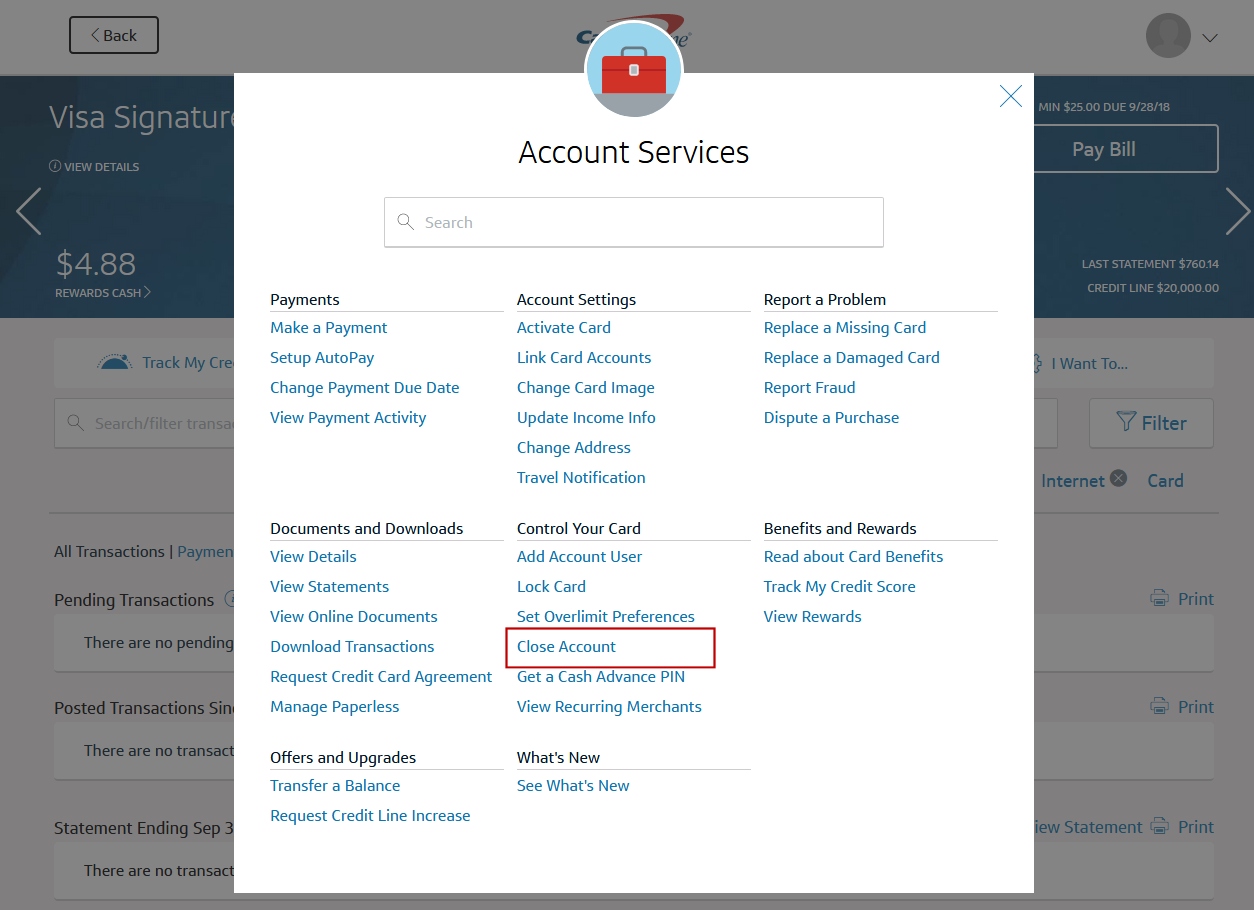 4. Select the card that you want to cancel and follow the prompts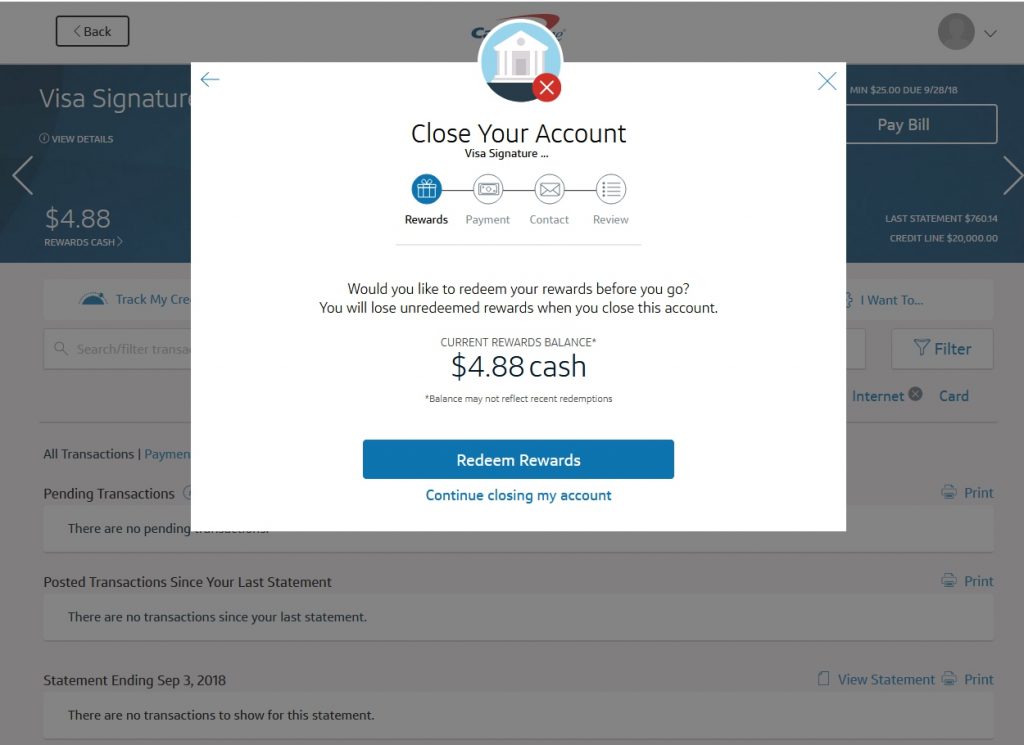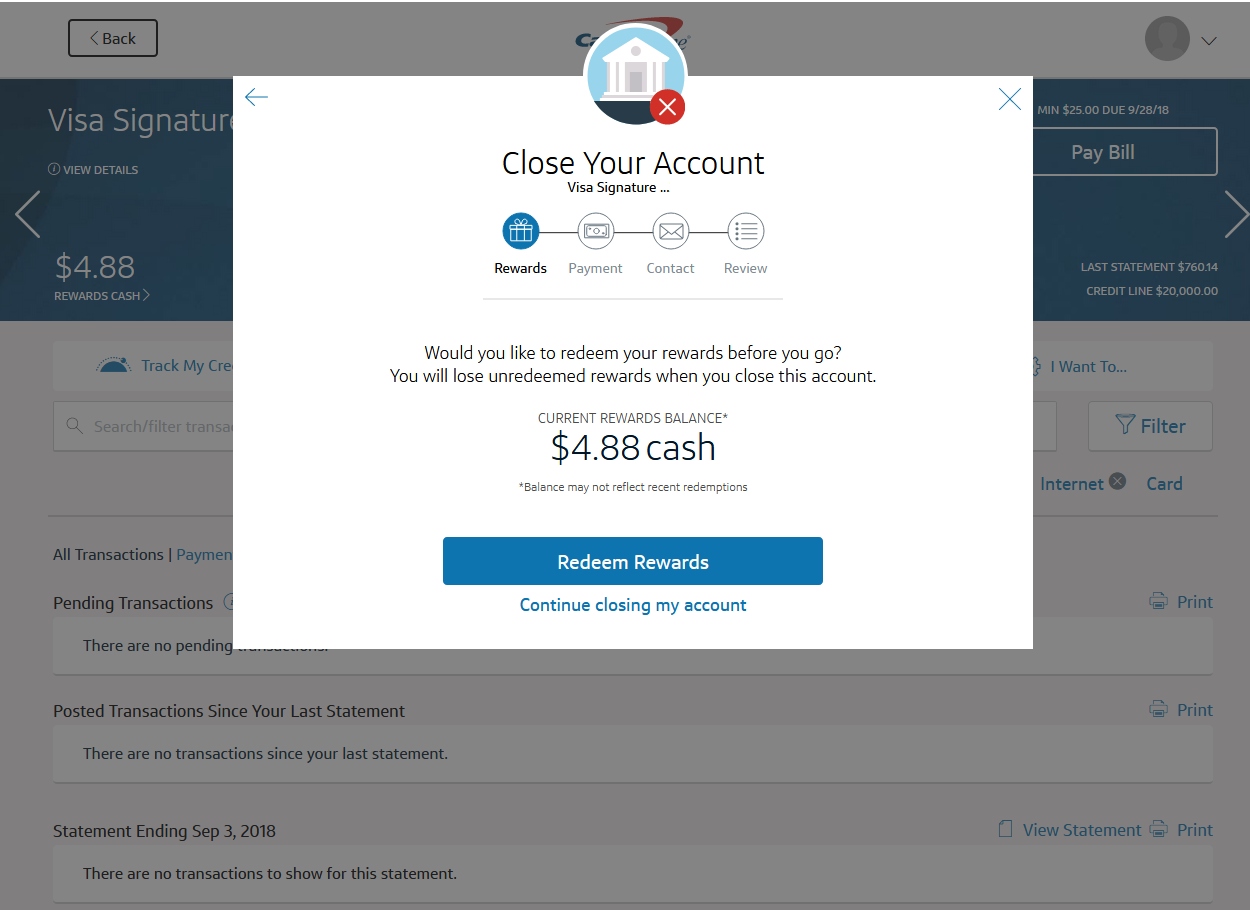 Cancel A Capital One Credit Card By Phone
You can find Capital One's 24-hour customer service number on the back of your credit card. If you do not have your card handy because it's in your wallet, you can find the phone number on their contact us page, on your monthly statement, or below:
Capital One Customer Service: 1-800-CAPITAL (1-800-227-4825)
To get connected with a representative, you can press 0 at each prompt or say "Speak to a representative" at any prompt.
While still on the phone with the representative, be sure that they have made a notation on your account that it will be reported to the credit bureaus as "closed at customer's request" and that they've performed a "hard close" of your account. A hard close will prevent any future charges from being posted to the account.
After hanging up the phone, you may still want to follow up with a letter to Capital One to confirm that the account was closed as requested.
Cancel A Capital One Credit Card By Mail
To cancel your Capital One credit card by mail, you can find the mailing address on the back of your paper statement, on the contact page of the website, or listed here:
Capital One
Attn: General Correspondence
PO Box 30285
Salt Lake City, UT 84130-0285
A sample letter that you can copy and paste into your word processing software is included below. Update the sections in red with your info, sign, date and mail out the letter to the above Capital One's general correspondence address.
Sample Capital One Cancellation Letter
Date

Your Name
Address
City, State Zip

Capital One
Attn: General Correspondence
PO Box 30285
Salt Lake City, UT 84130-0285

Re: Closing of Capital One Account

Dear Sir or Madam:

This letter is my official notice that I am terminating my CAPITAL ONE CREDIT CARD NAME credit card effectively immediately. Please close the below account and send a written confirmation that the account has been closed.

Name On Card: _____________________

Account Number: ___________________

Please also notify the credit bureaus that this account has been "closed by request of cardholder".

Sincerely,

Your Name
Phone Number
Closing Your Account and Your Capital One Rewards
Capital One Rewards points and cash back do not expire as long as your account is in good standing. However, if you close your account, you will lose any rewards that have not been redeemed.
If you are closing your account online, the above screenshot of the account cancellation page shows an option to redeem your rewards during the cancellation process. Those who are closing your account by phone or mail, you should use your points before requesting your account to be closed.
The bonus miles points you earn from the Capital One Venture card has a cash value of 1 penny per point. Capital One offers many options to redeem your rewards upon logging into your online account. You can choose to get an account credit to lower your current balance, receive a check in the mail, choose from 90 gift cards from a variety of merchants ranging from Amazon to Walmart, or even transfer the rewards to other eligible Capital One accounts with the last name of the cardholder and their account number.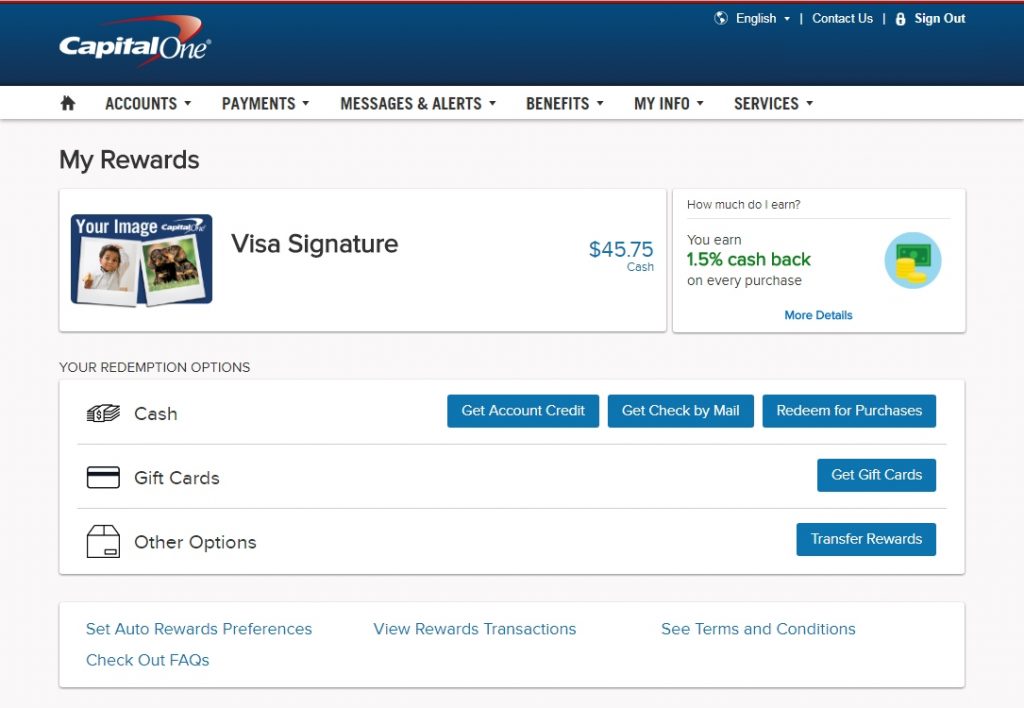 For any questions regarding your rewards, you can speak to a Rewards Specialist by calling 1-800-228-3001.
Canceling Your Account and Your FICO Credit Score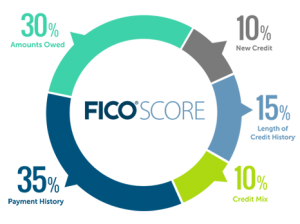 Closing a revolving credit card such as your Capital One card may have a negative effect on your credit score due to how the FICO score is calculated. The two components that are affected by an account closure is the average length of your credit history and your credit utilization ratio, which makes up 15% and 30% of the FICO score respectively.
The factor that will have the largest impact right now from closing your Capital One card is the utilization ratio. This is especially true if you are carrying a large balance on your other cards and your utilization ratio jumps to over 30% from your total credit limit decreasing. If you have plenty of credit available and you pay off your balance every month, your FICO score should have minimal long-term consequences from you closing your account.
The other factor of your FICO score affected, the average age of accounts, will have less of an impact near-term because accounts closed in good standing will continue to remain on your credit report for up to 10 years. However, if your Capital One card is your oldest credit card, after it stops being reported on your credit report a decade from now your average length of your credit history will decrease and could cause a drop in your credit score.