Follow these steps to move your credit limits among your different Amex credit cards online or by phone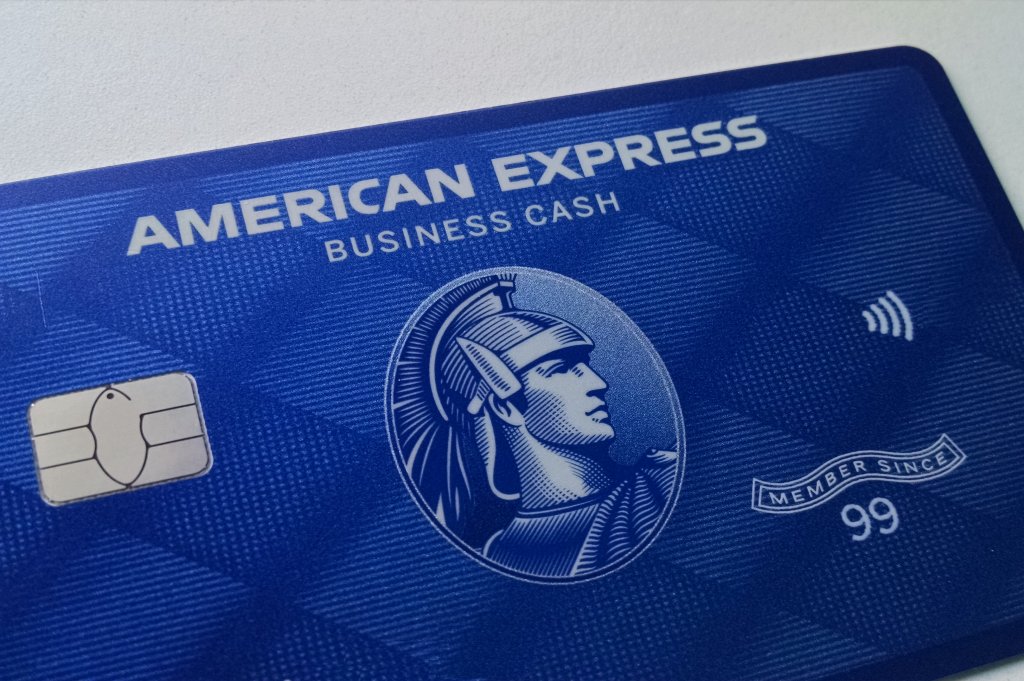 Over the weekend I was looking at my credit card statements from American Express and noticed the cash rebate percentage for my Amex Classic Blue Cash business card was a measly .5% for the last several months. When I signed up for the card over a decade ago it was advertised as offering 1% cashback. But going further back in the statements, there were a few other months where the cash rebate was 2.5%?!
Rather than research what was going on with the fluctuating cash rebate percentages, I headed over to the American Express website to see what other cash rebate cards were available. There were two – the Blue Business Cash and the Plum Card. The Plum Card has a $250 annual fee and 1.5% cashback. The Blue Business Cash has a $0 annual fee and 2% cashback for the first $50,000 in spending each year then 1% after that.
As you likely guessed, you probably know which one I went with – that's my new shiny Blue Business Cash card at the top of this post. Upon logging in to my account to check the credit limit on my new card, I noticed I had a $9,000 limit and the credit line on my personal Amex card was reduced by the same amount. If they were going to allocate credit from one of my existing cards, it should have come from my Classic Blue Cash since they are both business cards.
This might not seem like a big deal since I have the same amount of credit but now distributed across three Amex cards; it actually has further implications. Business credit lines do not show up on your credit report. The decrease in credit on a personal credit card could increase your credit utilization ratio which makes up 30% of your credit score.
More: Credit Scoring Factors That Affect Your Credit Score
You can always log on to the American Express website and request a credit limit increase through the "Account Services" menu of their portal. Often times this is instant and it is a soft inquiry, which does not affect your credit score. However, I do not need more credit between my cards. I just want my personal card's limit back to where it was.
Luckily, you can easily reallocate the credit lines between your various American Express cards.
How To Transfer Credit Between American Express Cards
Follow these steps to move credit limits between your different Amex cards:
Step 1: Login to your American Express account
Step 2: Click the "Account Services" menu at the top and "Payment & Credit Options" link on the left navigation. You can also click the following link to go directly to the Transfer Available Credit page after you've logged in, and skip Step 3.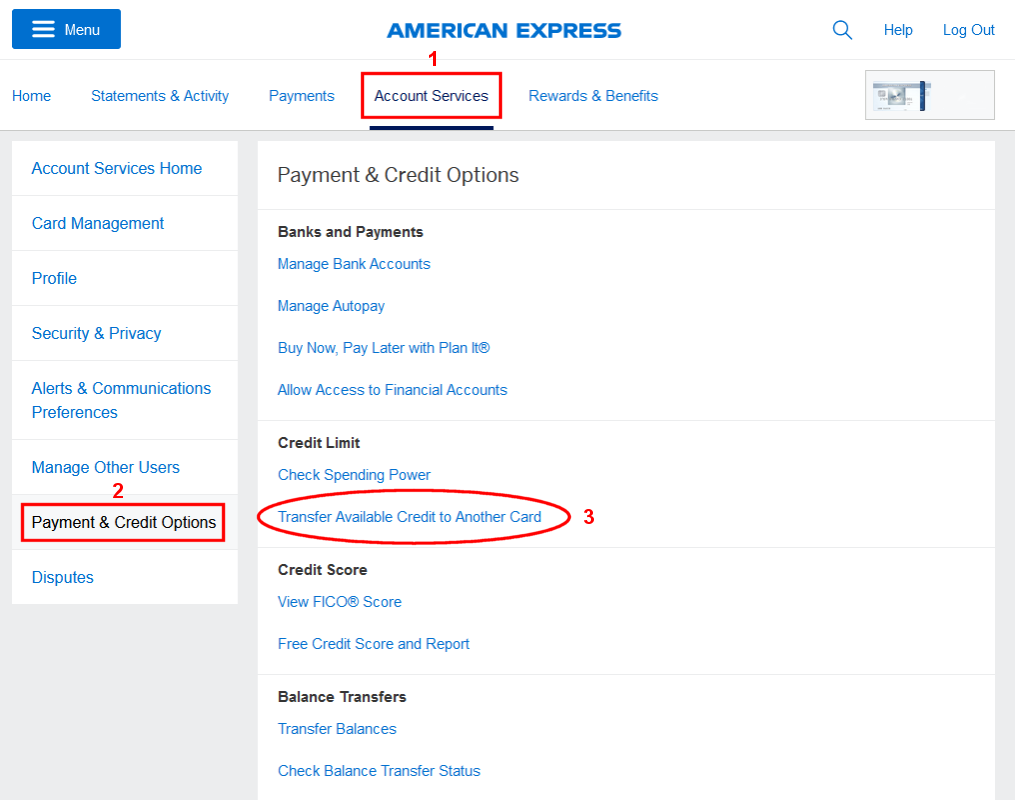 Step 3: Now click "Transfer Available Credit to Another Card".
Step 4: Select the card from the pull-down menu where you want to move credit from (section 1). Next, select the card where you want to transfer it to (section 2). American Express may automatically prepopulate the receiving account depending on the type of card it is – business or personal.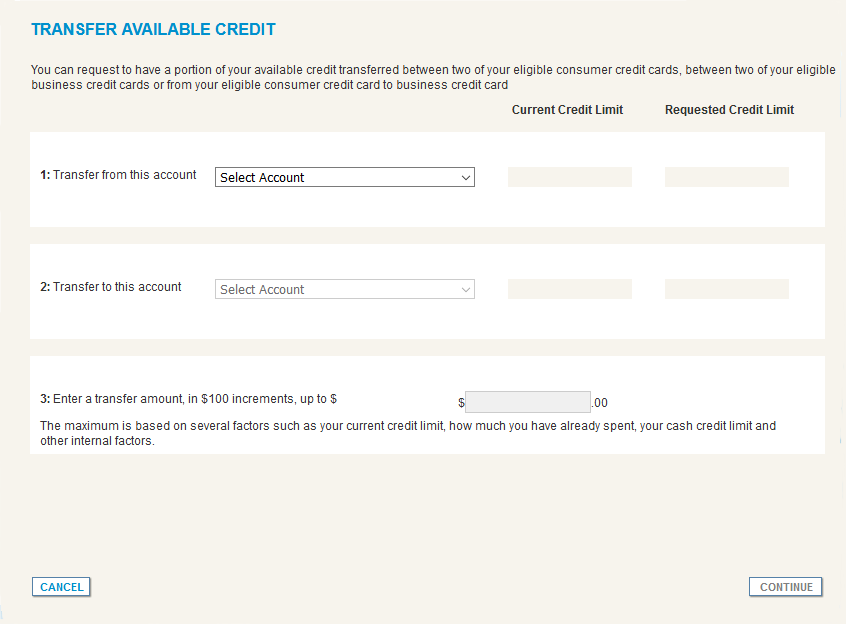 Step 5: Enter the amount you want to transfer in $100 increments (section 3). American Express lets you move up to the entire limit except for $500.
Upon submitting the form and if everything is okay, your request will be approved instantly. Your new credit limits will be available in a few minutes.
Here are some things that are good to know when trying to transfer credit between your Amex credit cards online:
The cards you are moving credit between must be in the same online profile.
There is no hard or soft pull on your credit report to reallocate credit lines.
This only works on credit cards with a revolving credit line. American Express charge cards do not have a preset spending limit.
You can do a reallocation once every 30 days
You can transfer credit from personal to personal card, business to business card, and from personal to business card. You cannot transfer credit from a business card to a personal card.
How To Transfer Credit From An American Express Business Card to Personal Card
If you are trying to move your credit limit from your business credit card to your personal credit card like me, you cannot do this online through their online tool. You also cannot do it using their online chat function.
I was told that I needed to call the Credit Limit Team. Their phone number is 1-800-842-5303.
Even though the phone line is available 24 hours a day, 7 days a week, I tried calling on a Sunday afternoon and was told the department that is able to do the credit limit transfer was closed on the weekend. You need to call during normal business hours.
Closing $ense
Moving your available credit to another card using their online tool is extremely convenient. You can do it any time you want and you do not have to call and speak to a customer service representative or do an online chat. The only exception is if you are trying to move your credit line from a business to a personal card. Then you must call American Express.
Besides giving yourself more headroom on a credit card if you are planning to put some big charges on the card, you can use this method to keep your credit utilization ratio from skyrocketing when you close an account. Perhaps you have a large credit line on a credit card but you are tired of paying the annual fee. Or you have too many credit cards. Before closing the account, transfer all your available credit to one of your other accounts.
More:
What is your experience with transferring credit between credit cards?